Eid during uncertain times
The pandemic, an air crash and a polarised world; there is no end to bad news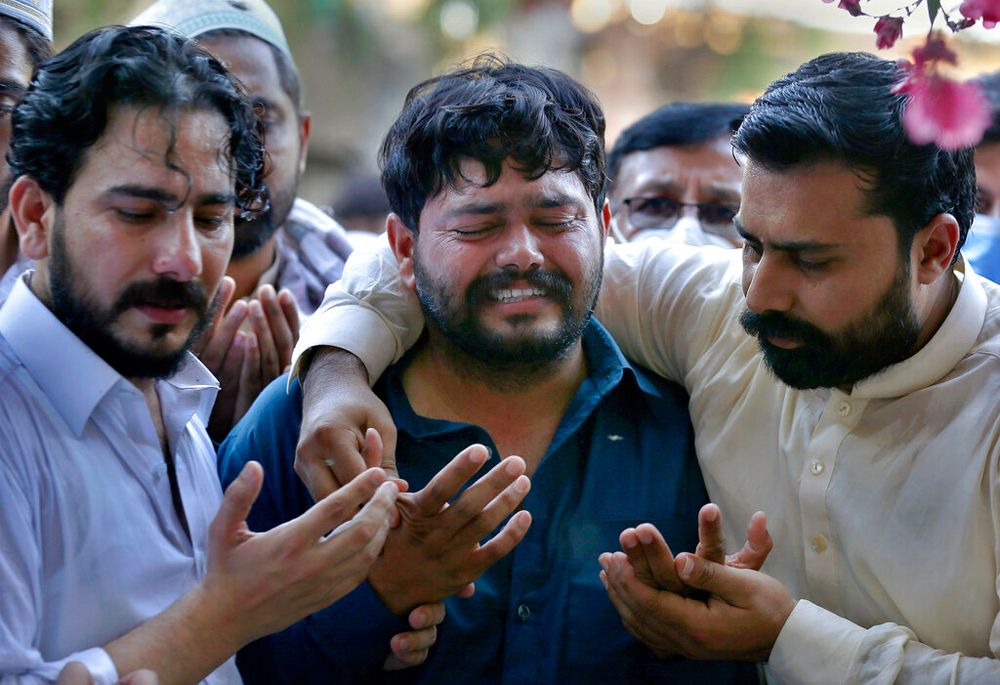 ---
---
Pakistan's coronavirus cases crossed the 50,000 mark last week. We are now a little above 57,000 confirmed cases. Deaths from the coronavirus are around 1,200. Healthcare workers and doctors are warning of dire consequences if we are unable to control the spread soon. The special assistant to the prime minister on health, Zafar Mirza, warned that the government may reimpose the lockdown since SoPs were not being followed properly.
Two days before Eid, Pakistan faced another colossal tragedy when a plane crashed in Karachi on Friday. PK-8303, a flight from Lahore to Karachi, crashed into a residential area, resulting in the death of 97 people out of the 99 passengers on board. The senior journalist, Ansar Naqvi, was amongst those passengers who did not make it. Two passengers — Zafar Masud and Mohammad Zubair — survived miraculously.
It seems as if there is no end to bad news. As someone from the media industry who has to monitor news reports and latest updates every day, it takes a mental toll on you. I often wonder — and more so in recent weeks — if all this is worth it. While people may think we are immune to bad news, I must make a confession: our sanity is compromised. We are human beings after all. Day in, day out, we gather news of more deaths, higher coronavirus cases, lay-offs, spiking poverty, grief, morbidity — and we are expected to remain calm. But are we calm or immune? Certainly not. Most of us knew one or the other passengers in the PIA plane crash. Covering that tragedy or writing about it has not been easy. The same goes for coronavirus cases. We know someone or the other who has coronavirus or who died of it. This is all too personal. Even if it weren't, covering a pandemic and dealing with consequences related to it are difficult. Every day, one gets calls or messages for help with food rations. One can only do so much, and it makes you think about one's own privilege. Lockdowns are not easy on everyone. But the consequences of an eased lockdown are equally troubling. Pakistan's dilemma in easing the lockdown in order to save livelihoods can have terrible consequences in terms of our health sector that may not be able to deal with the exponential rise in coronavirus cases in the coming weeks and months.
Political polarization is also something that one witnessed as a journalist in recent years all over the world, be it in the United States of America, the United Kingdom, India or Pakistan. But to see politics being played out during the outbreak of a global pandemic is shameful. If one criticizes a government for its confused policies vis-à-vis dealing with the virus, the other side gets not just defensive but downright vicious. It boggles the mind to witness this as there is no exact answer to the pandemic unless and until a cure is found and a successful vaccine hits the market.
No government should be above criticism. Despite the political polarization, one tries to base one's opinion on what is going on around the world; the entire world is coming up with different solutions to contain it and opinions keep changing as new scientific evidence or research comes to light. One does not form an opinion based on likes and dislikes for governments but on scientific research. The attacks on those who disagree with their respective governments are unwarranted in most cases.
The mood during Eid was already sombre due to Covid-19. This plane crash further dampened our spirits. Rarely have we seen such despondency. Eid in these uncertain times certainly did not feel like a festive occasion. My father lives in another city. I had not seen him since January but I had no plans to see him on Eid due to concerns for his health. But he kept calling, asking me to come and see him. I felt so conflicted. In the end, I gave in on the second day of Eid. I travelled to see him but I sat as far away from him as possible, controlling the urge to hug him tightly. When we were leaving, he tried to come close and hug. I said, "No Abu, no." It hit me so hard how things have changed; how the world has changed. I cannot stop thinking of all those who have lost their loved ones to Covid-19 and in the recent plane crash. One look at The New York Times's front page and three inside pages on Sunday should have been enough to send shivers down one's spine; it published the names of about 1,000 victims of the coronavirus.
Life has become so unpredictable and different. Whether you are working from home or going to work following SoPs or stepping out of the house for groceries or to run an unavoidable errand, you are always scared. If not for yourself, then for your loved ones. We stay away from them just to keep them safe. Things we took for granted are now just memories of the past. Let us hope for the 'normal' times to come back. Let us hope for a miracle, soon.