Along came a virus
The trope of recent times has been The Wall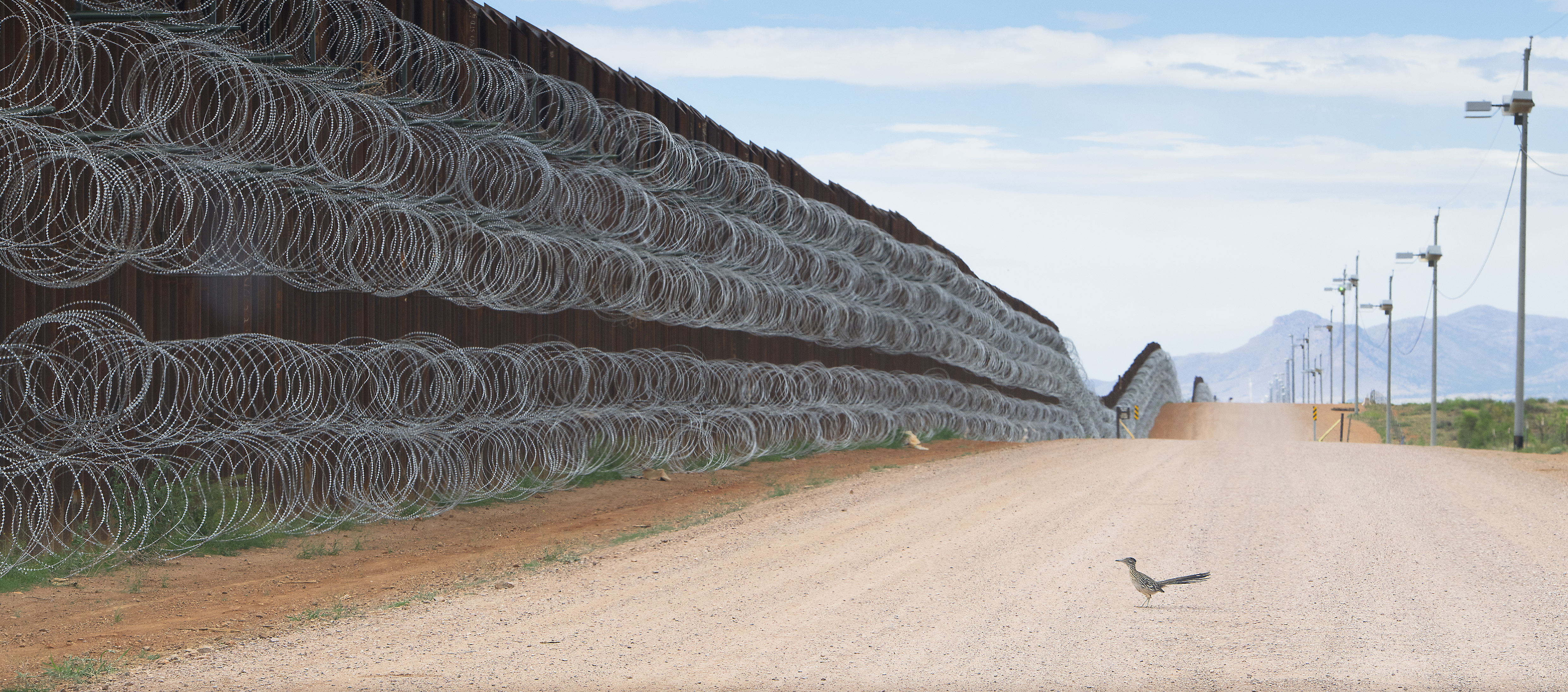 A greater roadrunner approaches the border wall at Naco, Arizona, US
(Alejandro Prieto, World Press Photo via AP)
---
Published 25.04.20, 06:39 PM
|
---
The trope of recent times has been The Wall. Of course, for every person there was a new spin. Trump, who is not known for his subtlety --- he just suggested that people inject themselves with disinfectant for God's sake --- imagined a wall on the US-Mexico border and called it a wall. Reportedly, he even considered building a moat and filling it with alligators. And when he realised no physical arrangement would be enough, he started to think up impossible asylum policies. In India, first Kashmir was walled out for eight months, and then came the CAA, a wall that would be used like a sieve. In Myanmar, Aung San Suu Kyi, the same who was awarded the Nobel Peace Prize and lauded as 'an outstanding example of the power of the powerless', made a broom of The Wall and swept away the Rohingya Muslims. In the United Kingdom those who felt wall alone could safeguard British identity voted Brexit. And then, along came a virus.
Divide and multiply
The Virus that has scaled more than one wall, has now become a touchstone of sorts, for nations and their wall-ability. Bangladesh is not accepting two boatloads of starving Rohingya refugees. Portugal has for now given all migrants and asylum seekers full citizenship rights, granting them full access to the country's healthcare. The US expelled 6000 plus undocumented migrants on its Mexico border using emergency powers. Migrants, mostly from Africa and the Middle East, are being quarantined in a ship off the coast of Sicily, because Italian ports have refused them access. Two asylum seekers, one Iranian and one Afghan national, on the Greek island of Lesbos were shot after they violated quarantine. And only last week Germany embraced 50 migrant children from the migrant camps of Greece, even as stranded Indians in the Middle East are waiting to return home.
Walldemort
More walls. New walls. Within nations too, and multiplying every day. In Zhengding, Jingxing and Luquan, local governments rewarded anyone who reported those who had been to Wuhan where the pandemic broke out first. New Yorker is not a proud label anymore. And in India, the migrant labourforce continues to remain in physical and situational limbo. More walls. Newer walls. Walls between the infected and everyone else. Between doctors and everyone else. Between the infirm and everyone else. Between the privileged and everyone else. Between the invisible and everyone else. Not long ago it was said that michief-makers in India, the perpetrators of mass violence, can be identified from their clothes. The words come to mind as one dons the mask and just like that drifts into an ocean of anonymity that is the new mass identity. Mind you, the mask too is a wall, as is that thing that comes between head and heart.