When small will be beautiful
HINTERLAND: In a post-Covid world, tiny collectives in every sphere will reclaim broken economies, rebuild ecosystems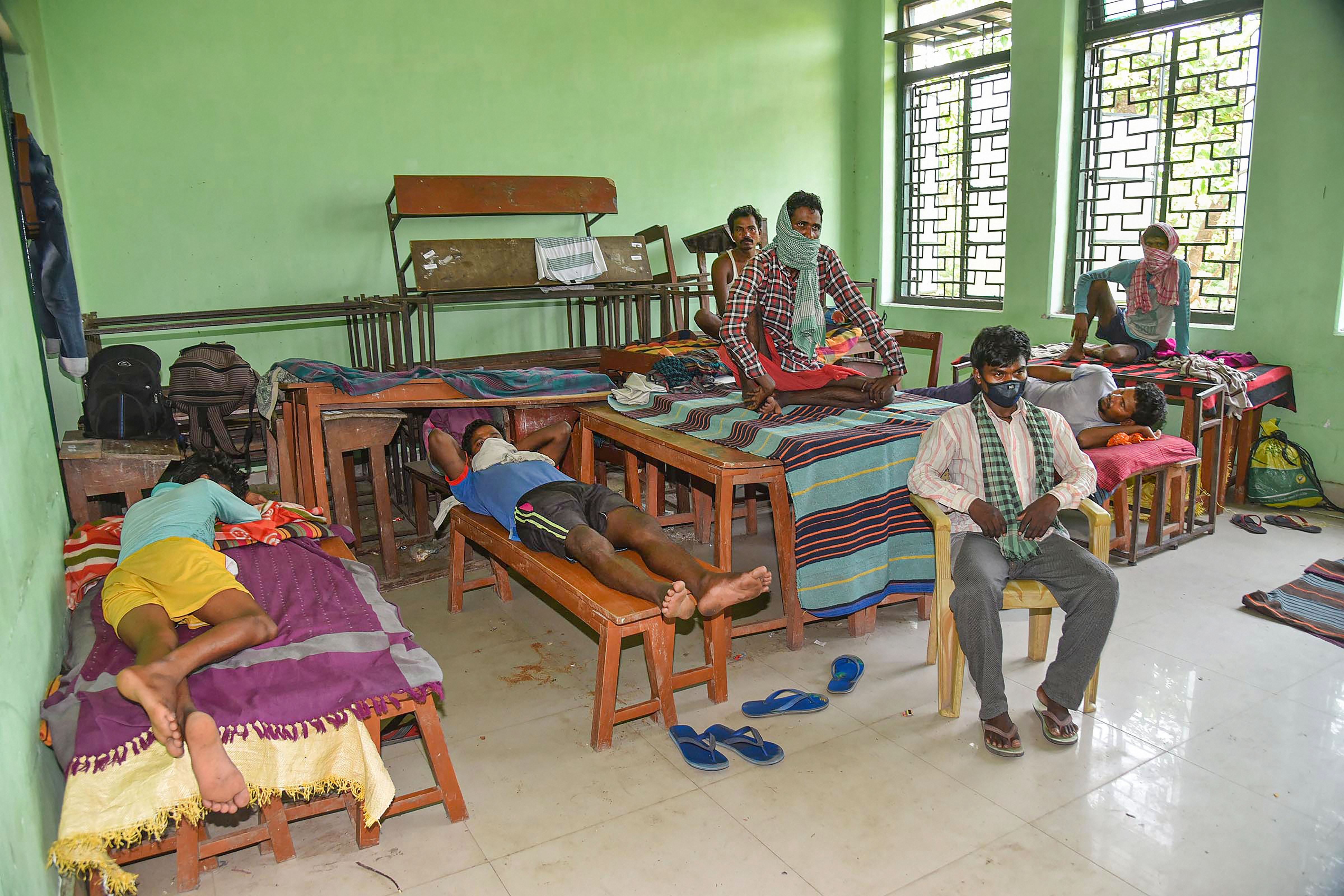 Migrant workers take refuge at a camp run by Bihar government during a complete lockdown imposed in the wake of coronavirus pandemic, in Patna, Saturday, April 18, 2020.
PTI
---
Published 20.04.20, 08:22 PM
|
---
How would a post-Covid-19 world look? If we tread the same socio-economic path, it would look fragmented, frightened, clueless, and even more divided. We did not heed the warnings from environmentalists, epidemiologists, or from our own innate wisdom. It took a tiny virus to shatter our fragile world and force us to listen.
How should the post-Covid-19 world be?
Let's look at a few possible templates through the small pointers from a messy, hazy and fast-deteriorating world in the middle of an unfolding pandemic.
Look beyond the hollow rhetoric of reigning leaders; authoritarian leaders faltering in decision-making resulting in loss of lives and the shattering of economies; multinational corporations that claim they can fix everything only to run away from the isolation zones when confronted with the choice between profit and public service; a State that can't tackle an exigency like Covid-19. Let's look at the small within the big that's ticking in difficult times.
In the western Maharashtra district of Satara, groups of farmers quickly formed their collective and with generous support from the district administration worked out a supply chain to deliver food-grain, farm-fresh vegetables and other perishables at the locked-in consumers' doorstep. Tapping into their own social capital, they joined hands to help themselves and local consumers.
In Kerala, clusters of women federated into, arguably, the world's largest community women's network. Kudumbashree, since its inception in 1997, has survived the onslaught of markets, vagaries, and many exigencies to provide economic and social stability to its members by mobilizing collective energies. It's a State-supported enterprise which thrives in any situation because its aim is not just making profit. Humans don't exist only for businesses, as we are discovering in this hour of crisis. We need to look after each other.
In Gadchiroli, many gram sabhas of tribal communities formed groups to auction at best price or to a stable player their individually-collected minor forest produce — tendu, bamboo and so on — to earn decent incomes, confront private monopolies and conserve their forest-ecosystems.
The world is witnessing an explosion of such tiny collectives in every sphere that are reclaiming broken economies, regenerating rivers, conserving forests, collectivizing lands to grow and sell food, rebuilding ecosystems, pooling skills and knowledge, and freely exchanging ideas. These initiatives need not be replicable. Nevertheless, these models, working within the dominant idea that only the State or the market can fix problems, are deepening democracies.
In Small is Beautiful, a collection of essays, the German-born British economist, E.F. Schumacher, espoused the principle of championing small, appropriate technologies or polities that, he reasoned, empowered people as opposed to the notion of 'Big is better', or economies of scale. The big idea in the post-Covid world may actually be a series of small-scale myriad ideas, localized models of collectives, federated into viable big structures achieving scale.
The globalization of unfair trade dispossessed people of their stake in democracy and ecology. We need to reinstate it in a post-Covid world. Humanity would do better to look beyond profiteering to resurrect its crumbling edifice by giving spaces — in public policies and programmes — to such collectives as a way to fulfil our needs and wants. Obviously, it calls for sensible decentralization, not further centralization of power and capital, with State and market as the means and not the end. This would be a radically different approach than the one that dominates the world today.