Close call: Bihar assembly polls
This election will also be remembered for the spirited battle waged by Tejashwi Yadav, the principal lieutenant of the Mahagathbandhan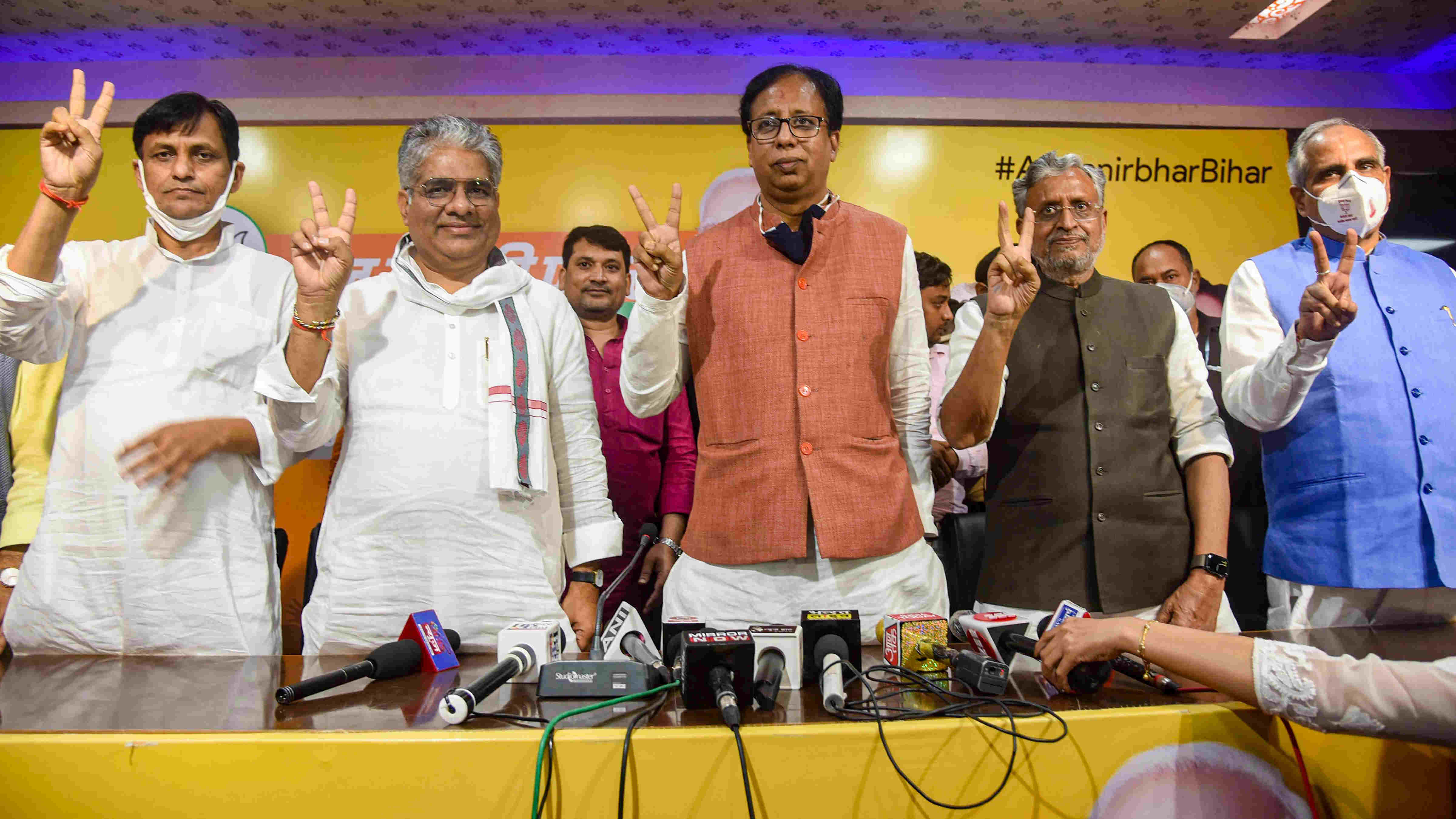 Bihar Deputy CM Sushil Kumar Modi, BJP Bihar in-charge Bhupendra Yadav, BJP Bihar President Sanjay Jaiswal and MoS Nityanand Rai flash victory sign during a press conference following NDAs lead during the counting of votes for the Bihar Assembly Elections results, in Patna, Tuesday, Nov 10, 2020.
PTI
---
Published 11.11.20, 12:41 AM
|
---
Of all the gladiators that had entered the electoral ring to win the crown in Bihar, there is conjecture that the Bharatiya Janata Party and the Rashtriya Janata Dal have left the arena as the most satisfied warriors. The RJD witnessed a late surge; but the people of Bihar have also gifted the BJP several aces. Its showing will assure it the status of the senior partner in its alliance with Nitish Kumar's Janata Dal (United). This could set the stage for the BJP to emerge — finally — from under Mr Kumar's shadow and consolidate its position as the principal political force of the National Democratic Alliance in Bihar. This opening could give the party an opportunity to widen its electoral base in the state. The BJP would be hoping that its famed social re-engineering project would alter Bihar's political landscape and make up for the ground lost by the NDA since 2019. The simultaneous — significant — weakening of Mr Kumar's political position would also gladden the BJP's heart. It is true that Mr Kumar was battling anti-incumbency. But it appears that the electorate seems have singled out Mr Kumar, not the BJP that was in power in partnership with the JD(U), for poor governance as well as the administrative failures to deal with the pandemic and its fallout on Bihar's sizeable migrant constituency. There is reason to believe that the prime minister's charismatic outreach helped the state BJP escape public disaffection.
This election — it has kept political watchers on tenterhooks — will also be remembered for the spirited battle waged by Tejashwi Yadav, the principal lieutenant of the Mahagathbandhan. Mr Yadav's challenge had been compounded by the absence of his father, Lalu Prasad, from the battleground. But Mr Yadav had soldiered on, infusing energy into the Grand Alliance's campaign by keeping his focus on employment and social inclusion. Had the distribution of seats within the Mahagathbandhan been done wisely — the Congress has ended up punching way above its weight in terms of its strike rate — the RJD would have gained further. Mr Yadav has announced his arrival on Bihar's political firmament. The photo-finish notwithstanding, the outcome in Bihar, when viewed along with the results of by-elections in several other states, including Madhya Pradesh where the BJP had toppled the Congress regime by encouraging defections, would not disappoint the saffron camp. The message would certainly spur the BJP on to newer conquests. Mission Bengal comes next.