China: What led to Galwan Valley stand-off
PART 2: Ties soured in 2010 and by 2014, relations plummeted to an extreme low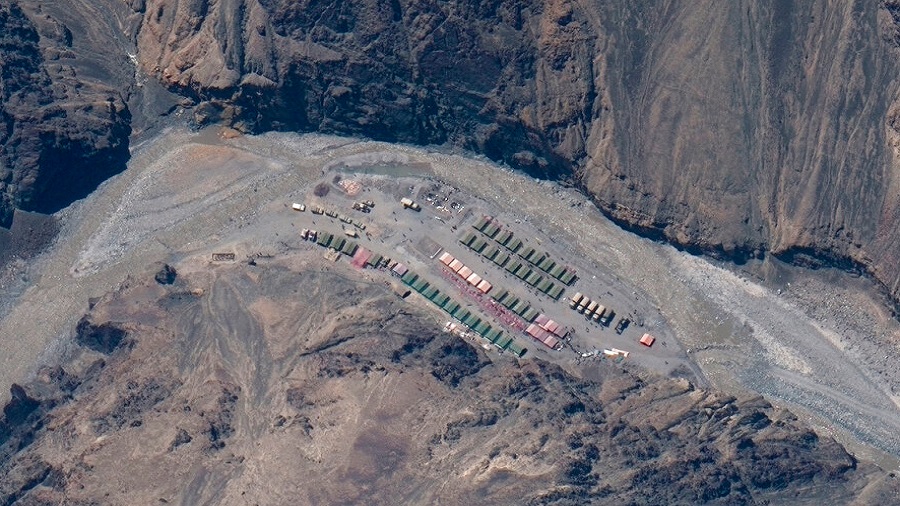 ---
---
From 2006 onwards, just prior to Hu's visit to India, China reactivated her claim to Arunachal and Ladakh. There were increased intrusions and relations between both countries deteriorated, with China becoming more belligerent and assertive towards India. Visas to Indians from these areas were also denied by China on grounds that these areas were claimed to be part of China. Accusations were also levied in relation to Kashmir and protests over PLA troops inducted into POK for construction of the Karakoram Highway. This state of affairs continued, almost reaching sabre rattling dimensions by both sides during the Lhasa rebellion of 2008, and thereafter. Both countries reinforced deployment on the borders - similar to the present standoff - China speeding up building warlike infrastructure in Tibet and India raising two additional divisions, besides reinforcing Air Force deployments. It was only during a meeting at Hun Hua, when Manmohan Singh and Wen Jiabao met during the Asia Pacific Economic Conference, that the two premiers reached an understanding – the two countries would have a Strategic Partnership for Regional Peace and Stability and narrow differences on the border issue through dialogue.
Unfortunately, incidents in Tibet reoccurred in 2010 and 2011, and relations deteriorated again. China reacted sharply to the Dalai Lama's visit to Tawang which he declared, for the first time, as being part of India. This was galling for China as Tawang holds special significance for Tibetans as the birthplace of the 6th Dalai Lama. The Dalai Lama's statement came at a time when massive protests against Chinese rule were taking place in Tibet. China officially cautioned India to exercise restraint and to stop stirring up trouble in the disputed area. It added, as a pointed reminder, that the two countries had never officially settled the demarcation of their border and China's stance on the eastern sector of the China-India border was "consistent and clear-cut". China also tried to block a $ 2.9 billion loan to India.
Relations then plummeted to an extreme low from 2014 onwards in Arunachal, Doklam Plateau and Ladakh where during PLA incursions, troops of both sides indulged in jostling each other. The Doklam Plateau incident where India had blocked Chinese occupation of, and road construction to, the Plateau was considered a great loss of face by the Chinese. The Indian Army had recorded increased border violations and aggressive border patrolling by Chinese soldiers. The situation had deteriorated in spite of Prime Minister Modi's summit with President Zi twice (at Wuhan and Mamallapuram).
The most recent violent incidents took place at the Pangong Tso in May and the Galwan River Valley at Patrol Point 14, where the Chinese had built up substantial forces, including on the Galwan heights, in June this year. In Pangong Tso Fingers area, the PLA had intruded some 8km and occupied areas up to Fingers Four, Five, Six and Seven (they were earlier only deployed at Finger eight), including the heights, in strength, thereby threatening Indian positions at Finger Three and Four and preventing their patrolling up to Finger Eight along the banks of the Pangong Tso, which used to be done earlier. When accosted by an Indian patrol and being advised to move back, the PLA attacked Indian soldiers with blunt instruments leading to casualties on both sides (use of firearms, though carried, was prohibited due to terms of the 2005 agreement).
While the situation was redeemed in May, in June this year at Patrol Point 14, Indian soldiers were ambushed by large numbers of PLA soldiers while out on patrol to verify the Chinese intrusion. Sadly, some 20 Indian soldiers were killed in the fierce hand to hand fight with the PLA, including a colonel each on both sides. The PLA also suffered a lot of casualties (apparently 100 or more, including alleged casualties due to a landslide on a camp, engineered by India). Both sides pulled back only after intervention by senior officers with great difficulty, leading to talks at a high level.
There are also media reports that the Chinese have built up some two or more Motor Rifle Divs with supporting arms in addition to the Brigade of the Border Defence troops already located there and have adopted a threatening posture to grab their claimed areas and more. There are also reports of the Chinese mobilising three Group Armies and placing Tibet and Xingjiang military districts on alert. The Chinese have also reinforced their PLAAF and missile units in the region.
Whilst improper to do so when the government, intelligence agencies and the Army are under pressure, it is imperative that we take note that some higher authorities in India appear to have failed to assess the situation, or the PLA build-up, correctly, consequent to which adequate and timely precautionary deployment at suitable locations was not adopted by the Indian Armed Forces. Pakistan is also reported to have inducted two divisions into the Northern Areas of Gilgit and Baltistan (NAs) in support of the Chinese. The Chinese are also reported to be in touch with terrorist groups in Pakistan and Afghanistan and are trying to get them to activate terrorism in the Kashmir Valley to tie down Indian troops.
Also, there are unconfirmed reports of PLA build-up in depth areas opposite the Sikkim and Arunachal sectors. India, in turn, has inducted a matching number of troops into Jammu, Kashmir and Ladakh sectors and has alerted troops in other sectors. After the border clashes, consequent to talks, senior officers/diplomats/officials of both countries have managed to defuse the face-off between the two Armies by creating a buffer zone of about 3km with both sides pulling back 1 to 2 km each.
However, the situation remains serious, with China not to be trusted, having grabbed Indian territory in Ladakh which is simply unacceptable to India. The buffer zone being created by no means resolves problems as the Chinese remain firm in their claims and demands and remained poised with a large number of troops postured to try to enforce the same – status quo ante needs to be restored, as the Chinese are currently in an advantageous position.
The reasons behind the Chinese belligerence is India's condemnation of the Corona pandemic, cancellation of Chinese contracts, siding with the USA and the West and Quad countries over aggressive Chinese activities all over the world, abrogation of Articles 35A and 370 for J&K and change of status quo; threats by Indian political leaders to recapture POK, NAs and Aksai Chin, and rapid Indian infrastructure development seen as a threat to vital Chinese L of C (China Pakistan Economic Corridor); restore prestige after Doklam; and take advantage of India's current weakness. This is considered by the Chinese to be totally unacceptable and also grounds for war, if India does not stop the same.
Tomorrow: Part 3: Reasons behind non-resolution of the India-China problem