Sudhir Dar's Everyman was stoical in his forbearance
Unlike many verbose Indian cartoonists, Dar was laconic, preferring visual humour to words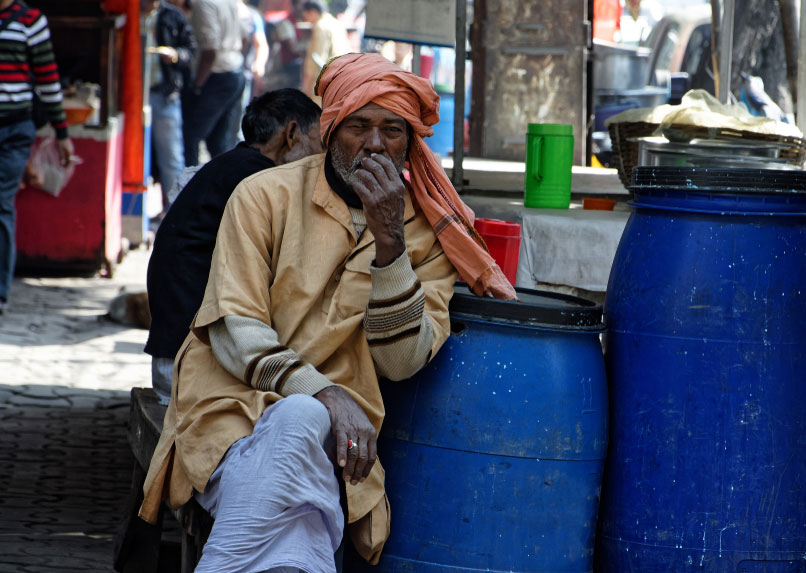 The cartoonist portrayed his Everyman in the avatar of one of those dhoti-clad, turbaned odd-job men who once used to paste different kinds of posters, sparing nary a wall in cities and towns
(Shutterstock)
---
Published 19.04.19, 11:52 AM
|
---
Once a daily feature in many national dailies and those published in the vernacular varieties as well, cartoons took a critical look at contemporary social and political mores, using humour either to expose our shortcomings and lapses, or simply to raise a few laughs. The humour of some cartoonists could be sharp as a rapier, and they could be relentless, while others preferred a gentler approach, although their eye could be as sharp as a gimlet. The humour of Sudhir Dar, whom Calcuttans of a certain age will remember with affection, was of the latter kind.
I was rifling through my bookshelf in search of a particular tome when, much to my delight, I discovered a threadbare copy of Dar's Out Of My Mind, which also happened to be the title under which his cartoons would appear in The Statesman. The back cover of the book carried a photograph of the balding cartoonist with a kindly face along with short biographical note. It was published by The Statesman and cost a princely Rs 4 in 1966, when I was still in school. It was a gift from my uncle.
Unlike many verbose Indian cartoonists, Dar was laconic, preferring visual humour to words. His lines were precise and sure. The cover showed, shall we say, the barefoot Everyman in the avatar of one of those mini-dhoti-clad, turbaned odd-job men who once used to paste different kinds of posters, sparing nary a wall in cities and towns. Perhaps Everyman was aware that this was illegal, and the cartoon showed a policeman wearing a turban, shorts and stockings leading him by his ear as he carried a pail of glue. Everyman was wincing with pain, but he seemed to be stoical in his forbearance. On the top right hand corner of the drawing was a notice that read: "Stick No Bills". Both men were moustachioed. How times have changed! Today, Everyman would surely have worn jeans, and the trousered policeman would have extracted a bribe.
The Letter from the Editor (Evan Charlton) probably provided a clue to Everyman's real identity. Let Charlton speak: "When Sudhir Dar brought his cartoons to The Statesman office, he used to send them into my office and wait around the half-opened door to hear if I laughed. When I didn't he would send in Sita Ram, our old friend and chaprassi, to have a careful look at my expression..." A wild guess perhaps, but I am convinced that Everyman is in the very image of Sita Ram. Most north Indian men of the so-called underclasses used to dress that way then.
Dar's cartoons were a running commentary on the tardiness and apathy of government functionaries, superstitions, literal-mindedness, the unreliability of the government transport system, fan clubs, fashion and lifestyle trends, hostile public reaction to Indian classical music concerts, population explosion, the meddlesomeness of the censor board, corrupt traders, and suchlike. Most of the issues are still very relevant, and Dar treated them with the lightest and most playful of touches.
The passage of time is easily discernible from sartorial styles — jeans have become our preferred national costume, displacing the sari and the dhoti, although where women's hairstyles are concerned, beehives and backcombing have gradually made a comeback. In these politically correct days I wonder if Dar would not have been branded a "misogynist" for his occasional depiction of women as chatterboxes and scolds. But only the humourless would ever dream of condemning him.