On target: Bombay HC on Tablighi Jamaat
It pointed out that the Tablighi reform movement has always had international visitors and they were free to travel within the country for religious programmes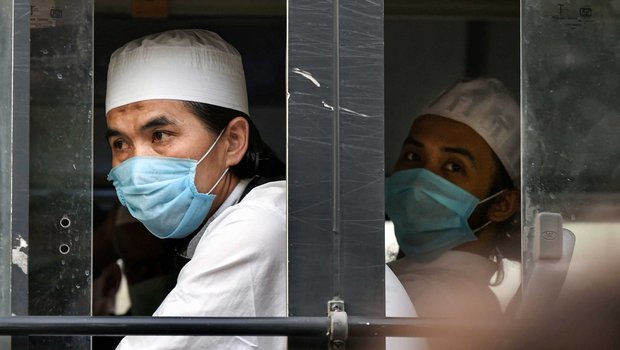 Members of the Tablighi Jamaat leave from LNJP hospital and head towards the quarantine centre in New Delhi.
PTI file photo
---
Published 26.08.20, 02:21 AM
|
---
India has failed in its ancient principle of regarding the guest as deity when incarcerating 29 foreign nationals who had come to Delhi's Nizamuddin Markaz for the Tablighi Jamaat in March. This was perhaps the kindest part of the Bombay High Court's scathing judgment of a 'political' government's action of finding 'scapegoats' for the pandemic, and imprisoning them for over two months with charges under the Indian Penal Code, the Foreigners Act, the Disaster Management Act and the Epidemic Diseases Act. The visitors, who had petitioned the court, were accused at the time of having spread Covid-19 by violating the direction against large gatherings, of having breached their travel conditions and of using opportunities for preaching their religion. Yet no progress has been made in the investigations since. Few things could be more damaging to India's image. The court pointed out that the Tablighi reform movement has always had international visitors and they were free to travel within the country for religious programmes. It dismissed the charges of visa violation and of preaching, and said that the petitioners should not have been jailed. Religious idealism had led to incarceration under difficult conditions instead of help during the pandemic. Two other high courts, of Madras and Karnataka, have also concluded that the visitors should be let free, although their reasons are different. The Madras High Court termed the confinement unreasonable, unjust and unfair.
The visitors told the Bombay High Court that they had entered India after testing negative for the infection and had been sheltered in mosques when they were stranded during the lockdown. Most pertinent to these times is the high court's condemnation of the 'big propaganda' of the media and representatives of the State accusing the visitors of spreading Covid-19. The judgment deplored the discrimination that allows foreigners of other faiths to pass without scrutiny, and remarked that malice is inferable in this case. Referring to the importance of fraternity in the Constitution, the court emphasized that social and religious tolerance was a practical necessity to keep India united. Religion and modernity had been reconciled by hard work and respect for both secular and religious principles ensured that most could participate in the process of development. No message could be clearer. The Centre, though, may choose to miss it.