Blood on sand: Killing of Mohsen Fakhrizadeh
The fragile status quo in the Middle East is unlikely to hold if blood continues to be shed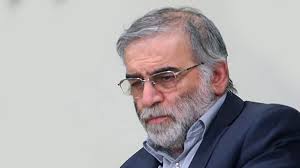 Mohsen Fakhrizadeh.
Wikipedia
---
Published 01.12.20, 11:38 PM
|
---
The reverberations of the killing of Mohsen Fakhrizadeh — Israeli and American intelligence believe that the scientist was the driving force behind Tehran's nuclear weapons programme — are unlikely to be limited within Iran. It would have broad implications not only in the Middle East but also in the West. Iran has accused Israel, its principal regional adversary, of the murder. Fakhrizadeh, Iran alleges, is not the only scientist to be killed by Israel's shadowy — lethal — security apparatus. At least five other nuclear scientists met with a similar fate in the last decade, or so says Iran. The goal, apparently, is to cripple Iran's nuclear projects that Tehran professes to be 'peaceful' in nature. Israel and the West, of course, would have none of this pious pledge from Tehran.
The fragile status quo in the Middle East is unlikely to hold if blood continues to be shed. Iran has already vowed retaliation at a time of its choosing. This is likely to deepen the frowns in Washington where the incoming dispensation led by Joe Biden is expected to open dialogue with Iran on the nuclear deal that had been nixed by his predecessor, Donald Trump, whose comprehension of the intricacies in the Middle East remained questionable during a fractious presidentship. The rekindling of mutual trust is of fundamental importance for the renewed negotiations between the United States of America and Iran to succeed. But Fakhrizadeh's murder is certain to cast a long shadow on the proceedings. This does not augur well because the US has a decisive stabilizing role in this restive region. A hint of complicity would undermine the US's credentials. Mr Biden must also keep an eye on the churn in the Middle East. There are reports that Israel is mending the proverbial fence with a number of Arab nations: Sunni Saudi Arabia, another competitor of Tehran, is among them. This fraternizing between traditional rivals is likely to add to Shia Iran's anxieties. Provoked beyond a point, a besieged Tehran may opt for a rash response. What every stakeholder needs are calm heads, not covert assassins, to resolve the thorny Middle Eastern question.