Primeval darkness
The rejection of secularism this week has jettisoned the Republic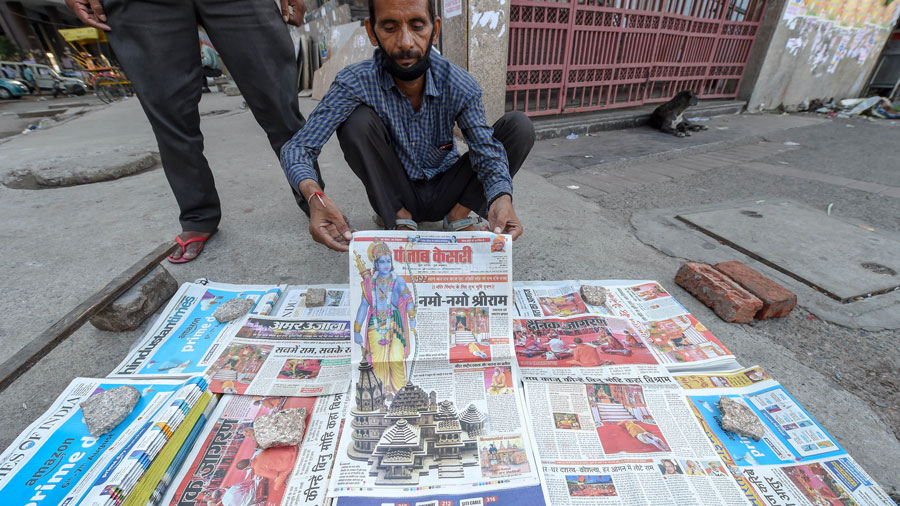 Newspapers across the country have published news of foundation laying ceremony of Ram Temple prominently, New Delhi, Aug 6, 2020.
PTI
---
Published 08.08.20, 12:57 AM
|
---
Indian reality came into its own as Narendra Modi threw himself on the ground in one sashtanga pranam after another. Over a billion Hindus could have preened themselves on an epic victory but did Wednesday's elaborate rejection of secularism and exaltation of a mythic Ram rajya also jettison the Republic? The live television coverage recalled David's painting of Napoleon's coronation, which someone called a "transparently masterminded piece of modern propaganda" with a major difference. Napoleon took the crown from Pope Pius and crowned himself. Brahmin priests anointed Modi's head with a contraption adorned by an ornate coronet.
Whether or not the Ram mandir bhoomi pujan "not only laid the foundation of a mandir but also the foundation of a Hindu Rashtra", as the All India Majlis-e-Ittehadul Muslimeen's Asaduddin Owaisi claimed, it both heralded and officially sanctified a significant shift that will affect every aspect of life. There has always been a certain dissonance between the native and what was acquired during what Modi calls "bara sau saal ki ghulami (twelve hundred years of slavery)". Rajiv Gandhi noted one aspect of this confusion when he told a small group of editors that he had problems explaining in Hindi to Zail Singh that ministers could not be sacked at whim just because the Constitution said they held office at the "pleasure" of the president. Asian authoritarianism does not tolerate European protocols and precedents. Jawaharlal Nehru was probably the last Indian readily to acquiesce in conventions like the British monarch voluntarily never using her enormous theoretical powers. West Bengal's Jagdeep Dhankhar may see no reason why any form of propriety ordained by Westminster should prevent him from furthering the interests of the party to which he belongs and which appointed him. His predecessor, Keshari Nath Tripathi, felt "like a toothless tiger".
Similarly, the Supreme Court judge who lauded the prime minister as an "internationally acclaimed visionary" with the "versatile genius to think globally and act locally", the supposedly radical corporate honcho who flopped down to touch a chief minister's feet, or the vice-chancellor who doubled up in obeisance before another chief minister were only being true to instinct and their inherited traditions. The vice-chancellor, a molecular parasitologist working in infectious diseases, candidly acknowledged her "culture" being "Marwari", "any older person or anyone of status" had to be greeted by bending low. A dignified bow or brisk Western handshake that places both parties on the same level would be too egalitarian.
It may seem a short step from self-abasement to the debasement that inspired the tale of a Bengali writer who wore a dhoti over his pants during the uprising of 1857 so that he was on the winning side, whatever the outcome. 
The elevation of Hindu nationalism must by definition reject many customs and practices Indians accept as normal. One of the prime minister's Mann ki Baat programmes specifically hit out at modernity when, espousing the case for listing yoga and adopting Ayush guidelines to boost immunity, it contended that Indians often don't accept such traditions from the past without "evidence-based research" in other countries. "Possibly this is largely due to our hundreds of years of ghulami" was his not implausible explanation. The impugned period covers not only the decades when Britain ruled the entire Indian subcontinent but also the centuries when Muslim dynasties from abroad controlled chunks of South Asia. Modi obviously regards this as the equivalent of the 900 years of European history — between the fall of the Roman Empire and the Renaissance — labelled the Dark Ages. No historical label is beyond contention. Europe's Renaissance and Reformation also had their contemporary critics. Quibblers against Marxist-Leninist orthodoxy were dubbed revisionist. If Boris Johnson were so lacking in self-confidence as to follow Modi's example and treat alien rule as unrelieved disaster, he would ban William the Conqueror's Domesday Book, the earliest public record and foundation document of Britain's national archives and the source of still valid legal title to land.
Any such purge in India would risk demolishing just about every familiar institution that testifies to modern nationhood. It had to be pointed out to a high-ranking bureaucrat that if Delhi's Lutyens bungalows were bulldozed because they were colonial, so are Rashtrapati Bhavan and North and South Block. The abolition of universities, judiciary, administration, media, the armed forces or the smart private hospitals preferred by politicians (no clanging thaalis or cow dung for them) would plunge the country into primeval darkness. Not that such drastic measures are contemplated, but it is not beyond political cunning to erode the Constitution from within while paying lip-service to it. Ironically, no extravagant symbol of outward modernity is spurned as India flaunts ancient roots to the sound of cymbal and shloka. The president and prime minister will whiz around the globe in custom-built fighters equipped with advanced missile defence measures that rival the American president's Air Force One. New Delhi's proposed central plaza will dazzle the world and impress on everyone what puny folk the British and their immediate successors were. The world's tallest statue will be matched by even more gigantic figures, lest other countries also buy Chinese technology and catch up. Ayodhya's grandiose temple will oblige an embarrassed Khadga Prasad Sharma Oli to regret his effrontery in trying to drag Modi's Ram down to his level. 
But even while harnessing the power of technology in their public outreach and preaching from the most sophisticated digital platforms, today's rulers reject the enlightenment that inspired Nehru's conclusion that "politics and religion are obsolete" and that "the time has come for science and spirituality". Nehru did not endear himself to the mainstream media either by urging it (in vain) to build up the nation's scientific temper by not publishing astrological predictions. The stars are omnipresent. Hundreds of Amitabh Bachchan's fans gathered during his recent illness at the temple to him with a life-size statue of the actor that has apparently existed in Calcutta since 2001. I don't know what they did; Bachchan himself seems to have indulged in some of the superstitious ritual earlier. He may even have heeded Suman Haripriya, the Assam Bharatiya Janata Party legislator, who says cow dung cures Covid-19 while cow urine is the antidote for cancer. According to another saffron worthy, Arjun Ram Meghwal, whose impressive clutch of ministerial portfolios includes water resources, river development, Ganga rejuvenation and parliamentary affairs, the papads he promotes create antibodies that combat the coronavirus. Pragya Singh Thakur and Ramesh Saxena are as divided on the medicinal virtues of chanting Tulsidas's Hanuman Chalisa as by their politics. Thakur holds that reciting the hymn five times a day will "definitely work and we will be free from coronavirus". Not enough, says the Congress's sceptical Saxena: only 11 daily recitations can banish the coronavirus.
Mustafa Kemal Atatürk was hailed as Asia's liberator. He was Turkey's Nehru. He banned the fez. Recep Tayyip Erdogan is the new liberator. He encouraged the return of the hijab. He has also converted the church of Hagia Sophia into a mosque. Modi might be credited for initiating a similar process here. The official liturgy need not insist that Ram flew the first aeroplane, Karna was "born outside his mother's womb" because "stem cell technology was known in ancient India" or that "the practice of plastic surgery" began with a Hindu scientist attaching an elephant's head on a human body. These being the prime minister's views, the Hindu rank and file will no longer feel inhibited about asserting the absurd with all the dogmatic conviction of the uninformed. Twelve hundred years of slavery makes for imitativeness.
Far from being resolved, the mismatch between East and West that accounts for so much of India's confusion will get worse as our reinvigorated rulers preach one thing and practise another.