First stone: Ram's triumphant temple
Many have been invited for the foundation stone laying event on August 5; the guest list reportedly grew from the initial 50 to 600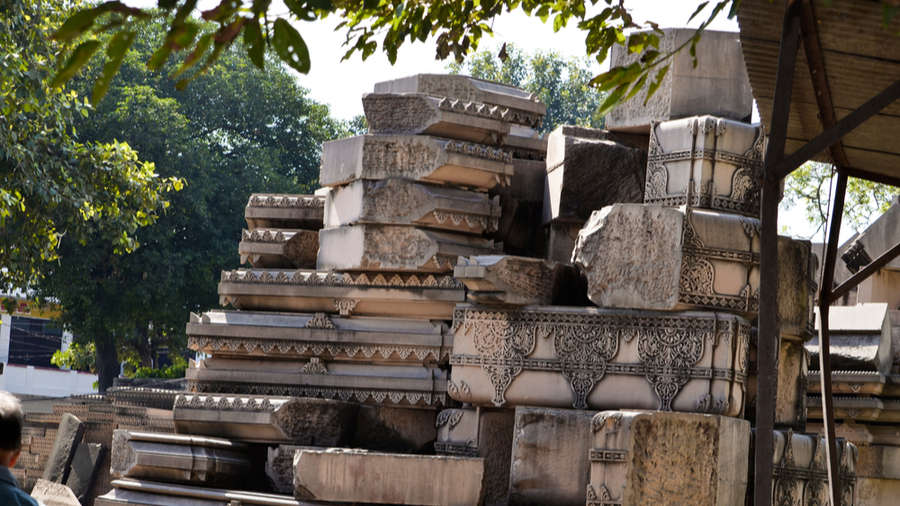 Stones at the Ramjanmabhoomi site in Ayodhya.
Shutterstock
---
Published 04.08.20, 02:29 AM
|
---
Will he or will he not? Will the prime minister lay the foundation stone of the Ram Mandir at the site of the demolished Babri Masjid or will he also perform the bhoomi pujan? This unresolved issue between the two factions of the temple administration does not matter to the privileged and passionate fighters for and supporters of the Ram Mandir, the symbol of a triumph best left unelaborated. Many have been invited for the event; the guest list reportedly grew from the initial 50 to 600. Powerful politicians and business leaders as well as devotees from the sangh parivar shall be present. Gatherings transcending fixed low numbers at weddings, funerals, community prayers and ceremonies are forbidden by government order during the pandemic. Clearly this applies to those millions who did not fight for the Ram temple. No warnings can be relevant to a mega-event related to one specific religion in a multi-religious country that is officially patronized by the dominant party at the Centre with the promise of the prime minister's presence and participation.
The event will take place as a virus continues to ravage the country — perhaps because the temple should be up and running by the next general elections. That reasoning is trite, but what is more remarkable is the spectacle: one of the convergence of politics and religion at a specifically chosen historic site, encapsulating the fruition of a violent struggle for such fusion and the beginning of — or so seems to be the hope of the dominant dispensation — a changed direction in the country's history. But grand visions apart, what would the programme mean in the daily life of the people now? That science does not matter where religion is concerned, that the virus will never hurt the truly faithful when they ignore personal safety and that of their families and neighbours to be present at the founding of a temple? In a country of uncertain education and an over-dependence on faith, such a response, at least among the bhakts, would be hardly surprising. It is a simple question of responsibility: does the government feel responsible for those it governs?