Art strewn about for a dekko
Old Bombay and its late recognition as a heritage site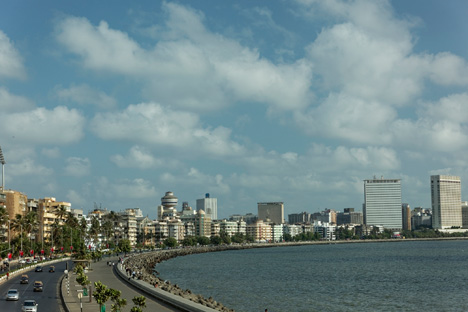 ---
Published 04.08.18, 12:00 AM
|
---
Waking up on a Sunday morning to headlines of Mumbai's Victorian and Art Deco precinct being recognised by Unesco as a World Heritage Site was a euphoric moment, as I had spent some of my most memorable years growing up in this historic district.
My father being an officer in the Indian Navy, I was born in INHS Asvini, a naval hospital situated at the southern tip of Bombay, and whose history dated back to 1756, when it was King's Seamen Hospital. Asvini's nearly 100-year-old stone building gave me my first whiff of history.
Home, thereafter, was a series of transit flats in several Art Deco buildings. Of course, I do not remember them all; but I have faint recollections of toddling around in Riviera, one of the splendid structures dotting the Marine Drive. In later years, I became aware of the aspirational character in the design of these buildings that came up between the 1930s and 1950s, when migrants, businessmen, film industry folks and others prospered in this city of opportunities, and created homes influenced by the latest Western building styles. Soon, Bombay had the second largest number of Art Deco structures after Miami. Today, as I recall my playful hours in the large balcony of Riviera, overlooking the Arabian Sea, and my baby steps on the wide footpath below, I am seized with intense nostalgia for those gracious times when city-planning combined utility with aesthetics.
It is the same when I walk past Dhanraj Mahal, where I spent 10 precious years growing up in a building requisitioned by the Navy from Raja Dhanrajgir who built this fabulous, palatial building in 1938 along Art Deco lines. Dhanraj Mahal had the impressive Gateway of India on one side, the Victorian Gothic stone structure of the Maharashtra State Police headquarters on the other, and the Royal Bombay Yacht Club across the road. As a child, I assumed this is how all cities were built. Walking to school on well-washed roads past the handsome Art Deco Regal theatre, built in 1933, and boasting of air-conditioning, my impression of urban life was a lofty one.
Sometimes, my friends and I popped in for an afternoon show at Eros Cinema opposite Churchgate. Built in 1935, with typical Art Deco features, including a ziggurat, it was a pleasure watching films in its luxurious interiors.
Growing up in this wonderful district in the last century was truly an exhilarating experience. But now, when I walk on its ankle-twisting footpaths, side-stepping excreta and other filth, I am overcome with rage and fury. Though citizens' initiatives have restored many of the stately edifices, and the colonial-time district has acquired a Unesco tag, the unkempt, shabby streets hardly do the area proud.
Till we relocated to Uttar Pradesh after my father's retirement. With Bombay as my yardstick, it took a while to settle down in UP and to appreciate its intrinsic charm, open gutters and all. I realised, then, that not all cities were as neat and clean as the Bombay of my pre-teen years.
After a few years, when we returned to Bombay, to live in the suburbs, in Andheri East, I enrolled in Elphinstone College, in the Fort area, which was the walled heart of the city in the 18th and 19th centuries. Elphinstonians thought of themselves as a cut above the rest because the handsome stone stairs we climbed were the same that legal and political luminaries like Bal Gangadhar Tilak and B.R. Ambedkar had climbed, in their pursuit of higher studies. Built in the 1880s of golden basalt stone and Porbunder limestone, neo-Gothic Elphinstone is included in the Unesco recognition. (This is a consolation, as Elphinstone today is, sadly, a poor version of its earlier self, with academic standards having dipped miserably in the last few decades. Run by the government of Maharashtra, it epitomises all that is wrong with governance.)
Since I commuted from the suburbs by local train, I walked from Churchgate Station to college and back. My leisurely stroll back took me across the palm-fringed Oval Maidan that has the distinction of having Victorian Gothic structures like the High Court, the exquisite, stained-glass-windowed university library and Rajabai Clock Tower on one side, and charming Art Deco residential buildings on the other. Names like Empress Court, Windsor House give you a glimpse of the past when English royalty was looked up to. History is part of daily life in this heritage site whose monuments are, as conservation architect Abha Narain Lambah points out, 'living, breathing buildings in active use by citizens'.