Stay at Monica's: 'The Friends Experience'
American Diaries: Freckles, the spotted calico lobster; vaccinated Americans don't have to wear masks anymore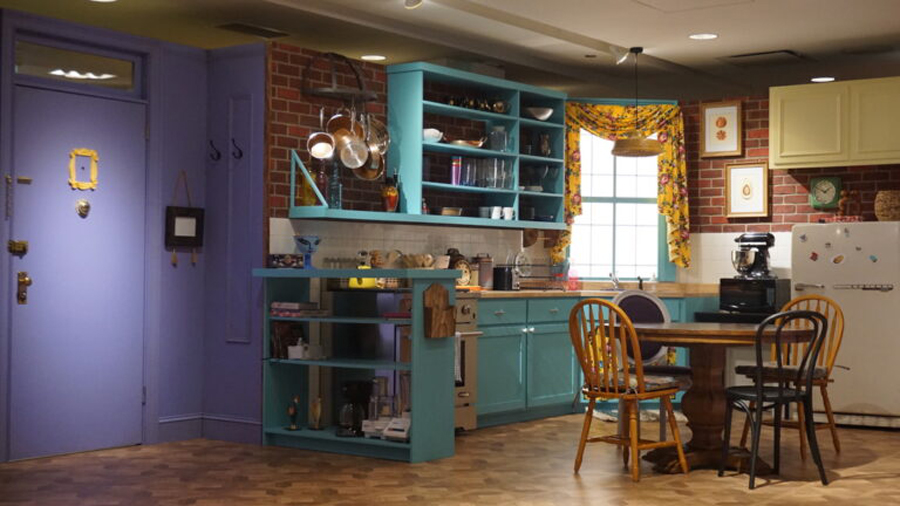 'The Friends Experience' is a pop-up in the Flatiron District in New York City which has recreated the apartment and scenes from the popular show of the 1990s.
Twitter/ @SplashMagWW
---
Published 22.05.21, 12:47 AM
|
---
Many of those who dreamed about visiting the iconic Friends apartment — the one in which Monica lived with Rachel and then Chandler — are now able to turn their dream into a reality. "The Friends Experience" is a pop-up in the Flatiron District in New York City which has recreated the apartment and scenes from the popular show of the 1990s. Registration was available through www.booking.com for two overnight stays and costs only $19.94 per night. There are 18 rooms, each one representing a classic scene, prop or location from the show such as the wedding chapel where Ross and Rachel got married, Monica's kitchen and Chandler's famous bunny costume, among others.
Life story
The last place you would expect the life of a lobster to be spared would be a restaurant chain that specializes in lobster dishes. That, however, is exactly what happened at a Red Lobster location — it is a chain in the United States of America — in Manassas, Virginia. When their shipment of live lobsters came in, the staff noticed something odd in the crate — it was a lobster with an orange shell and black specks. The employees named it 'Freckles' and spared it from the pot of boiling water. They reached out to the Association of Zoos and Aquariums who then contacted the Virginia Living Museum.
Thus Freckles went to the Virginia Living Museum. It turns out that Freckles is a calico lobster. The University of Maine's Lobster Institute estimates that the odds of catching a calico lobster are one in 30 million — nearly 10,000 times less likely than being struck by lightning. The lobster went through a health evaluation and will be exhibited at the museum's Chesapeake Bay Gallery.
Last year, a Red Lobster location in Ohio donated a rare blue lobster — it had been named 'Clawdia' — to the Akron Zoo.
In other animal news, Houston was rocked earlier this month when a Bengal tiger was seen roaming around a residential neighbourhood. An off-duty sheriff approached it after which the owner — a man on bond from a murder charge — took the tiger, got into his white SUV and escaped. After a short car chase, the man was caught but the tiger was nowhere to be found. Finally the tiger, named India, was found after a week and taken to safety.
Scary prospect
The Centers for Disease Control and Prevention announced that vaccinated Americans don't have to wear masks anymore or engage in social distancing in most settings. The announcement was met with scepticism and confusion. Many remarked that one simply cannot tell by looking at someone if they are vaccinated or not. Essential workers in hospitals and nursing homes are not fans of the new rule, especially for the sake of the vulnerable population.
Businesses are still enforcing their mask-wearing policies as are some states. Starbucks, Walmart and Costco announced that they will drop the mask rule in states that have done so. While 56 per cent of Americans above 18 have received at least one dose, there are still vaccination incentives that are going around. Rowan University in New Jersey is offering students who show proof of vaccination a $500 credit towards their student bill to help the state reach its 70 per cent vaccination goal. Ohio has put forth a million-dollar lottery for those who are fully vaccinated. To be eligible, you must be an Ohio resident, and must have had at least one shot of the vaccine. Winners will be chosen by random draw every Wednesday beginning May 26 and win $1 million each.
Footnote
Cows are returning to New York — fibreglass statues of cows that have been seen on display will now be part of a larger event called CowParade. It will bring together 75 artists from all over the world to create art representing cows. The artists include famous names and amateurs and are picked through an "Open Call to Artists". Word is sent out through email, organizational outreach, newspapers or ads and sponsors select the final list of artists from the submissions.