Good riddance: Donald Trump defeated
American Diaries: Native American Heritage Month; election week followed by Holiday shopping season in the US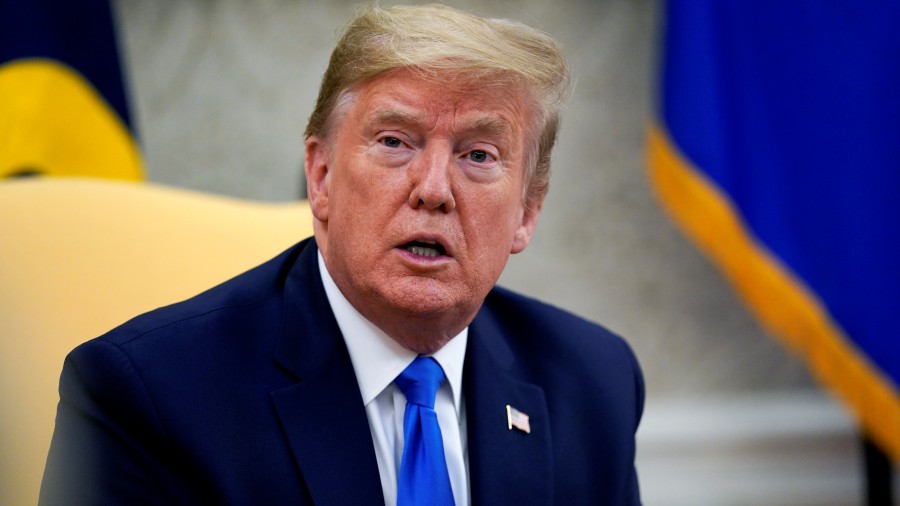 Donald Trump.
File picture
---
Published 21.11.20, 02:39 AM
|
---
With Donald Trump defeated in the 2020 presidential elections, joyous parades spread on to the streets across the United States of America. Happiness and the sense of a burden being lifted were felt strongly, less because of the Biden-Harris victory and more because Trump was finally going to be out. In Washington DC, people flocked to the Black Lives Matter Plaza across from the White House as soon as news networks called the race for Joe Biden. People were banging pots and pans in joy while the crowds sang the song, "YMCA" — previously danced to by Trump in one of his closing campaign rallies (he was ridiculed for it by liberal media outlets). 
In Philadelphia people cheered from streets, cars and fist-bumped through their windows. There was a popular 'Good Things Happen in Philadelphia' sign that people posed with — a jab at Trump's statement from the presidential debate where he stated that "bad things happen in Philadelphia", alluding to baseless claims of election fraud.
In Trump's home town, New York City, a crowd gathered outside the Trump International Hotel and Tower chanting: "No More Trump!" In Times Square, a man was playing "Hail to the Chief" on the trombone. Hundreds of people (mostly in masks) cheered on the streets with Biden-Harris signs, American flags, and homemade signs with slogans like 'Best Break Up Ever'.
While champagne was popped in Biden's name, last week thousands of Trump supporters showed up in DC for the 'Million Maga March' to support Trump's unproven claims of voter fraud. Members of the far-right white supremacist group, Proud Boys, and the Oath Keepers militia group were among the marchers. Supporters carried placards which read 'Stop the Steal' and 'Trump 2020'. They were also mostly mask-less, garnering immediate criticism.
Remember them
November is Native American Heritage Month, now in its 30th year in the US. Different states use this time to celebrate the historical and cultural achievements and contributions of the Native American community, a minority group in the US that faces discrimination and hardship. This year has seen the greatest sensitivity to their issues manifested in the form of much-needed changes. After years of petitions and activism calling for change, the Washington, DC NFL football team chose to stop using a racial epithet as their mascot and team name. Last year, the District of Columbia adopted Indigenous People's Day, replacing Columbus Day. 
The governor of Arizona set forth a proclamation declaring November to be Native American Heritage Month for the state. Arizona is home to 22 tribal nations and communities, including the Navajo Nation, which is the largest Native American reservation in the US. Tribal lands make up 28 per cent of Arizona's land base.
In DC, the Smithsonian's National Museum of the American Indian unveiled a new memorial honouring the military service of Native Americans on Veteran's Day. The National Native American Veterans Memorial opened with virtual programming, including a tour and video tribute, on November 11. It honours American Indians, Alaska Natives and Native Hawaiians who have served in the armed forces at a higher rate per capita than any other ethnic group and in every major conflict since the American Revolution.

Time to be mindful
Holiday shopping season has kicked off online and in retail stores far earlier than usual this year. Given the struggle of business owners on account of Covid-19 as well as the Black Lives Matter movement, businesses and individuals are finding ways to show their support for black- and minority-owned ventures in this holiday season. Many big brand retailers have taken the pledge to allocate 15 per cent of shelf space to products bought from black-owned businesses. This '15 Percent Pledge' grass roots initiative is aiming to lobby major retailers in the US on the ground that black people make up 15 per cent of the country's population and yet are under-represented in the retail sector. 
The make-up giant, Sephora, revealed that only seven of their 290 products are black-owned. Other retailers that have adopted the pledge include Vogue, West Elm and Rent the Runway. Macy's also revealed it is taking steps to collaborate with black designers for its private labels. Yelp! has also added a new black-owned business attribute, making it easy to find and share such businesses with one's community so that support can be extended to them.

Chart toppers
November 3 was Election Day, but this year it changed to Election Week. Most Americans were glued to CNN, ABC, Fox and other major cable news channels. By the end everyone had the US map memorized, demarcated by red and blue, as news anchors dexterously manoeuvred touch screen maps and ended up winning the hearts of Americans. 
As major states were waiting to be called, the big names such as CNN's Anderson Cooper and MSNBC's Rachel Maddow had their moments, but those who really stole the show were the "chartthrobs" tirelessly offering analyses of electoral maps. The chief national correspondent for CNN, John King, and a national political correspondent for MSNBC and NBC News, Steve Kornacki, were constants during the election coverage and were lauded as the real winners of the election. Social media was flooded with tweets of people's admissions of having crushes on anchors such as Kornacki, Chris Cuomo, Jake Tapper and Don Lemon. By Friday of Election Week, #SteveKornacki had more than 6,60,000 views and #JohnKing had 4.3 million views on TikTok.
Footnote
Transgender Awareness Week is a celebration leading up to Transgender Day of Remembrance, which memorializes victims of transphobic violence. Human Rights Campaign hold events such as film screenings and panel discussions to raise awareness of the abuse faced by transgender and non-conforming folk. This year at least eight transgender, non-binary and gender-non-conforming state candidates were voted into power, including the US's first-ever openly transgender state senator.