Advertisements peddling hocus pocus must be stopped
Newspapers are full of advertisements of psychics who claim they can cure everything from sexual problems to unsuccessful careers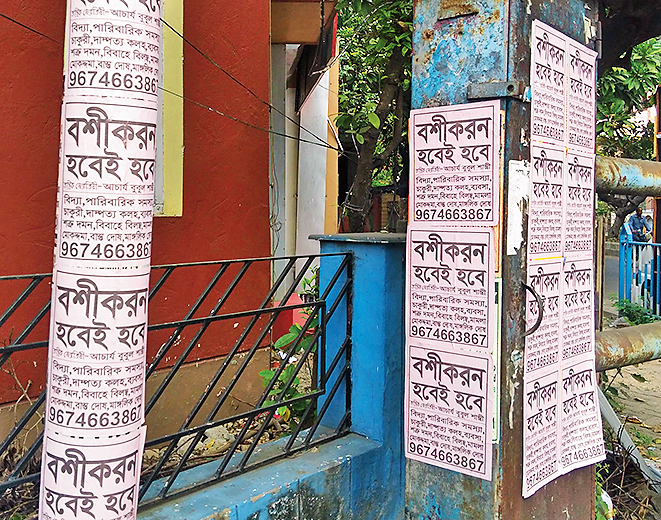 Advertisements for hypnosis on streets in Calcutta
Photo by Kamalika Basu
---
Published 07.11.18, 07:41 AM
|
---
Sir — Hypnosis seems to be a panacea for all bad habits. Newspapers are full of advertisements of psychics who claim to be able to cure everything with hypnosis, from sexual problems to unsuccessful careers. Posters proclaiming their talents abound on street walls and corners. But are the authorities under a spell too? Why do they not intervene when such irrational ads are so clearly visible in public? Political leaders encourage such unscientific ideas to wield power over the unthinking electorate, such as those who oppose the entry of women into the Sabarimala temple. The trance must be broken.

Srabani Deshpande,
Calcutta Terrible loss
Sir — The news that the tigress, T1 or Avni, was killed in Pandarkhwada, Maharashtra was saddening ("Shadow over tigress killing", Nov 4). The killing took place in spite of a significant movement by activists and animal lovers to save the tigress — which had eluded capture for two years — from being shot dead. The forest department failed miserably to catch the tigress alive. But there was no need to kill her. At a time when the campaign to save the species is at its peak in India, the killing comes as a rude shock to conservationists. The killing of wild animals should be completely banned. Any animal, even if it is a man-eater, should be tranquillized, and later released into its habitat. People must also desist from encroaching upon the forest area, allowing space for wild animals to reside.
Sravana Ramachandran,
Chennai
Sir — One can empathize with the families who lost their kin to attacks by the tigress, Avni. But using this as an excuse to kill a creature is a criminal offence. Action must certainly have been taken to protect the people living near the forests. The Supreme Court had even allowed for the shooting of the man-eater as a last resort. But the problem could have been managed better. Tigers are an endangered species, so the tigress in question should have been tranquillized and captured, not shot. Now the two cubs are left without a mother, unable to fend for themselves.
More forest rangers should have been posted in the area, so as to keep the local people away from the wilderness. In Avni's case, 11 of the 13 victims are reported to have gone deep into the jungle. With adequate precautions, more lives can be saved in future, both human and animal.
Asmita Guha,
Calcutta
Sir — The recent cold-blooded killing of a Bengal tigress in Maharashtra has caught the attention of the media, wildlife enthusiasts and conservationists across the globe. T1 was charged with being a man-eater and connected to the death of around 13 villagers. She had two young cubs. However, the evidence of her being a man-eater were only circumstantial. This case had moved through several courts of administration. But she was awarded a death sentence without a complete investigation.
Why could not the animal have been tranquillized with powerful, legally-prescribed sedatives and retained in a wildlife rehabilitation centre or a zoo for further inspection and observation? One wonders what kind of wildlife management the state and Central governments practise when they cannot even protect an endangered species.
Saikat Kumar Basu,
Lethbridge, Canada
Sir — A thorough probe into the killing of T1 must be ordered. The authorities must clarify if Asghar Ali Khan, the person who shot the tigress dead, was at all authorized to use the gun. Reportedly, no vet was present on the site either. Further, why was the tigress shot at night, a time when such an activity is prohibited?
Noyonika Sen,
Calcutta
Wasted opportunity
Sir — Vallabhbhai Patel was a great leader who played a major role in India's freedom struggle. He was committed to the welfare of farmers, and also integrated more than 550 princely states to build a united India.
One must congratulate the prime minister, Narendra Modi, for commemorating Patel through such a fitting monument. It was a courageous decision to undertake such a grand project. However, would it not have been more helpful if the government had built a university or a hospital in his name? This might have inspired many other people to do similar good deeds.
M.T. Khan,
Mumbai
Sir — China recently unveiled the biggest sea bridge in the world, an engineering marvel and a national asset. But we want to bask in the glory of building the world's tallest statue. This is nothing but squandering the scarce resources of a poor country. The money could be better utilized to meet more compelling needs, like infrastructural development and poverty alleviation. The enduring legacy of Vallabhbhai Patel should undoubtedly be cherished. But Patel himself, had he been alive today, would perhaps have disapproved of this extravagance.
Samir Kumar Majumdar,
Calcutta