A metaphor for democracy in India
The roots of the kaashphul run deep and it will withstand most efforts at removal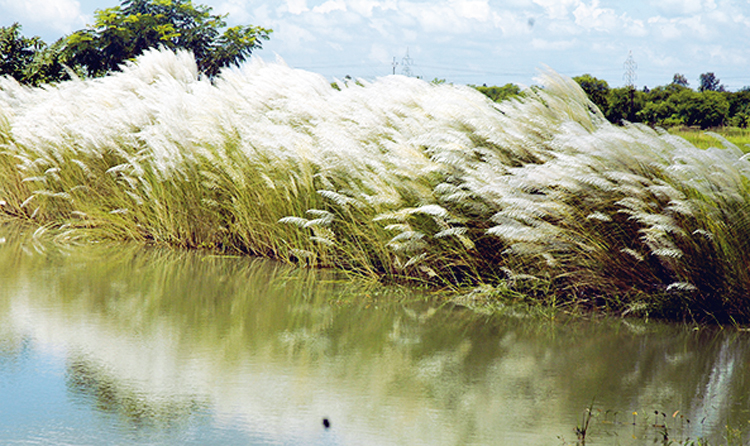 ---
---
Sir — The article, "Where the grass is white" (Sept 25), by Uddalak Mukherjee was suffused with nostalgia. It reminded readers that the big festive season is almost upon us. Just as kaashphul spreads across all available landscape, erasing boundaries, so too do divisions and complexities fade away during these festive days. People irrespective of age and other markers of division share happiness. The image of kaashphul reminds those living away from Bengal of home and is thus especially evocative. The scene where a train cuts through a field of kaashphul in Pather Panchali is thus significant. One wonders who it is bringing home.
Anisul Haque,
Burdwan
Sir — The article by Uddalak Mukherjee made for interesting reading. He highlights the durability of kaashphul in the face of the impermanence that is synonymous with the season that it heralds. Notably, such is the power of kaashphul that it once forced India to seek a loan from the World Bank. Back in 1949, this invasive species of grass had colonized an area larger than the size of Connecticut in central India. Nothing — not chemical herbicides, nor rooting this grass out — could restore agriculture in this area and people were even forced to migrate. The World Bank then lent India seven million dollars to purchase tractors that could pull out the deep roots of this weed and treat the area with sunlight so that life could resume.
The resilience, irreverence and undaunting spirit of the kaashphul can in fact be an important parallel to the spirit of democracy in India. Its roots run deep and it will withstand most efforts at removal. But if the force is strong enough, even these deep roots will yield living India a land unfit for habitation.
A.K. Sen,
Calcutta
Sir — The article, "Where the grass is white", made for wonderful reading. As the writer correctly points out, 'phul' is a misnomer as kaash is really a grass. Nonetheless, this harbinger of autumn and the Durga Puja holds a special place in the minds of Bengalis. It also evokes that iconic scene from Pather Panchali when a train cuts through a field of tall waving kaashphul, which accompanied the piece in question.
Anjan Majumdar,
Calcutta
Unhappy journey
Sir — It is heartening that India has moved up from the 40th to the 34th position in the tourism index compiled by the World Economic Forum. India has the potential to go farther. But, unfortunately, India has slipped on several indices that measure the safety of people here. Reports of sexual assault and violent attacks on both men and women are common. Social and political strife, and law and order problems discourage tourists from visiting India. It is thus not surprising that smaller countries like Singapore attract more tourists than India.
There is talk of promoting tourism, but this has to be supported by concrete measures to improve the situation in the country. A holistic approach that involves all stakeholders — State, law enforcement, local businesses, residents, academics and other civic society members — is necessary for tourism to thrive in any region. With the Indian economy passing through a bad phase, the tourism industry might just be the way out.
Shovanlal Chakraborty,
Calcutta
Cold comfort
Sir — Sharod is no longer associated with blue skies and fluffy clouds. Climate change, which has resulted in a delayed monsoon, has been turning Calcutta's sky dark in and around Durga Puja. Perhaps the pundits should consider pushing back the date of the goddess's arrival by a couple of months. Durga Puja during the winter, whatever is left of the cold season in these times, would not be a preposterous idea. The prospect of visiting pandals dressed in the best and the brightest of monkey tupis while munching on piping hot singaras could be irresistible to Bengalis.
Shantosil Ghatak,
Calcutta