Knock. Knock. Who's there?
Where do gods live? Not in heaven it seems, at least not for a long, long time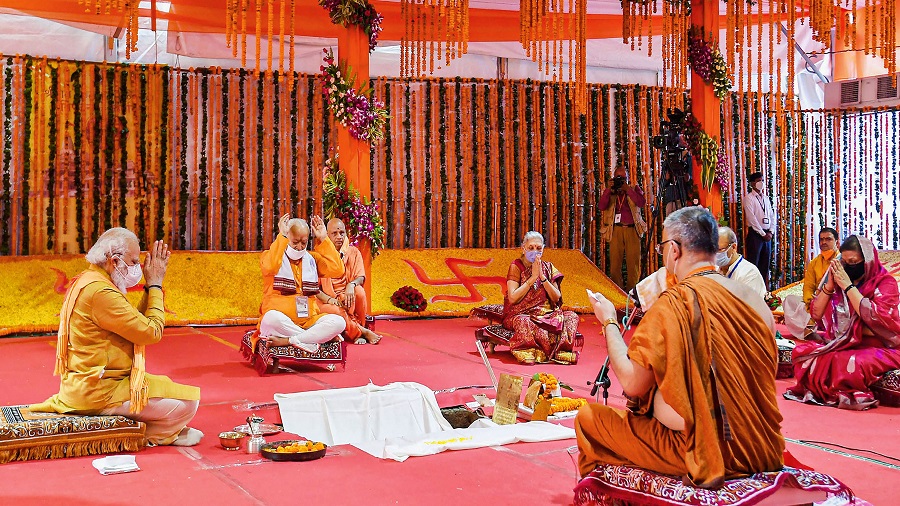 ---
---
The Ram Mandir bhoomi pujan done, the wait for the very tall temple --- 161-feet --- begins. Prime Minister Narendra Modi has said, "A grand temple will now be built for our Ram Lalla who had been staying in a tent for decades." Which brings us to the question, where do gods live? Not in heaven it seems, at least not for a long, long time. One of the earliest beliefs across geographies is that they lived in mountains or that was the closest one could come to them.
Mountains and trees
Mount Olympus, believed the ancient Greeks, was the address of 12 senior gods --- Zeus, Hera, Poseidon, Demeter, Athena, Apollo, Artemis, Ares, Hephaestus, Aphrodite, Hermes and Dionysus. Researchers claim ancient ritual sites have been found on Andean mountain summits up to 6,700 metres. Mount Kailash in Tibet is considered to be the abode of Shiva by Hindus. Vajrayana Buddhists associate it with the Buddha. And the followers of Bon, an ancient Tibetan religion, believe it is the seat of the sky-goddess Sipaimen. Japan's Mount Fuji is held sacred and Fuji-san is supposed the incarnation of the earth spirit. Certain sects regard the mountain as home to the goddess Sengen-sama. In China, the sacred Daoist mountains are Tai Shan, Hua Shan, Heng Shan Bei, Heng Shan Nan and Son Shan. In many civilisations trees are also considered sacred. The grove located just outside the city of Osogbo in Nigeria is dedicated to a fertility goddess. Sacred groves are common in Lithuania. The Celts hold the mistletoe sacred and the tree on which it grows; they revere the oak too.
Temple Run
The most popular pilgrimages are but a long trek to keep a tryst with the divine. Bethlehem, Lumbini, Mecca, Amarnath, Golden Temple and others are believed to be repositories of the divine by direct or indirect association. The architectural quirks of these holy sites are but a reflection of community beliefs, community wealth, even community expectations of its gods. In Mesopotamia, the temples were constructed in the form of ziggurats reaching skywards in a series of stairs as if to help the gods straddle the two worlds. Closer home a poet once sang, "Kaaj ki amar mondire te aana gonay/Patbo aashon, apon moner ekti konay)… What need for me to frequent the temple at all/When all I need is a little space in my own heart."