A day focused on gender parity is still as important as ever
International Women's Day events this year highlighted wars on women, children, migrants and the earth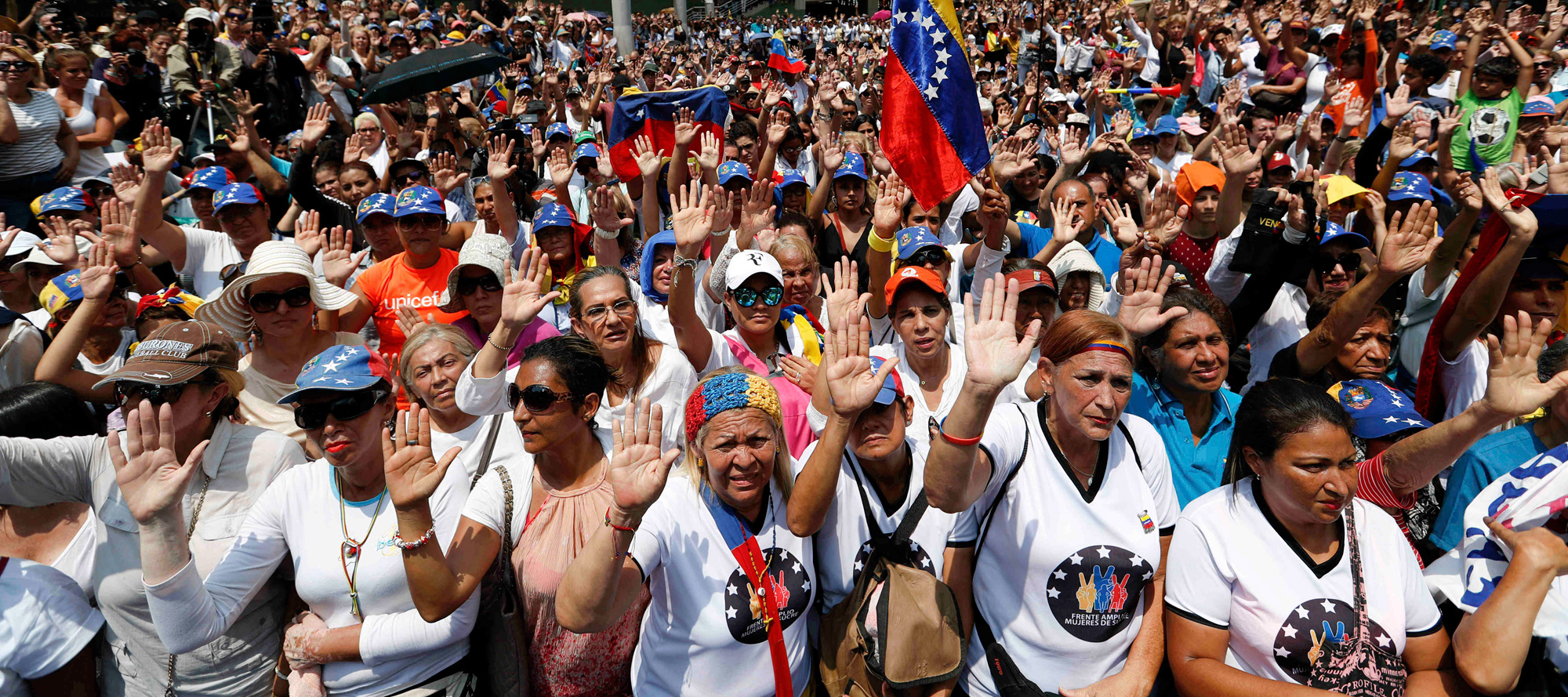 Venezuelan women take an oath to fight for women's rights during a rally to commemorate International Women's Day in Caracas, Venezuela on Friday, March 8, 2019.
AP
---
Published 15.03.19, 07:38 PM
|
---
International Women's Day was on March 8: a day marked by the United Nations to celebrate women and draw attention to issues of gender discrimination. This year's theme was "Think equal, build smart, innovate for change", with the hashtag, 'BalanceForBetter'. The 2019 initiative was aimed at a greater awareness about discrimination and a celebration of women's achievements. That includes reducing the global gender pay gap and striving for equality for men and women. It focuses on innovative ways women can advance gender equality and empowerment.
This year, at the UN headquarters in New York, senior officials and women thought leaders in science, technology, engineering, mathematics and design gathered to discuss the advancement of women's rights. The day is celebrated in different ways across the world. In the United States of America, there were events in more than 35 cities. Atlanta is home to a Women's Day Tea Party for small-business owners. Minneapolis held a FeMNist Day with a breakfast event, workshops and a night market for female-owned businesses.
Los Angeles organizers hosted a women's strike with a march, rally and dance party at the Federal Building. They highlighted wars on women, children, migrants and the earth. A celebration at Washington Square Park in New York offered women flowers with inspirational messages. Having a day focused on gender parity is as important today as it has ever been.
Time to celebrate
St Patrick's Day is tomorrow. It's a day of celebration, street parades, drinking and a whole lot of green. It was originally celebrated by going to church and honouring St Patrick as the founder of Christianity in Ireland in the fifth century. Chicago is supposed to be the best city for St Patrick's Day celebrations, according to a recent report from WalletHub. Each year, 40 pounds of dye are used to turn the Chicago River green.
The lowest average prices for a ticket to celebrate are in Minneapolis, Madison, Portland, Houston and Dallas. The highest average ticket price for a day party ticket can be found in Atlanta, Seattle, Chicago and Detroit. The first St Patrick's Day parade is supposed to have been held in New York City in 1762 by Irish soldiers serving in the British Army during the Revolutionary War. New York began its official St Patrick's Day city parade in 1848. This year, the parade is scheduled to take place today. Bagpipers, marching bands and mounted police will proceed up 5th Avenue from 44th Street to 79th Street. About 1,50,000 people march and two million people watch, making it the largest parade in the US. Americans are predicted to spend $5.6 billion, which is $40 per person, on St Patrick's Day this year. In terms of alcohol consumption, it is the fourth-biggest drinking day of the year in the country.
Visible progress
Blockchain technology has brought a new meaning to the 'farm-to-table' style of eating. With the latest technology you can now trace exactly where your food came from, starting from its source to its journey and transportation. Bumble Bee Foods, a San Diego-based seafood giant, has been running blockchain on its 'fair trade'-certified frozen tuna brand, Natural Blue by Anova. The tuna is sourced from small-scale fishing operations based on east Indonesian islands and it is set to go on sale in the US. Through the technology you can trace it from the time it was caught till it hit the shelves. Furthermore, when people go to a restaurant or a grocery store, they can find out exactly where their food comes from, whether it's organic or genetically-modified, and how fresh it is. Ripe.io is another company that aims to use blockchain technology to digitize supply chains from end-to-end and ensure maximum food transparency. FoodLogiQ released a blockchain pilot as well. At a press release, their CEO said that the company would be "taking the lead on blockchain exploration within the food space."
Recently, four Alberta-based breweries partnered with the German food traceability company, TE-FOOD, to debut a new beer. An article by TE-FOOD says that curious beer drinkers can scan the QR code on the beer can and get a visual timeline on their phone tracing the beer grain's journey from farm to can.
Trash talk
A viral social media trend is actually doing some good for the world. The "trashtag challenge" encourages people to clean up littered areas of their local communities and share their work on social media in 'before' and 'after' photos. According to Time magazine, the trend is said to have resurfaced after first hitting the internet in 2015, when UCO, a Canadian brand of outdoor essentials, announced the challenge and their goal of picking up 10,000 pieces of trash in the year following the challenge's introduction.
It is said that UCO's people ambassador, Steven Reinhold, thought of the challenge after he accidentally let a receipt fly out the window, making him feel guilty. He committed to picking up 100 pieces of trash to make up for his accidental littering, and was hopeful that he could get others to do the same. Users were collecting every piece of rubbish they could find, throwing it into a plastic trash bag and posting the results to social media. Soon, the idea started to catch. The 'trashtag' hashtag is all over Instagram, Facebook, Twitter and Reddit, especially trending among teenagers. 
Footnote

Lent is a time when the most common thing people tend to give up is chocolate or sugar. Some will also give up social media or television. But Del Hall, an Ohio brewery employee, has decided to do the opposite. Instead of giving up beer, he is going to consume only beer for the 40-day season. Hall has been reported as saying that he will try to refrain from consuming solid food until Easter, drinking only beer and water for sustenance.