A cannabis museum is opening in US
AMERICAN DIARIES: Sighting of harmful insects of Chinese origin in America, right-wingers' taunt aimed at Joe Biden, Manhattan hotel's fashion trend & more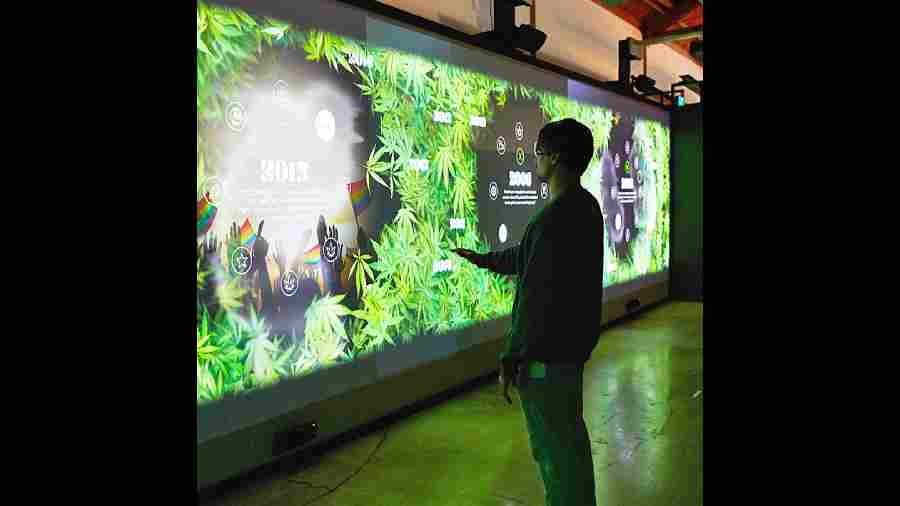 ---
Published 27.08.22, 03:58 AM
|
---
Open the discussion
 Museums don't have to just be about art, history and sculptures, especially in a city like New York — it has museums dedicated to ice cream, Harry Potter, Broadway, among others. Now, a new kind of museum is opening in SoHo — The House of Cannabis (although there won't be any actual weed on display). The museum is supposed to have interactive and immersive exhibits that you can touch and smell, artefacts, historic information,uses of marijuana around the world and 4D experiences. It is meant to educate both consumers and marijuana dispensary owners. The space also has an event room that will be used for social justice and educational programmes. Robert Frey, the founder of the museum, told Thrillist that he intends for the museum to serve as an educational and empowerment tool. Marijuana is legal only in some states and marijuana-related arrests disproportionately impact Black Americans. The museum does not intend to sell cannabis even though it is legal in New York. But the actor, Ice-T, of Law & Order: SVU fame, is opening a weed dispensary in Jersey City, New Jersey this fall. "I've dedicated my life and career to giving back and paving the way for minorities," he said in an official statement. "As a New Jersey native... I look forward to ushering in a new era for cannabis in the state." 
Tiny menace
 Beautiful little bright orange insects with dark black spots have been spotted this year in 12 states across the United States of America. These bugs are known as the spotted lantern fly and are detrimental to crops. This little bug is native to China and Southeast Asia and was spotted in Pennsylvania seven years ago for the first time. They are not harmful to human beings but are harmful to plants and crops. As a result, many public health departments have been urging people to kill them immediately on sight. The lantern flies have been seen in Massachusetts, Maryland, Delaware, New Jersey, Connecticut, Virginia, New York, Ohio, North Carolina, West Virginia, Indiana and Michigan according to the New York State Integrated Pest Management. The bugs can be seen swarming around, flying at low levels; or strewn over the pavements along busy main roads. "Kill it! Squash it, smash it ... just get rid of it," says a post on Pennsylvania agricultural website. "Join Jersey's Stomp Team," read billboards in New Jersey. It is rare to see public messages advocating violence of any kind. 
New meaning
 After Joe Biden became the president,the far-Right began referring to him with the phrase 'Let's Go Brandon'. The phrase serves to say "F*** Joe Biden." Recently, a 'Dark Maga' meme has been doing the rounds, which indicates that the far-Right believes that Donald Trump and his allies are planning a vengeful comeback. Now, President Biden has had a string of political wins, such as signing the Inflation Reduction Act, reporting the lowest unemployment rate in the past 50 years and others. As a result, new, reclaimed versions of the two far-Right memes have combined to create the 'Dark Brandon' meme, leading to social media craze. The memes depict the incumbent president with a glow or laser beams coming out of his eyes along with Biden-specific stock phrases like"no malarkey" and "kiddo". It is meant to be Biden's alter ego,someone with superpowers who can come in and create impactful change. The White House is trying to turn the original meme into something positive. According to The New York Times , "[t]he president himself has seen some of the Dark Brandon memes and found them funny, according to several people close to him."
Lap of luxury
  The Plaza Hotel near Central Park in Manhattan seems to have inspired fashion trends on social media. The trend is called Plazacore, based on the book series, Eloise, which is about a precocious six-year-old girl who lives at The Plaza Hotel. It puts an adult twist on the young girl's sartorial style but keeps the 90s theme of pearls, blazers, bows and luxury brands alive. "Plazacore aesthetic is oozing with polished and preppy styles aplenty that are not only totally on trend for the new season but also available to shop on the cheap," explains the culture blog, PopSugar. Some fashion bloggers have described Plazacore as exclusive, lavish and luxurious. You can imagine it as what little Eloise would have worn had she grown up. Other fictional New York City-based fashionistas who have left their mark are Carrie Bradshaw and Blair Waldorf. On the heels of the Plazacore trend, is the 'Coastal Grandmother' style which includes neutrals, cotton, linens, soft cashmere and silk.
Footnote
  A couple in Tennessee recently went viral for posting their engagement photos on social media that seemed to indicate that they were in the Italian countryside when in reality they were at a local Olive Garden. Olive Garden is a casual dining American-Italian restaurant chain in the US with over 900 locations. Some applauded the creativity, saying that they would have never guessed that it was not in Italy. Others poked fun at the whole thing. Nevertheless, the architecture of the restaurant was enough to resemble an Italian town.