Zubeen slams sedition cases
'We have rights to protest and express our thoughts; government has done mistake'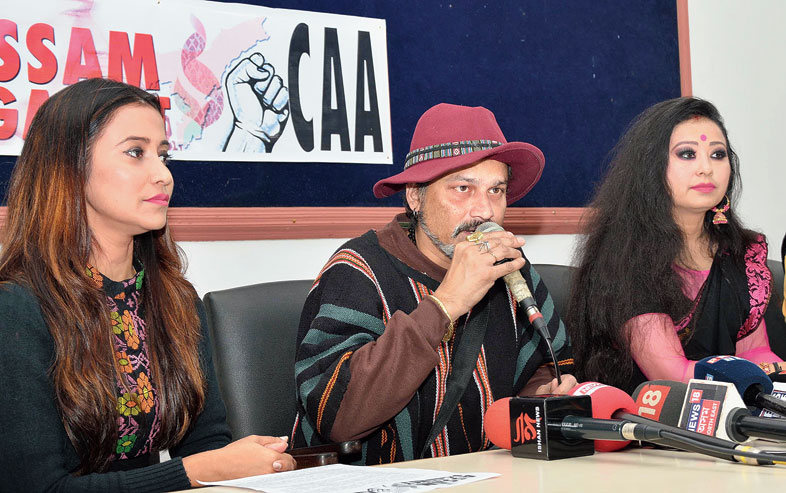 ---
|
Guwahati
|
Published 06.02.20, 06:42 PM
---
Popular singer Zubeen Garg on Thursday said the government had committed a "blunder" by registering sedition cases against anti-Citizenship Amendment Act protesters.
"Protesters have not committed any treason. We are not against India, we are against the law. We believe the Act is harmful to us, which cannot be treason. If the government has registered sedition cases, it is the biggest blunder," Zubeen said, when asked about the arrest of the mother of a 10-year-old student in a sedition case at Bidar in BJP-ruled Karnataka for staging a play in protest against CAA.
Garg, who launched the website assamagainstcaa.in, said: "We have a right to protest and express our thoughts. The government has committed a mistake."
In Assam, KMSS adviser Akhil Gogoi and six of its leaders have been arrested by the NIA during anti-CAA protests and they are in judicial custody.
The NIA has also interrogated IIT Guwahati faculty Arupjyoti Saikia, who was quizzed for the third time in four days on Tuesday. The NIA has asked him to appear again on Friday.
KMSS adviser Hussain Md Shahjahan has also been interrogated twice till Tuesday and was asked to reappear on Friday.
A section of artistes has taken the initiative to inform and engage the people against the "contentious" legislation through social media and Internet through the website.
Apart from Zubeen, his wife and fashion designer Garima Saikia Garg, actors Barsha Rani Bishaya and Ravi Sarma and singer Manas Robin were present at the launch.
"The website will provide information and updates about the latest developments in the state against CAA. I appeal to the people of Assam to register on the website and give their views. We will continue the agitation," Zubeen said.
Barsha said the anti-CAA protests in Assam are different from the rest of the country and the website will help spread the knowledge across the world. "For Assam, it is a question of identity beyond religion. It is a question of ethnicity and socio-cultural heritage of the state. The Northeast has been burning for decades over illegal immigration from Bangladesh," said Barsha.