Youth Cong chief arrested
Assam govt has accused the chief of being involved in violence that took place in front of the Janata Bhawan on December 11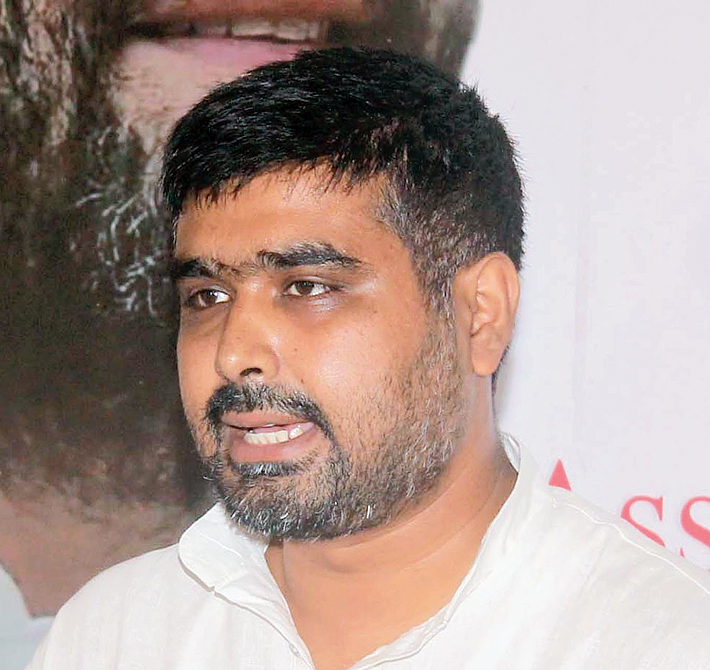 Kamrul Islam Choudhury
Picture by UB Photos
---
Guwahati
|
Published 23.01.20, 06:50 PM
|
---
President of the Assam Pradesh Youth Congress (APYC), Kamrul Islam Choudhury, was arrested on Thursday for his alleged involvement in arson during the anti-Citizenship Amendment Act (CAA) protest in Guwahati.
Guwahati police on Thursday arrested Choudhury at Dispur police station (case No. 3800/2019) where he went to submit the court order of the interim bail which was earlier granted by Gauhati High Court.
A police source said: "Choudhury was arrested at 3pm — when he visited the police station — under Sections 120B, 147, 148, 149 , 151 307 of the IPC along with Section 3 of the Prevention of Damage to Public Property Act, 1984, among others, for his alleged involvement in the vandalism in the city on December 11 and 12. He will be produced in court on Friday."
General secretary of the APYC, Suman Kalyan Bora, said Choudhury went to the police station to produce the interim bail order which was issued by Gauhati High Court.
"Choudhury has been granted interim pre-arrest bail on January 9 by Gauhati High Court. But today he was arrested under a separate case for the same incident. It is nothing but a conspiracy," Bora said.
The state government has accused Choudhury of being involved in the violence that took place in front of the Janata Bhawan on GS Road on December 11.
Earlier at a news conference, senior cabinet minister Himanta Biswa Sarma had played a video footage showing Choudhury near the site of violence here and a youth shaking his hands. Sarma said the government had evidence against a section of Congress members who were allegedly involved in the attack and vandalism.
Choudhury, too, held a news conference at Rajiv Bhawan to call, what he said was, Sarma's bluff to "mislead" the people and "scare away" Congress workers from joining the protests.
Bora said he had participated in the democratic protests near the Janata Bhawan, but denied being involved in violence. Sarma said he allegedly lit the fire and walked away from the site.
Bora said Choudhury was allegedly being targeted by the state government for his ongoing "crusade" against coal syndicates. He had come up with documentary evidence.
KMSS arrest: The NIA arrested KMSS student leader Manas Konwar on Thursday. He was named in the case under which KMSS leaders Akhil Gogoi, Dhirjya Konwar and Bittu Sonowal were already arrested for allegedly having nexus with Maoists groups.
"Konwar was summoned by the NIA and was being interrogated by them for the last couple of days. Though he was totally cooperating with the investigation, the NIA arrested him today," KMSS leader Bhasco De Saikia, said.