Way to voters' hearts is through folk culture
The Nalbari district administration has engaged 200 folk artistes to reach out to voters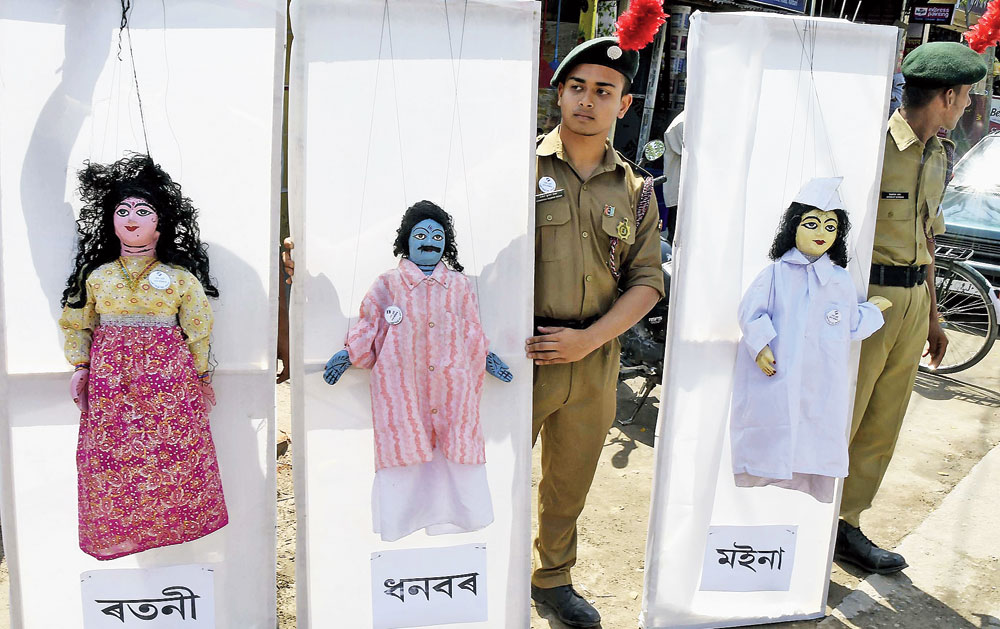 ---
|
Nalbari
|
Published 17.04.19, 06:34 PM
---
The Nalbari district administration has engaged 200 folk artistes to reach out to voters and motivate them to exercise their franchise.
Deputy commissioner Bharat Bhushan Dev Choudhury said the drive has also evoked interest among the youngsters about the traditional art forms.
"We engaged folk groups from Chamata, Belsor, Gondhiya, Koihati and other places. The scripts and lyrics were prepared accordingly to make the voters aware of their democratic right and the necessity to have free and fair election," Dev Choudhury said.
The folk artistes performed various art forms that include putola naach (puppetry), ojapali, dhulia, biya naam, aai naam and maho ho.
This initiative will also give a financial impetus to the poor and neglected artistes, he said.
"I hail from lower Assam, which is very rich in folk culture. Unfortunately, many of the folk arts have lost their significance over the years. When I became the deputy commissioner early this year, I thought of doing something to revive the dying art forms and what could be a better option than using them during our election, the festival of democracy," Dev Choudhury said.
If contemporary issues could be promoted through these folk art forms in an innovative way, then the young generation would be attracted to experiment with these, he added.
"After the drive was launched, we found that it is not fully correct to say that the present generation has rejected these art forms. The need is to present it in an attractive way. Thankfully, this drive has been successful in doing it," said Dev Choudhury, who is also the district election officer.
Appreciating the district administration's move, puppetry artiste Ranjeet Misra said it has helped his team to reach out to more people.
"When we were contacted for this drive, we were thrilled as it was a very new concept. Our 12-member team toured the entire district and performed 60 puppetry shows," he said.
Theatre personality Sitanath Lahkar, who has written and directed two plays and one telefilm on the dying art form of ojapali, lauded Dev Choudhury's initiative and said it would go a long way in reviving the folk art forms.
"The need of the hour is more such active and wholehearted approach from the administration to revive our culture and heritage. These folk artistes are our treasure, and over the years they have been neglected," he said.
The Nalbari district has a total of 1.2 lakh voter families, comprising 5.6 lakh eligible voters, and 690 polling stations.
The voters of the district are spread across Mangaldoi, Gauhati and Barpeta Lok Sabha constituencies.
While Mangaldoi will vote on Thursday, Gauhati and Barpeta will vote on April 23 during the third phase.