Vibrations at blowout site, blaze still strong
Area residents complain of tremors that has damaged the walls of several houses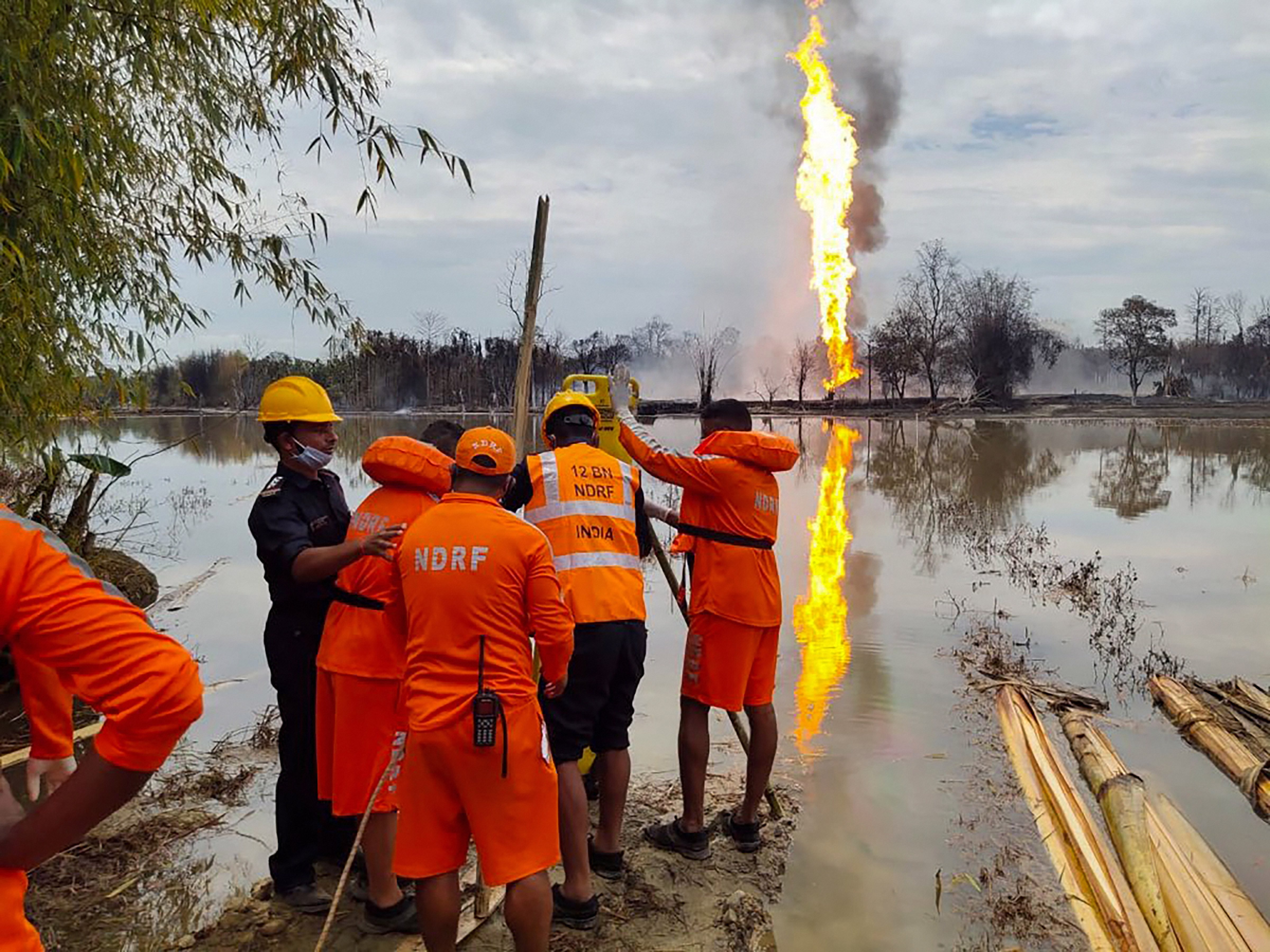 National Disaster Response Team (NDRF) personnel carry out search and rescue operations after two firemen of Oil India Limited went missing since an oil well at the company's Baghjan oilfield exploded in Assam's Tinsukia district.
(PTI Photo)
---
Guwahati
|
Published 12.06.20, 04:34 AM
|
---
Residents of the area in Assam's Baghjan where a gas well blew out two weeks ago and where a fire has been raging since Tuesday have now complained of "scary vibrations every two hours since Wednesday night".
The "scary vibrations" have damaged the walls of a few houses and fanned fears of more danger in store.
"The vibration increases as the intensity of the well fire increases. This morning it lasted for over an hour. As the fire's intensity decreased, there was no vibration. I woke up at 5am but could not sleep because it was really shaking. It was scary," said Hemanta Moran, a resident of Baghjan in Upper Assam's Tinsukia district, about 530km east of Guwahati.
Moran said the vibrations were not felt at the relief camps, located around 15km from the affected well that suffered a blowout on May 27 and then caught fire on Tuesday afternoon.
Oil India CMD Sushil Chandra Mishra told The Telegraph on Thursday: "We are trying to ascertain what is happening with our officials and experts from Singapore and industry minister (Chandramohan Patowary). We have also approached the Geological Survey of India. We are very concerned. We are with the affected and will do everything possible to ameliorate their suffering.
"The blaze is still very strong, flames leaping to a height of over 200ft, and now we have this vibration. People who are near the site say it has damaged the walls of several houses. Everybody is worried, especially women and children living in the relief camps."
Moran said locals would not allow any more exploration in the area, which is close to the Dibru Saikhowa National Park. According to him, an area of about 1.5km from the affected well has been devastated and some 1,610 families have been hit.
In May, Oil India had issued an advertisement mentioning that the ministry of environment, forest and climate change had accorded environmental clearance to the company for extension drilling and testing of hydrocarbons at seven locations in the Dibru-Saikhowa National Park area in Tinsukia district.
To tap hydrocarbon resources underneath the Dibru-Saikhowa National Park, Oil India had approached statutory bodies for obtaining necessary permissions in 2016 on the basis of the extended reach drilling technology that would enable the company to look for hydrocarbons without operating inside the national park.
Oil India said in a statement that the fire had been confined to the well and that the company had deposited Rs 4.83 crore in the district administration's account to be distributed among the 1,610 affected families.
Assam chief minister Sarbananda Sonowal has ordered an inquiry into the circumstances leading to the blaze.