Upper Assam in grip of fresh flood
About 94 villages in Dhemaji district, 15 in Lakhimpur district and 10 low-lying villages in Upper Assam's Majuli are reeling under floodwaters although the tributaries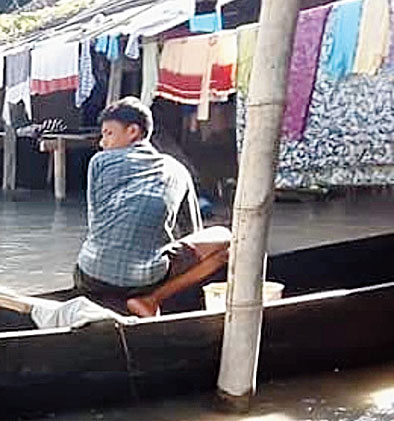 ---
---
Dhemaji: About 94 villages in Dhemaji district, 15 in Lakhimpur district and 10 low-lying villages in Upper Assam's Majuli are reeling under floodwaters although the tributaries of the Brahmaputra are now receding.
The current wave of floods have left 221 villages in four revenue circles of Dhemaji district flooded. Seventy-six villages under three revenue circles of Lakhimpur and 30 villages in Majuli have been submerged.
Dhemaji deputy commissioner R.A. Korati said all flood victims are taking shelter under makeshift tarpaulin tents, which the administration has supplied.
"We are putting our best efforts to shift people on highland areas of the district. Essential commodities are being supplied at regular intervals," she said.
All the three districts were flooded owing to unprecedented rain in the upstream areas and hilly terrain of Arunachal Pradesh.
However, Lakhimpur district was affected after water was released by the North Eastern Electric Power Corporation Limited (Neepco) from Yajuli dam under Lower Subansiri district in Arunachal Pradesh.
According to the latest bulletin, a total of 29,545 people in Dhemaji district, 3,000 in Lakhimpur and 1,500 in Majuli have been affected.
The district administration in all the three districts are taking care of the affected people.
On the other hand, various remote areas in the eastern districts of Arunachal are still cut-off as clearing of landslide debris are in progress.
Arunachal review
Following the devastating floods in East Siang district of Arunachal Pradesh last month, chief minister Pema Khandu wrote to Union home minister Rajnath Singh. Bidol Tayeng, the secretary in the disaster management department, got in touch with Union minister of state for home Kiren Rijiju, seeking his intervention to help the affected villagers.
According to sources, Rijiju said an inter-ministerial team from the Centre would visit East Siang district shortly to take stock of the situation. However, Rijiju said his ministry is yet to receive the requisition letter from the disaster management department of Arunachal Pradesh.
Asked whether the Centre would discuss the matter of a large volume of water released in the Siang by China, Rijiju clarified that the central government is acquiring data from its Chinese counterpart and flash flood in Siang was due to flooding in catchment areas of the Tsangpo in Tibet.
Additional reporting by Maksam Tayeng in Pasighat