Mizoram chemists warn of looming medical crisis
Assam-Mizoram dispute: Economic blockade hurdle in peace bid
Move comes despite goodwill gestures by both states, including two Assam ministers travelling to Aizawl on August 5 to hold talks to end the standoff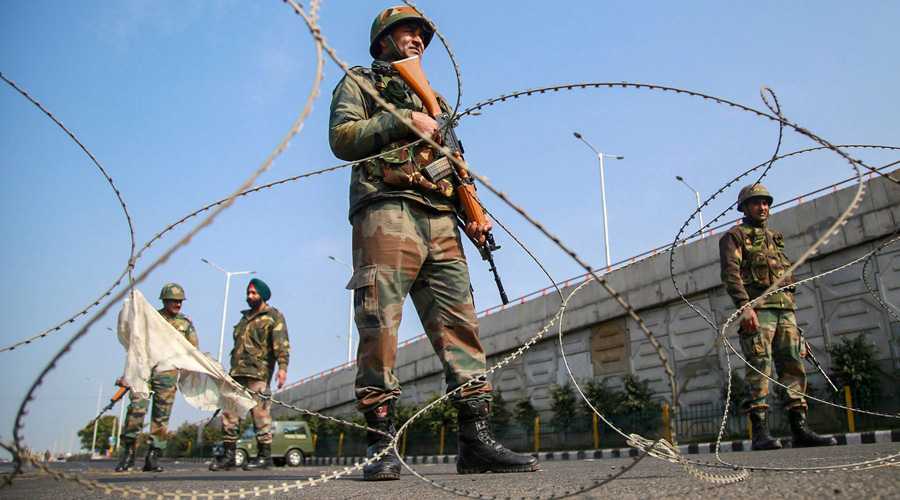 The Union health minister had said last week that Mizoram was one of the 10 states which was either witnessing a surge in Covid cases or a rise in the positivity rate.
File picture
---
Guwahati
|
Published 03.08.21, 12:51 AM
|
---
The "unofficial" economic blockade imposed in Assam has become a major hurdle in normalisation of ties with Mizoram following the inter-state border flare-up on July 26 despite goodwill gestures by both states, including two Assam ministers travelling to Aizawl on August 5 to hold talks to end the standoff.
Senior Assam officials told The Telegraph that there is no official bar on the movement of vehicles but truckers and public are avoiding travel apprehending trouble. They also said that small groups of people and organisations were imposing blockades "here and there" to stop the supply of essential items. On Monday, the Krishak Mukti Sangram Samiti staged a protest in Hailakandi against the killing of the six Assam policemen in alleged firing by Mizoram police.
However, a statement on "Looming medical crisis in Mizoram", issued by the Aizawl-based Mizoram Chemists and Druggists Association on Monday, tried to convey the impact of the "unofficial" blockade since July 26 but also raised a lot of questions like whether they were citizens of this country and why the Centre was yet to intervene.The statement, issued by association president R. Thanglura and general secretary L.H. Sailo, claims that Mizoram is in crisis due to the blockade "created" by the Assam government, severely affecting the availability of medicines, especially for Covid-19 patients.
The Union health minister had said last week that Mizoram was one of the 10 states which was either witnessing a surge in Covid cases or a rise in the positivity rate.
Requesting the Prime Minister and the Union home minister to intervene at the earliest to prevent any health crisis, the association accused the Assam government of "summoning" all transporters operating on the Mizoram route in Guwahati on July 29 following the flare-up and asking them to "stop transporting" any goods to the neighbouring state "due to security concerns".
Since then, no goods, including basic, life-saving and Covid-19 medicines, have reached Mizoram, it said. Even oxygen cylinders, oxygen plant materials and Covid-19 test kits have "been blocked", it added.
Assam had later issued a travel advisory urging people not to travel to Mizoram because of the prevailing situation.
"Never in the history of this country has anyone resorted to such a draconian and inhumane act to his fellow being. The basic fundamental right to life as guaranteed by the Indian Constitution which includes the right to basic health care and medicines have been denied... Despite having endured this problem for almost a week, there has been no response from the central government on this front," the statement said.
The border dispute dates back to 1972. Assam's Cachar, Hailakandi and Karimganj districts share a border with Mizoram's Kolasib and Mamit districts. The flare-up took place along the disputed inter-state border at Vairengte ( Kolasib) and Lailapur (Cachar).
According to sources in Mizoram House, a truck carrying oxygen plant machinery, a Mahindra pick-up with oxygen cylinders and one truck with 1,500 food packets for the Covid-affected are stranded in their compound at Silchar in Assam's Cachar district. "We also have two lakh RAT (rapid antigen test) kits lying in the Silchar warehouse," one of them said.
Assam officials said that there was no blockade. Trucks are stranded in Silchar because of a lack of drivers, they said.
"Or they (drivers) don't want to go fearing trouble during the journey. Moreover, small groups and some organisations have been blocking roads in protest. There is no official bar on movement but truckers don't want to take any risk," one of them said.
Sources said there is tension in Barak Valley over the deaths. They also said that efforts needed to be made to ensure smooth supply of essential items to Mizoram to substantiate the goodwill gestures.
Mizoram has started tapping Tripura to get its supplies but it is going to be time-consuming and costly, they added.
On Monday, local people in Karimganj bordering Tripura stopped Mizoram-bound trucks.
FIRs withdrawn
The statement by the chemists and druggists association came amid more goodwill gestures by chief ministers of Assam and Mizoram a day after both of them talked of resolving things amicably.
Assam chief minister Himanta Biswa Sarma first tweeted that he has directed the police to withdraw the FIR against Mizoram Rajya Sabha MP K. Vanlalvena for his provocative statement on the flare-up. A police team had last week visited Delhi and summoned Vanlalvena for questioning.
Sarma, however, maintained that the cases against accused police officers will be pursued. He also appreciated his Mizoram counterpart's desire to settle the border dispute amicably.
"Assam always wants to keep the spirit of Northeast alive. We are also committed to ensuring peace along our borders," Sarma said.
On Monday evening, Zoramthanga took another confidence-building measure. "In order to build a conducive atmosphere for amicable solution to the #MizoramAssamBorder dispute & to reduce the plight of suffering citizens, I have directed @mizorampolice to withdraw FIR dated 26.07.2021 filed at Vairengte, Kolasib district, Mizoram, against all the accused persons." he tweeted.
Sarma then reciprocated by asking Assam police to withdraw cases against the Kolasib deputy commissioner and superintendent of police.
He also tweeted that two of his cabinet colleagues — Atul Bora and Ashok Singhal — will travel to Aizawl on August 5 for a "meaningful" dialogue to end the standoff.