Water purifier 'boon' for flood-affected
Invention can reduce plastic waste and can even purify floodwater instantaneously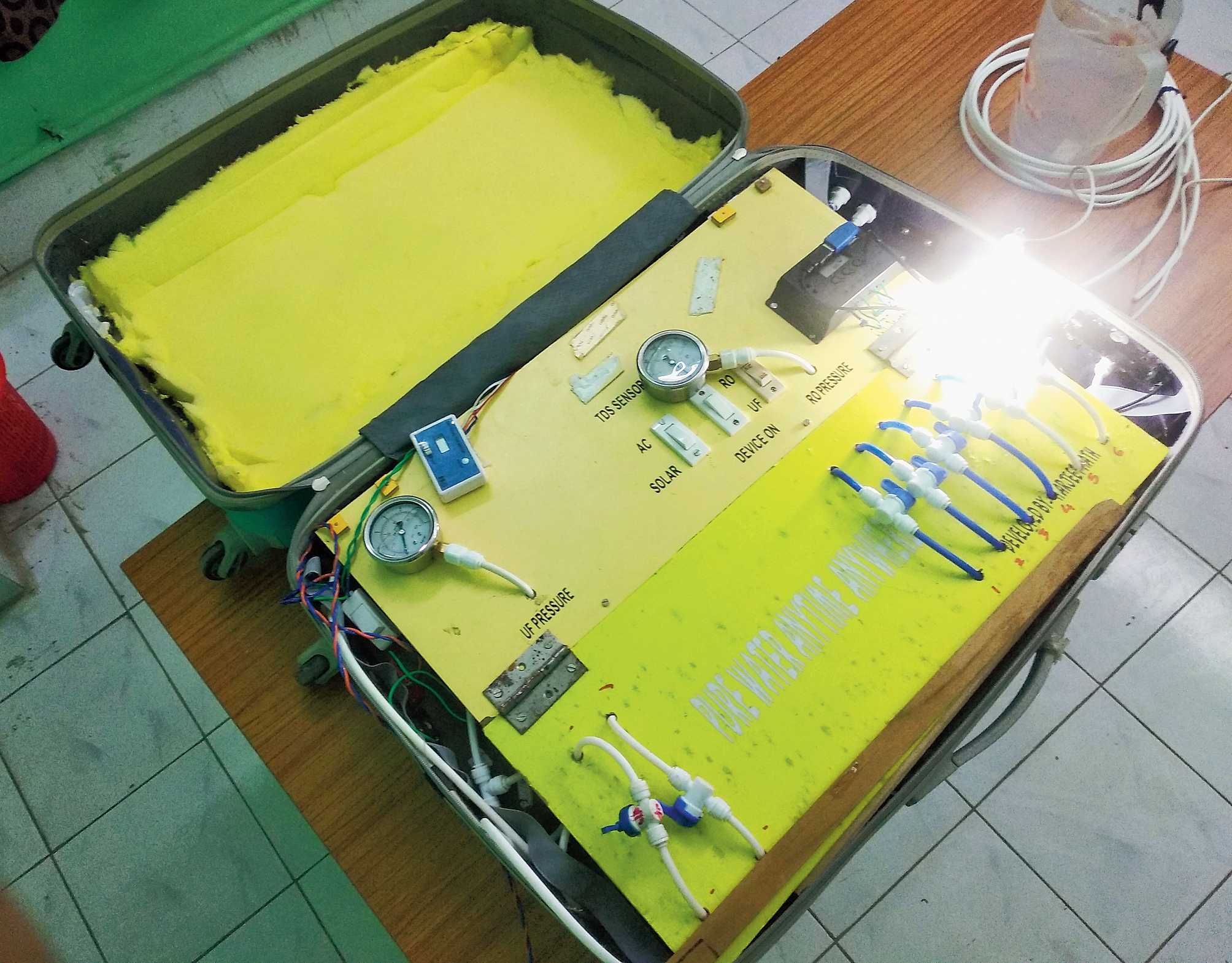 The portable water purifier.
Picture by Tanmoy Chakraborty
---
Agartala
|
Published 19.12.19, 09:51 PM
|
---
An assistant professor of Tripura University has developed what he claims is the first portable water purifier in the country, which can benefit people during calamities like flood and also reduce pollution.
Harjeet Nath, an assistant professor of chemical and polymer engineering department of Tripura University, said India is ranked 120 out of 122 countries in the water quality index and according to recent Niti Aayog reports, around 2 lakh people die every year because of lack of access to clean water.
"It took me a year to develop this portable suitcase water purifier. It can deliver WHO-standard pure water at just 37 paise per litre. According to the patent report, this is the first such technology in India," Nath claimed. A patent was recently filed by the university for the device.
He said while giving relief materials to flood-affected people, the government generally provides drinking water in plastic bottles, which leads to plastic pollution. He said his invention can reduce plastic waste and claimed it can even purify floodwater instantaneously.
"The device can work both on electricity and solar power. In case both are unavailable, it can still purify water using rechargeable batteries. It can even light up a small area with its 5W LED bulb. This product is a one-stop solution for various problems," Nath said.
It can purify a litre of water within two minutes and at the most five minutes and can also be used to charge mobile phones, he added.
"The device is also equipped with a smart switch where using a sensor, the decision can be made to produce more pure water and reduce wastewater. The set-up also comprises an auto backwash for the filter units," he said.
He said the device can be also a boon for army convoys. The army personnel can fix the device to any water source so they can have instant drinking water.
Nath said he recently met NDRF and state disaster management authority officials and they expressed willingness to use the technology in future. They asked me to make it lighter so that it can be carried easily, he added.