Tripura CM Deb plea to end violence
He appealed to all political parties to extend co-operation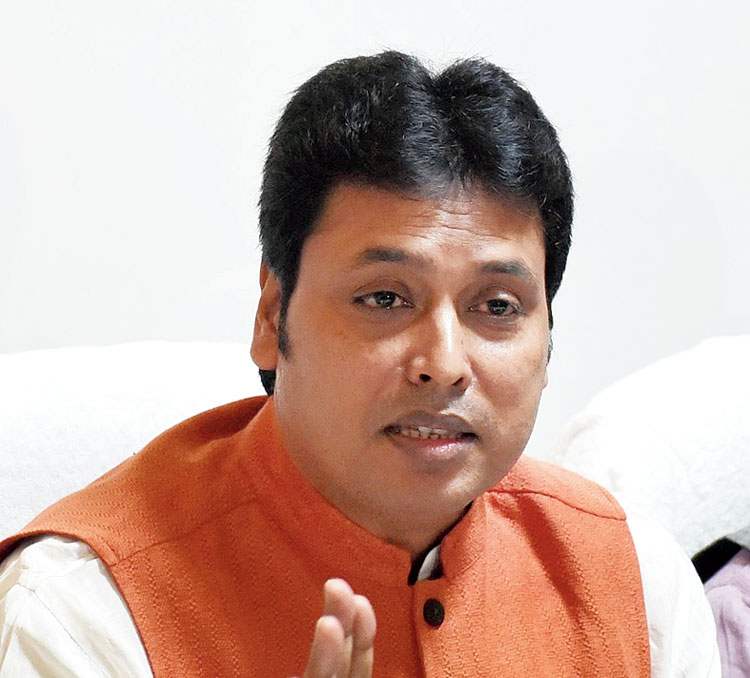 Biplab Kumar Deb
A file picture
---
Agartala
|
Published 29.05.19, 06:35 PM
|
---
Tripura chief minister Biplab Kumar Deb has declared zero-tolerance towards violence and appealed to all political parties to extend co-operation.
"We want this violence to stop in Tripura. Taking help from administration only will not stop it. I appeal to all political parties to co-operate to stop this kind of violence and not give shelter to any criminal. My government will not tolerate violence triggered by criminals. We will identify and take strict action against them. I will also see to it that no BJP worker gets involved in political violence," he told reporters on Tuesday night.
Deb said the BJP does not believe in political violence and there is no tradition of such violence in any of the many BJP-ruled states in the country.
He said the 2019 Lok Sabha elections witnessed 186 cases of violence — 149 pre-poll, four on poll day and 33 post-poll. No political murder was reported, he added.
During the 2013 Assembly elections, when the CPM was at the helm of affairs, Deb said 245 cases of poll-related violence were reported of which 107 were pre-poll, 11 on poll day and 127 post-poll.
During the 2018 Assembly elections, before the BJP-IPFT government took oath of office, 439 cases of violence were registered of which 235 were pre-poll, eight on poll day and 196 post-poll.
"Poll -related violence has declined after the BJP-IPFT government came to power but has not stopped. We have zero tolerance towards political violence," he said.
A CPM delegation, led by former chief minister Manik Sarkar, had met Deb on Tuesday and submitted a memorandum, which was circulated to the media on Wednesday, alleging violence by alleged BJP supporters since the new government came to power.
The memorandum said hundreds of offices of CPM, other Opposition parties and democratic mass organisations were set on fire or vandalised and looted. Hundreds of houses of CPM leaders, members and supporters were also set on fire, looted and vandalised. Gardens were destroyed, fisheries poisoned, and shops, vehicles and crops damaged. CPM candidates, leaders, members and supporters were attacked and their vehicles damaged in the presence of security forces.
"No free, fair and peaceful campaign by the CPM and other Opposition parties was allowed," it said, adding that the situation had not changed.
The CPM said it participated in the Lok Sabha elections despite the "shameful" decimation of democracy and peace in the state. It requested Deb to take immediate steps to stop the terror campaign.
The memorandum appealed for maintenance of peace and communal harmony, freedom of media without any interference and intimidation, punishment for those involved in unlawful activities, treatment of injured by the government and compensation for those affected. It sought security protection, if necessary, so that CPM offices can open and work freely.
The Congress has created a crisis fund for assisting people injured in post-poll violence. PCC president Pradyot Kishore Manikya Deb Burman personally donated Rs 10 lakh for the fund and appealed to people to join hands. PCC vice-president Pijush Biswas donated Rs 1 lakh.
PCC vice-president Tapas Dey said, "We appealed for donation to the crisis fund to assist our supporters injured in brutal attacks by the BJP. We are getting good response."