Tonsure protest to nudge CM Sarbananda Sonowal
Nude threat over CAA, midday meal wages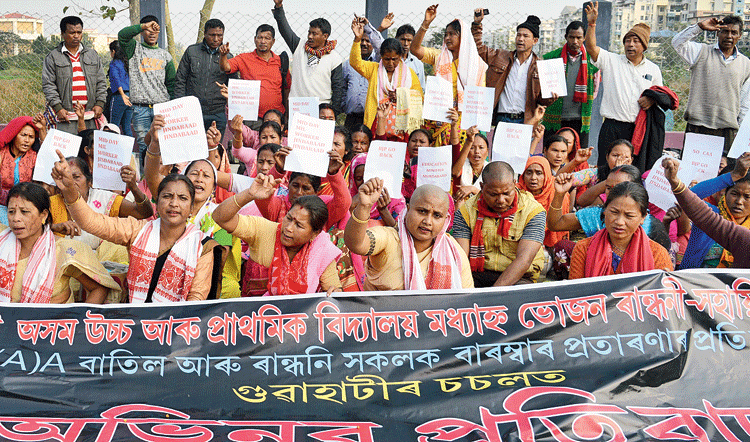 ---
|
Guwahati
|
Published 10.01.20, 09:42 PM
---
All Assam Midday Meal Cook and Helpers' Association adviser Trishna Nath tonsured her head here on Friday to push for scrapping of Citizenship Amendment Act (CAA) and regularisation of meal workers' jobs, failing which she threatened a nude protest in Delhi.
"I have tonsured my head to offer my hair as a gift to chief minister Sarbananda Sonowal. He only feels the pain of a section of women suffering in Bangladesh, not of those in Assam. If CAA is not scrapped and our jobs are not regularised within February, 200 cooks and helpers will protest nude in Delhi next month. Sonowal will be responsible for it," Nath told The Telegraph.
Nath staged the protest with hundreds of members of the association at Chachal along VIP Road.
"The BJP government has brought CAA at a time when 117,000 cooks and helpers of the state have been fighting on the streets for a justifiable wage. We have been struggling with Rs 1,000 a month for years. Without paying attention to our concern, the state government is busy thinking about how to settle Bangladeshi nationals in Assam," Nath said, adding that midday meal cooks and helpers would never accept the amended citizenship law.
"Sonowal could have understood the sufferings of the women of the state if he was married. However, as he is not responsible for a woman, how can he realise our agony?" she added.
Criticising the state government for allegedly not responding to the association's memoranda submitted from time to time, Nath said, "We are tired of submitting memoranda. The chief minister considers our memoranda as love letters. Henceforth, we will not submit any memorandum to him. We will submit one last memorandum to the governor on January 17. Accordingly, we will prepare for the nude protest."
Nath said the government's peace and progress rally was irrational without scrapping CAB and regularising the jobs of cooks and helpers. She said the state government had announced a series of sops to subjugate anti-CAA protesters but it had "no welfare scheme for the cooks and helpers of the state".
The artiste fraternity of the state, in collaboration with Chandmari Students' Union, took out a torchlight march from Chandmari to Dighalipukhuripar in the evening in protest against CAA and the brutal attack upon the students of Jawaharlal Nehru University.