Titabar's never-say-die Bruce
Pullock Dutta profiles CPI's Kula Das, who despite losing seven consecutive times, refuses to give up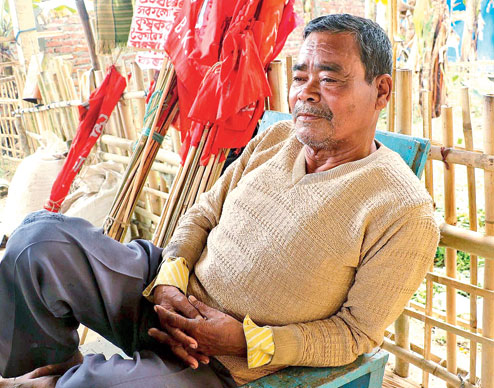 ---
Published 22.03.16, 12:00 AM
|
---
Sitting in an arm chair under a tin-roofed shed at his residence near NN Saikia College here, Kula Das is engaged in an animated discussion with a few persons. The discussion revolves around the need for change and how people could be convinced to vote against status quo.
The septuagenarian has been fielded by the CPI to contest for the Titabar Assembly seat, which is represented by chief minister Tarun Gogoi.
This is not the first time that he will be sparring in the battle of ballots.
He has done it seven times in the past and has lost each time, but that doesn't matter to him. Hope, for him, is eternal.
"I am a part of the process for change and this process should continue till we succeed. If it is not me it will be someone else who has to keep trying," Das told The Telegraph matter-of-factly.
Apart from Gogoi, Das is also pitted against BJP Lok Sabha MP from Jorhat Kamakhya Prasad Tasa this time. Tasa's nomination for the Assembly seat reflects the BJP's desire to defeat Gogoi, a three-time MLA from this constituency.
Das, however, is not intimidated by his opponents.
He goes out all by himself on the streets of Titabar as and when he gets time and distributes leaflets among the people requesting them to go through those and vote for change.
"Empowering the poor and the peasant class is one of our main issues. We want a strong rule at the Centre, but we also should devolve more power to the states. Ethnic people should have more power," he said, referring to the agenda for which the CPI would be fighting the elections in the state this time.
Das bears no ill will towards Gogoi.
"I will not say Gogoi has done nothing for Titabar, but there are more serious issues that need to be addressed than distributing blankets and yarn," he said.
Neither has Das asked for any security personnel to escort him during his campaigns nor does he have followers who are making a beeline to his residence. Das also does not have a mobile phone.
"Politics is the highest culture to liberate people spiritually and physically and for such an exercise one should not have fear or should not be bogged down by the thought of losing," he said.
With no financial help from anyone, Das has managed to publish a few leaflets and put together some banners with donations from friends and well-wishers. "Today, a friend visited me and donated Rs 50," he said with pride, pulling out a fifty-rupee note from his pocket and holding it up.
A farmer by profession, Das's life has been a struggle since his student days - more particularly when he was doing his graduation from Cotton College in Guwahati - when he was drawn to the Leftist ideology.
He was the vice-president of the All India Youth Federation and the general secretary of the Assam youth wing of the federation.
"I was offered several jobs as a teacher in many schools but I refused to work and kept myself busy with organisational work, to empower the peasant and the downtrodden," he said.
He also delivered a lecture at Tashkent in Uzbekistan during his college days.
Unlike his political career, Das has had a satisfactory run when it comes to his family with his eldest son working as a scientist at the Tata Institute of Fundamental Research in Mumbai, his younger son being a degree student and his daughter doing her LLB.
His wife was a teacher who passed away in 1996.
With a literacy rate of 81 per cent, which is higher than the national average, Titabar's electorate is not exactly a push-over intellectually and has a mind of its own.
Das would require an effort to bring the voters around to his way of thinking, to change.