THE DESIGN'S THE DEAL
The Telegraph: Which politician would you like to dress up?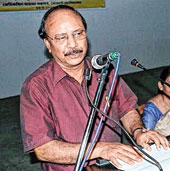 ---
Published 08.04.16, 12:00 AM
|
---
It has been 18 years since she stepped over the threshold of the fashion world. Payal Chadha, a fashion designer based out of Guwahati, has been the pioneer in creating mekhela sador and saris in many variations in Assam.Apart from running her own label Gallery 2000, Payal has also taken a step forward and teamed up with entrepreneur Indu Singh to open another boutique, Weavers Gallery. The boutique not only gives a platform to the weavers from across the Northeast to showcase their collection, they also receive guidance from Payal to remain up-to-date with the latest trends. As the second phase of Assam election approaches, the designer spoke to Pranab Bora and Akankshya Chaliha of The Telegraph in an exclusive interview about the impact of government policies and regulations on the Assam fashion industry
The Telegraph: Which politician would you like to dress up?
Payal Chadha: Among women, it's Smriti Irani and Priyanka Gandhi. Between men, I want to design a few jackets for Narendra Modi using mugasilk and eri silk, and a mugabandhgala for Rahul Gandhi (in pictures).
TT: Do you think the election campaign could have been a little more stylish?
Payal: Compared to the campaigns done in the past decade, this one has turned out to be very stylish. I reckon our campaigners have focused a great deal on presentation after the national elections.
TT: Has any of our politicians, from the Congress, AGP or BJP, come to you for your haute couture collection?
Payal: Yes, most of them.
TT: Who do you think are currently the most well-dressed and worst-dressed politicians in Assam?
Payal: I wouldn't comment on that.
TT: Do you think our politicians have got a good dressing sense?
Payal: Yes, especially the younger generation. They dress up like they mean business. Having said that, I also think after the Narendra Modi wave, most of the working politicians have become very fashion conscious.
TT: Which of the parties come in as a power? What would you expect of them?
Payal: At the moment, it can be anybody's game. All that I expect of them is a vibrant Assam.
TT: Like L' Oreal uses Indian faces to promote its brand here, do you think the state government should intervene with some of the national brands to use our local talent in terms of both models and designers?
Payal: Not just Assam. In fact, I think all the northeastern state governments should tie-up with popular national brands to promote local talents who deserve it. There's a lot of raw talent here waiting to be tapped.
TT: Do you think the state government has done enough to promote ahimsa silk, eri?
Payal: We are lucky to have fabrics on which we have complete monopoly, yet we aren't utilising the opportunity. Our government should follow how Madhya Pradesh is promoting Chanderi silk. However, merely promoting the fabric isn't enough. Promotion should go hand-in-hand with not only commercial viability but also timely production and a regular supply chain.
TT: Do you think the state government has done enough for our weavers, considering the fact that they are the backbone of the fashion industry?
Payal: I think training of weavers should be on the government's priority list this time. Over the years, I've felt there is a shortage of weavers in Assam and I have personally faced problems because of weavers' crunch. In fact, this is one of the reasons for which neither Gallery 2000 nor Weavers Gallery has gone online. The government should facilitate the weavers to make this profession look more lucrative and attract uneducated and unemployed people.
TT: Do you think we need a state-of-the-art auditorium to host fashion shows along with a designing school?
Payal: Yes, but a space to only host fashion shows isn't enough. There should be a composite centre where we can also conduct exhibition for designers and weavers and link the same as a tourism activity for the state to earn more revenue. On the other hand, we already have got good designing schools here and there is an impressive pool of creative designers. What we need is to impart practical training to them on how to make a product commercially viable.
TT: What is your opinion on the prices of raw materials.
Payal: More than focusing on the price, the government should emphasise teaching timely production to weavers.