Tearful mother-daughter reunion plays out at border
Bithi, who suffers from chronic schizophrenia, was reported missing from her village in Bangladesh, in 2010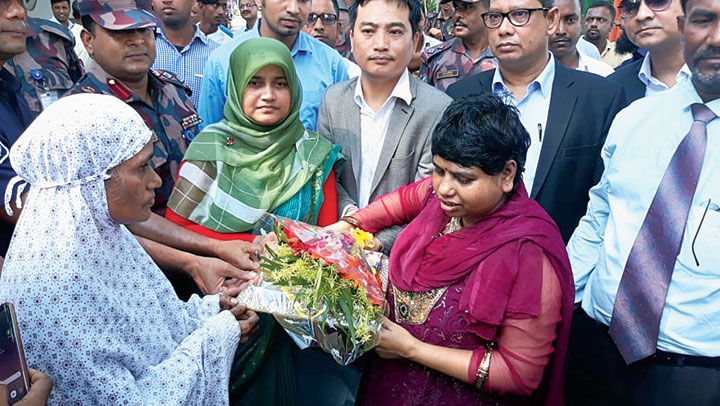 Safia Begum and her daughter Bithi Akhter at the checkpost
Tanmoy Chakraborty
---
Agartala
|
Published 30.10.19, 07:29 PM
|
---
Tears flowed unbridled as mother and daughter hugged each other on the India-Bangladesh border on Wednesday, nine years after Bithi Akhter, 26, went "missing" from home.
Bithi, who suffers from chronic schizophrenia, was reported missing from her village, Pachuria in Narail district of Bangladesh, in 2010. In 2012, she was detained at Kamalpur in Dhalai district of Tripura for illegally entering India. She was produced in a court here, which sent her to Modern Psychiatric Hospital, Agartala, for treatment, as she could not recall anything.
The head of the Modern Psychiatric Hospital, Dr Bimal Krishna Bhowmik, told The Telegraph, "She was detained by Salema police at Kamalpur in 2012. When the court sent her to the hospital, she was admitted as an unknown patient in March 2012. She was suffering from chronic schizophrenia. As she started recovering, we got to know her name and other details about her. Over the past seven years, she has recovered 80-90 per cent. She was sent back to her family in Bangladesh today."
He added, "Chronic schizophrenia is a severe mental disorder that affects how a person thinks, feels and behaves. When she was admitted, she could not say anything. She was not in a condition to talk to people. Later, she was able to provide details about her family in Bangladesh. Bithi has to continue her treatment in her country. We have provided her medicines for a month."
Before being repatriated through the Agartala-Akhaura integrated check post here, Bithi told this correspondent at the hospital, "I don't know how I lost my way and reached Dhaka or how and when I boarded a train from Dhaka to India all those years ago. I miss my ammu (mother), late abba (father) and brother and sister. I haven't seen my family for so long. I am really thankful to all those who helped me and saved my life. I am very happy and eagerly waiting to see my ammu.
She said as she regained her memory with treatment and got to know that she had been away from her family for so long, she cried a lot. "I wanted to go home but didn't know how. My mother called me two months ago and cried a lot. So did I, when I heard her voice after so many years," she added.
The Bangladesh Assistant High Commissioner in Agartala, Kiriti Chakma, said when they learnt about Bithi, they took up the matter with the governments of both the countries and found her address three months ago.
On Wednesday morning, Bithi was handed over to her family at the Agartala-Akhaura international check post after fulfilling official formalities.
For Bithi's mother, Safia Begum, it was nine years of nightmare. Tears rolled down her cheeks as she watched her daughter cross the zero line and walk towards her. Soon they were hugging each other, ending almost a decade of separation.
"Bithi is the youngest child of the family. She was suffering from mental illness. We have no idea about how she got lost. We spent a lot of money to find her but failed. We are very happy to have our daughter back after all these years. We thank the Indian government for treating her and sending her back. Now, I can heave a sigh of relief," Safia Begum said.
Dr Jyotirmoy Ghosh, state programme officer for mental health, said they have so far sent back five Bangladeshi nationals after treating them for schizophrenia and other mental illnesses.
"There are another 18 Bangladeshi nationals, eight men and 10 women, undergoing treatment at the hospital. Most of them have recovered and are waiting to be reunited with their families. We are trying to collect their addresses. We found Bithi's address with the help of the Bangladesh Assistant High Commissioner here. We are really very happy," he said.