Tea garden workers' daily wage hiked
Assam govt raises rate for second time in 15 months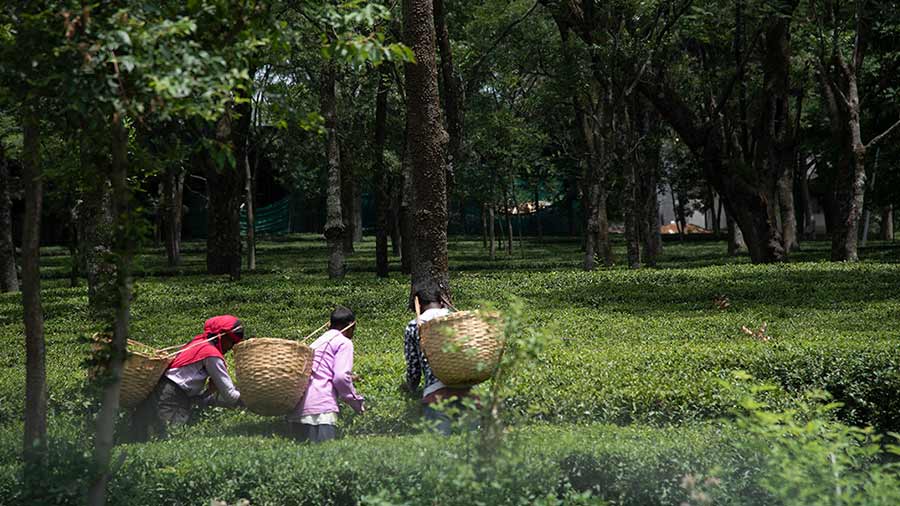 The hike, which will take effect retrospectively from August 1, will see tea garden workers in Brahmaputra Valley get Rs 232 a day, up from Rs 205 a day.
File picture
---
Guwahati
|
Published 11.08.22, 12:25 AM
|
---
The daily wage of tea garden workers in Assam was increased by Rs 27 on Wednesday, the second hike in 15 months.
The hike, which will take effect retrospectively from August 1, will see tea garden workers in Brahmaputra Valley get Rs 232 a day, up from Rs 205 a day. Garden workers from Barak Valley will see their daily wage rise to Rs 210 from Rs 183 a day.
Assam chief minister Himanta Biswa Sarma took to Twitter to announce the development.
"Welfare of tea garden workers has always been our Govt's top priority. In a meeting with tea garden managements and workers' union, it was decided to increase their daily wage by Rs 27 over and above ration and other benefits," Sarma tweeted.
The move is expected to benefit over 10 lakh workers across 800 gardens of the state, which produces about 55 per cent the country's tea.
Sarma said the supply of foodgrains to the workers by the management would continue as usual.
"All garden workers will get ration cards & we urged the gardens to take Fair Price Shop licenses," he tweeted.
In north Bengal, the daily wage of a tea garden worker rose to Rs 232 from Rs 202 in June after chief minister Mamata Banerjee announced an interim hike of 15 per cent.
Daily wage hike has remained a key demand of the tea community in Assam, which plays a decisive role in around 40 of the 126 Assembly constituencies.
The demand had become a key poll plank of the Congress-led alliance in the Assembly polls held in March-April last year.
The Congress had flagged Rs 365 daily wage as one of its five guarantees to woo the tea community, which has mostly shifted towards the BJP since 2014.
The Opposition flagged the tea community's worrying socio-economic indicators, and also the ruling party's promise to hike the daily wage to Rs 351 before the 2016 Assembly polls.
The Opposition's pitch compelled the state government to announce a hike of Rs 50 in February last year but the rise could not be implemented following a Gauhati High Court order.
Overall, there has been a hike of Rs 65 since May last year, something Sarma pointed out by stressing that daily wage had been increased by 39 per cent in 15 months under the present government.
The Assam Tea Tribes Students' Association (ATTSA) president Dhiraj Gowala welcomed Wednesday's announcement but said the state government should implement its original demand of Rs 351 a day given the all-round price rise.
"All hike has to be welcomed but the government has to see who is actually benefiting," he said.
The government, Gowala said, has been extending a lot of facilities to garden areas through its flagship schemes by way of building roads, schools, providing water, electricity and houses to the marginalised.
"These schemes are providing a lot of relief to the garden management. The government should, therefore, talk to the management to extend some relief to the garden workers vis-a-vis a decent daily wage," Gowala told The Telegraph.