Tea garden wedding opts for sweeter, safer brew
Bride & groom decide to replace sulai at ceremony to bring change in community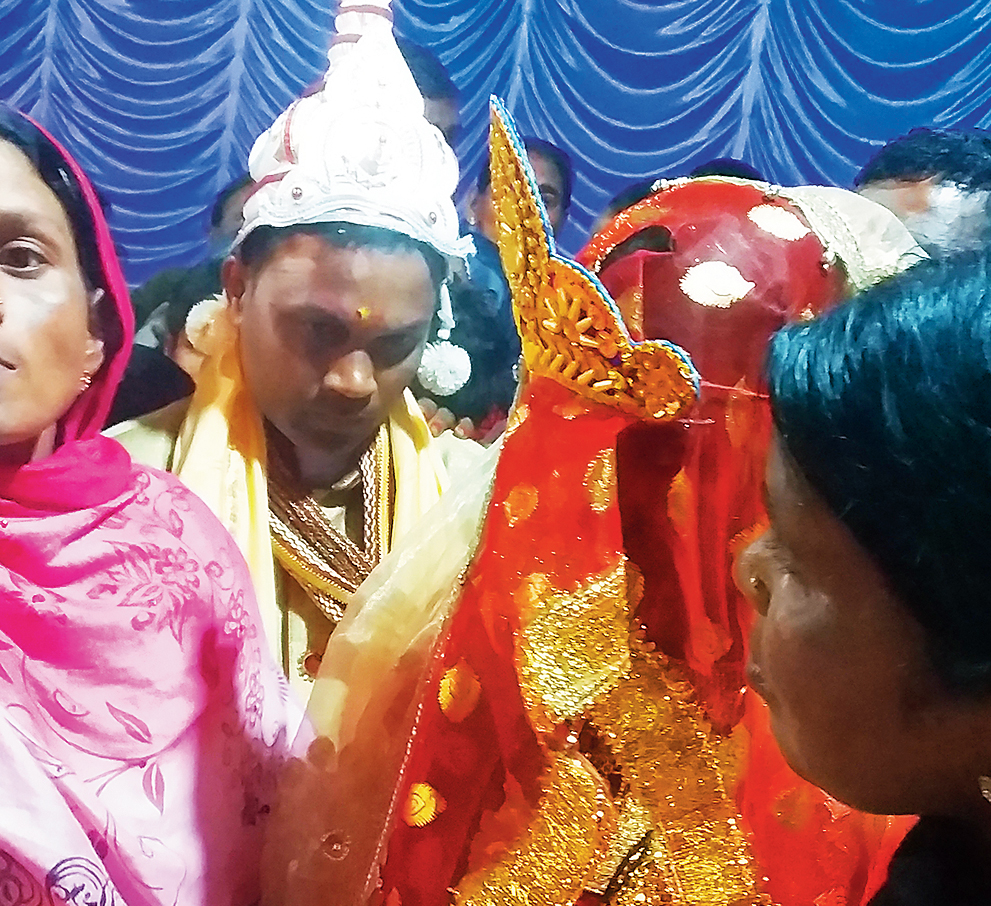 Swapnna and Poonam Tanti at their wedding at Daisajan tea estate in Tinsukia district.
Picture by Manoj Kumar Ojha
---
Doomdooma
|
Published 10.03.19, 07:21 PM
|
---
Sweet tea was served in place of sulai or hariya for a change as refreshments during a wedding in the tea garden workers' community.
Poonam and Swapnna Tanti, both teachers from the garden workers' community, got married on Sunday.
The wedding-cum-reception was held at Daisajan tea estate in Tinsukia district.
The bride's father Sonu Tanti told The Telegraph, "My daughter and son-in-law convinced us to celebrate without consuming sulai or hariya, which was appreciated by one and all. Estate manager Pranab Yang blessed them and said they have set a good example in the society."
Daisajan tea estate welfare officer Krishna Tanti said, "Sulai and hariya are equally harmful. It is good that after the recent hooch tragedy, the tea community people have started understanding the social evils existing in their society. Teachers, intellectuals and Adivasi associations can do a lot to permanently stop these drinking habits."
The tea workers of Daisajan tea estate hail from Odisha's Balangir district. They primarily speak in Odia and are accustomed to liquor consumption since long.
Village headman Keshab Tanti said, "For the first time a wedding reception has taken place here without sulai or hariya, which is good. Everyone should start this new tradition. Tea is healthy and refreshing whereas sulai causes diseases, which leads to untimely death and suffering."
Swapnna, a mathematics teacher at Jawaharlal Nehru High School at Powai tea estate in Margherita, said, "When the proposal of a party free of sulai and hariya was kept before them, they laughed ridiculously at us and opposed the decision but we were firm. We knew we were doing something good for our people and it worked. The reception, which I am going to host on Wednesday, will also be sulai and hariya free."
Swapnna lives in Powai new line and 700 to 800 people of the tea garden village hail from Odisha's Balangir and Cuttack districts.
The tea garden workers of Daisajan tea estate, most of whom belong to the tea tribes, were inspired and promised to hold the same type of party in the future.
More than 1,000 persons attended the ceremony.
Over 155 persons mostly from Golaghat and Jorhat died after drinking sulai, an illicit but often spurious liquor, on February 21. About 94 died in Golaghat and 60 in Jorhat.
Sources said such incidents take place because most local excise personnel turn a blind eye to the hooch business as they regularly collect bribes from hooch manufacturers and sellers.
There are 122 tea gardens in Tinsukia district and 18 per cent of its population belongs to the tea tribes.
The tea tribes, an ethno linguistic minority community, primarily live in the rural areas and have been drinking sulai and hariya since 1860-90 when they were brought by the British planters as indentured labourers from the tribal dominant regions in Odisha, Jharkhand, Chhatisgarh and Bengal.