Tales of warmth in NE
100-member team from an Upper Assam-based NGO has been distributing winterwear among the underprivileged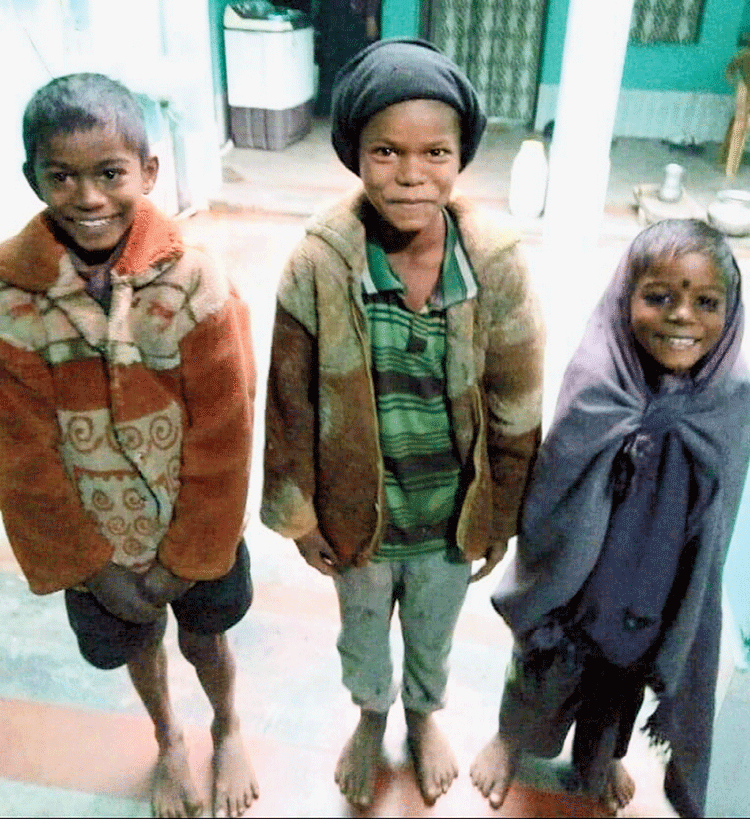 The children in the woollen clothes given by the NGO.
Picture by Manoj Kumar Ojha
---
Doomdooma
|
Published 10.01.20, 07:25 PM
|
---
The Dalai Lama once said the only religion he believed in was that of kindness.
The generous people of Assam and the Northeast, child-friendly NGOs and social organisations are helping poor, orphaned and homeless children to stay warm by providing them with clothes to combat the harsh winters.
"It is January and people all over, especially in the hills in the Northeast, are snuggling up tight in warm and cosy clothes in the short cold days and chilly nights. It is also our social duty to help the poor, orphaned, differently abled and homeless children by providing them with warm clothes, if not new then at least old," said a college student who has been distributing winter clothes among needy children for the last 10 years in Upper Assam.
"I spend the money that I earn as a tutor for them. Along with my likeminded friends, I collect old winterwear from people by visiting door-to-door. We don't want to be named," she added.
The 100-member team from an Upper Assam-based five-year-old NGO has been distributing winterwear among the underprivileged.
"It's a delightful sight to see these kids dressed up in woollens with smiles on their face and shawls distributed by people, NGOs and organisations," a Samaritan said.
"Children need proper care by the government and civil society groups. We should remember that a man (Kailash Satyarthi) from our country has won a Nobel prize for working for children's welfare and former Prime Minister Pandit Jawaharlal Nehru is known across the world for his love and affection towards children. We can also create a pleasing atmosphere for children, which could be an example for the rest of the world," said a worker of the NGO in Lohit district of Arunachal Pradesh.
Though Assam is experiencing a normal winter, temperatures have fallen, with 11 degrees Celsius during the day and 8 degrees Celsius at night and are likely to dip further.
A cold spell swept across Assam and the entire Northeast last week. The number of streetchildren is increasing day by day in Assam.
The 2001 census also revealed that 54 per cent children between five and 14 years were child labourers.
Around 53.4 per cent of girls were also found by the 2002-04 district-level household survey to be married off before they attained the age of 18.
According to national statistics, between 40,000 and 45,000 children are reported missing in India each year.