Tai Ahoms protest Act
Assam is not a dumping ground of illegal Bangladeshis: Deepjyoti Dowerah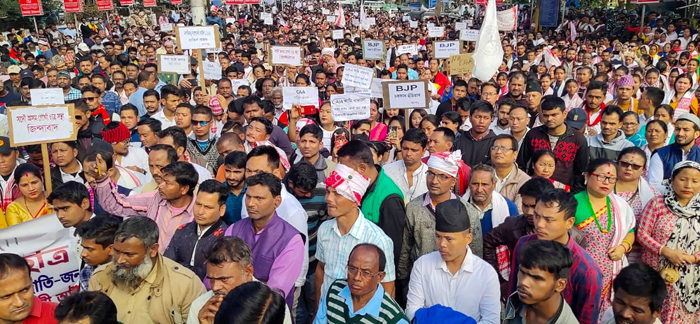 Protesters march during a rally against the Citizenship Amendment Act (CAA) in Assam
PTI
---
Dibrugarh
|
Published 12.01.20, 08:25 PM
|
---
The Tai Ahom Yuba Parishad Assam (TAYPA) on Sunday staged a three-hour sit-in against the Citizenship Amendment Act (CAA) near Chowkidinghee field in Dibrugarh district of Upper Assam.
Holding placards and banners, the protesters raised slogans against the government.
Central secretary of the organisation, Deepjyoti Dowerah, said: "We would like to warn the BJP government again that the CAA will never be acceptable to the people of Assam. The state is not a dumping ground of illegal Bangladeshis. We have made it crystal clear that we will not accept any foreigner who has entered the state after 1971, be he a Hindu or a Muslim.
"The CAA is against the spirit of the Assam Agreement of 1985. It is against the self respect of the Assamese people and we will fight till our last breath to defeat it. The betrayal by the Centre and the Sarbananda Sonowal government will not be forgotten. People will give them a befitting reply in time."
Dowerah added: "The Centre has forcefully imposed the CAA on Assam without the consent of its people and our movement will continue till the law is scrapped. The indigenous people of Assam will not live as second-class citizens.
"Assam has already accepted immigrants from Bangladesh till 1971 and it cannot take the burden of even one more person. All illegal immigrants, who have entered the state after the 1971 cut-off date, should be identified and deported. There is no question of welcoming even a single illegal immigrant whether he is a Hindu, Muslim, Christian or from any other religion. The CAA will convert the Assamese indigenous people into minorities in their own state. We are going to fight it till the end."
Members of the Assam Tea Tribes Students' Association (ATTSA) staged an agitation at Sessa tea garden against the CAA. Hundreds of protesters from the tea belt participated in it holding banners and placards.
"We do not allow the CAA to be implemented because it is an anti-Assamese Act. We will continue our protest till it is scrapped. The BJP government has betrayed the people. We do not allow any Bangladeshi in our land. The CAA is anti-constitutional and against the secular fabric of the Constitution," Dibrugarh district president of the ATTSA, Sunil Pator, said.
A large number of women from the tea belt participated in the rally and raised slogans against the BJP government.
Several organisations jointly staged a protest at Chabua, demanding repeal of the CAA. Chabua is the native place of chief minister Sarbananda Sonowal and it witnessed massive protests after the passing of the Citizenship Amendment Bill in the Rajya Sabha.