Students in Assam join JNU protest
200 students staged a two-hour sit-in in front of Cotton University and then took out a rally till Guwahati Club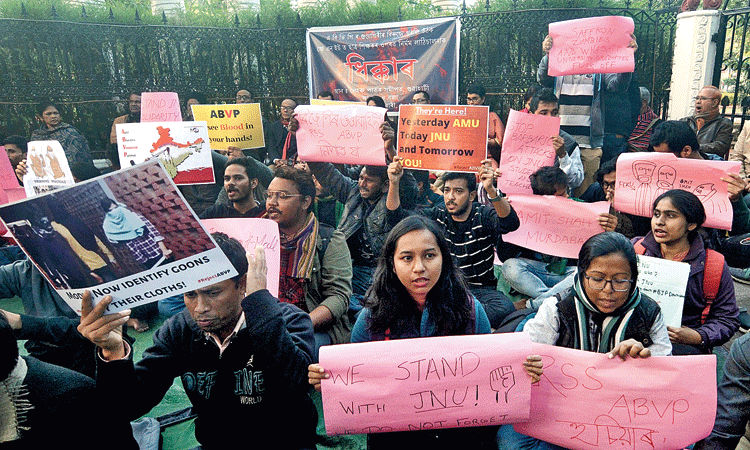 Students protest in Guwahati on Monday.
Picture by UB Photos
---
Guwahati
|
Published 06.01.20, 07:43 PM
|
---
Students of Assam on Monday protested against the violence at Jawaharlal Nehru University on Sunday and asserted that they were with JNU students and teachers in their "fight for justice".
Around 200 students staged a two-hour sit-in in front of Cotton University and then took out a rally till Guwahati Club against the JNU violence which left at least 40 students and staff injured, including several from Assam.
Mrinal Borah, a JNU student who hails from Uzan Bazar here, told The Telegraph from Delhi, "They especially targeted students from Kashmir, the Northeast and Kerala and Muslims. We survived an attack from the Hindutva brigade."
The JNU Students' Union (JNUSU) has blamed the Akhil Bharatiya Vidyarthi Parishad (ABVP), a right-wing student body affiliated to the BJP, while the ABVP has blamed Left parties for the attack.
Prarthana Saikia, a PhD scholar of IIT Guwahati, told protesters at Cotton University here, "It is an undeclared emergency. We are not even safe inside our homes, hostels and campuses. Who are responsible? We have to raise our voices for our rights."
Gauhati University Post-Graduate Students' Union general secretary Moon Talukdar and Cotton University Students' Union general secretary Rahul Bordoloi said the attack reflected the government's "anti-democratic, anti-intellectual and anti-students" attitude. They alleged the government would do everything to suppress the students' voices for vote bank.
All Assam Students' Union (AASU) general secretary Lurinjyoti Gogoi tweeted: "I strongly condemn the brutal attack on #JNU students. The students' community of Assam stands in solidarity with @JNUSU and #JNUTA in their fight for justice. #JNUViolence #JNUattack."
Gauhati University Teachers' Association, Post-Graduate Students' Union and University Law College Students' Union expressed solidarity with the students and teachers of JNU. In a joint statement they said, "…university campuses in India are being converted into spaces of fear, repression and hooliganism, subverting the lofty ideals and constitutional ethos on which these temples of learning are grounded. We demand immediate action against the perpetrators of this abominable fascist act and an independent inquiry under the supervision of Supreme Court."
Leader of the Opposition Debabrata Saikia said, "JNU is a prime university where free thinking has always been the norm and the BJP is trying to gag the voice of JNU. Even in Assam, we have witnessed how boys and girls of Cotton University were beaten up by security forces at the behest of the BJP-led state government during the anti-CAB protests and how some youths, including Sam Stefford, were gunned down in cold blood," he said and sought a suo motu probe by the Supreme Court.
The Axom Nagarik Samaj, a forum of prominent intellectuals, writers and journalists, also condemned the JNU violence. Samaj president Harekrishna Deka said, "The incident is unbelievable and shocking. This did not occur even during Emergency. This attack, allegedly by ABVP goons, on students and teachers on JNU campus will remain a black day in the annals of higher education in India.
"When the defenders are the attackers, there is no point in seeking justice from the authorities. Had the BJP believed in democracy and civility, such an incident would have never happened. The situation is so grave that mere condemnation is not enough. To stall it, we have to fight unitedly. If we fail, the brutality may soon spread to other campuses," he added.
Intellectual Hiren Gohain said the present regime has been attempting to "forcefully Hinduise the JNU campus". He alleged that the goons who entered the JNU campus and thrashed students were pre-scripted and backed by a political party. "The JNU has been producing not only academics and researchers but also social scientists and able administrators who have together contributed to nation-building and helped maintain a secular order," he said.
Gohain asked if students were not safe on campuses of educational institutions, where would they be safe? "The goons did not spare even the faculty members of JNU. If they do not know how to respect teachers, how will they respect the nation? They are bound to behave like this because they are trained by affiliated political party," he said.
The ABVP said its 25 members were the real victims and some of them had been injured as well. "The Left students are roaming around the campus fearlessly with batons and weapons and wearing masks. They are beating up the supporters of ABVP and then acting innocent," Rakesh Das, Assam general secretary of ABVP, said.