Striking teachers skip exam duty
The Joint SSA and RMSA Teachers' Association had started their ceasework on February 4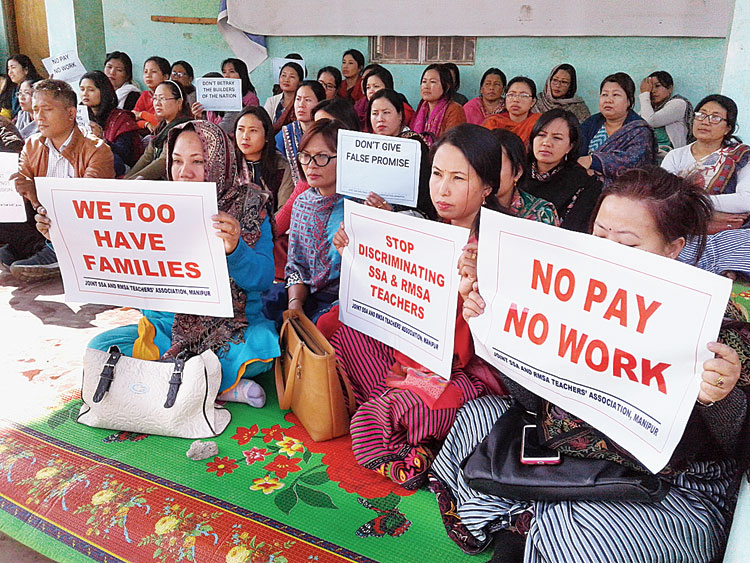 ---
|
Imphal
|
Published 19.02.19, 07:41 AM
---
Teachers serving under the Sarva Shiksha Abhiyan (SSA) and Rastriya Madhyamik Shiksha Abhiyan (RMSA), who are on ceasework, stayed away from higher secondary school examination duties, which began on Monday, and staged sit-ins at zonal education department offices across the state.
The Joint SSA and RMSA Teachers' Association had started their ceasework on February 4 by locking education department (schools) office buildings.
The teachers are demanding a permanent solution to irregular release of their salaries and initiation of promotion avenues. They want the state government to absorb them in the education department under the existing policy to do away with their problems.
The association warned of intensified agitation if the demands are not met by February 2.
The association's executive member, M. Khogendra Singh, told The Telegraph, "The state government should immediately act to fulfil our demands to facilitate us like other regular employees as we were recruited as regular teachers. Our salaries have been pending for seven to eight months. We are struggling to make ends meet. Even meeting the transport cost of going to school had become a problem."
The teachers raised slogans such as: "No pay, no work", "Stop discriminating RMSA and SSA teachers", "Don't give false promises", "We too have families", "Don't betray the builders of the nation".
The teachers said they get salaries in instalments twice or thrice a year, that too backlog salaries.
The association had submitted a memorandum of the demands to chief minister N. Biren Singh on January 28 and provided copies to the education minister, education commissioner and director of the department.
The association said there are 990 teachers, recruited between 2011 and 2016, under RMSA and 2,460 teachers, appointed between 2012 and 2016, under SSA.