Staff crunch in Assam police: Report
The data reveals that the percentage of women working in the police force in Assam is less than the national average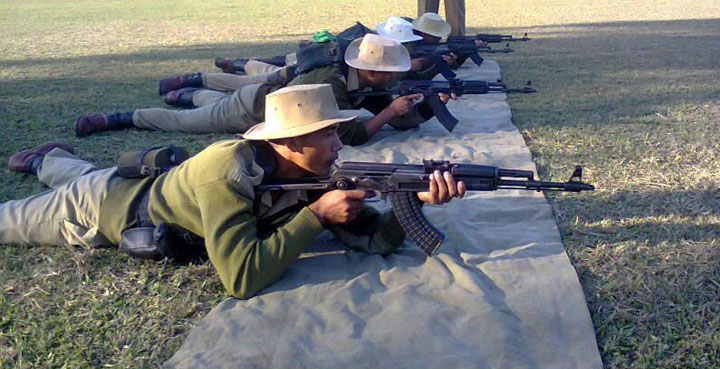 The data says Assam police have 11,452 vacancies
Wikimedia Commons
---
Guwahati
|
Published 27.10.19, 06:44 PM
|
---
Data released by the Bureau of Police Research and Development (BPRD) has revealed that shortage of staff in Assam police has forced them to handle more population and cover more areas than their capacity.
The data says although there should be one policeman against 500 people in Assam, in reality there is one policeman for 605 people. It says although a policeman ideally needs to cover 1.19 square km, shortage of staff has forced him to cover 1.44 sq km.
It also says Assam police have 11,452 vacancies. The number of vacant posts of inspector is 75, that of sub-inspector 596 and assistant sub-inspector 210.
The data reveals that the percentage of women working in the police force in Assam is less than the national average.
While it is 8.73 in the country, it is just 5.59 in Assam. Altogether 3,047 women are working in the 54,535 personnel-strong Assam police force. The percentage is over 10 in states such as Maharashtra, Himachal Pradesh and Tamil Nadu.
Maharashtra has the highest number of women police personnel. The number of women population against a woman police is 5,288 in Assam as against the national figure of 3,647.
"Availability of adequate women in police is essential for reducing the vulnerability of women becoming victims of crime," the report says while observing that the number of women police is still low in the country.
"People in distress first come in contact with the police and then a chain of events takes place in the form of medical examination of the victims, recording of statement before the magistrate, assigning the case to a public prosecutor and appearance in court proceedings. Overall shortage of women police personnel is posing a challenge in the form of increased crimes against women, thereby emphasising the need to bring women police to frontline duties."
The report says there is a tendency to engage women police only for security checks and other specialised duties relating to women, but unless they are assigned the main duties in the police stations, there will not be adequate impact on the community.
Among the northeastern states, Meghalaya, which boasts of its matrilineal society, has the lowest percentage of women in the police. Women constitute only 4.22 per cent of the Meghalaya police force. The percentages are 8.07 in Arunachal Pradesh, 8.30 in Manipur, 7.26 in Mizoram, 7.33 in Nagaland and 5.08 in Tripura.
However, in terms of percentage, Assam's budgetary allocation for police force is more than the national average. The reports analyses the budgets of all the states for the year 2016-17 and found that Assam's police budget is 5.04 per cent of the total budget as against national average of 4.05.