Sarma: No talks with oust-BJP protesters
'Everyone wants to oust the BJP and form a political party'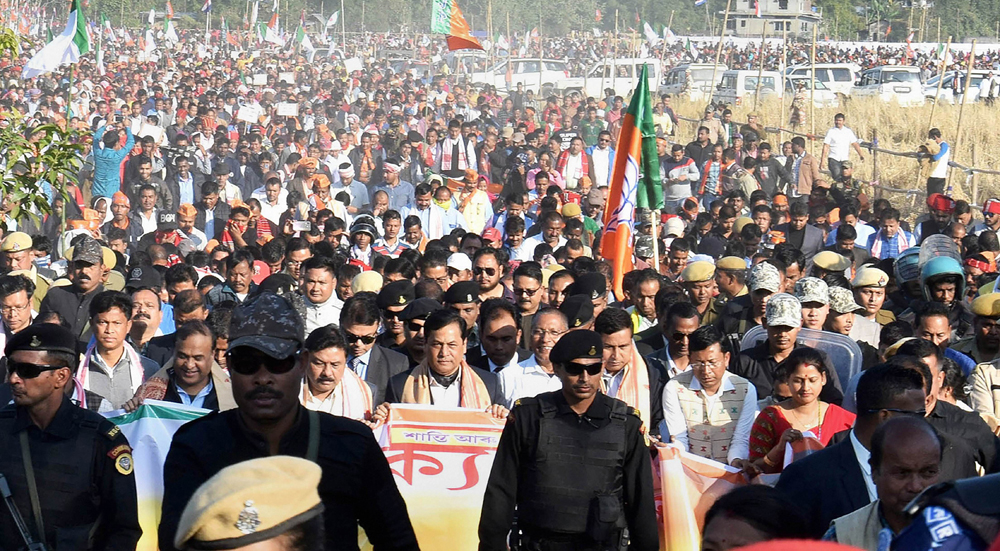 ---
|
Guwahati
|
Published 09.01.20, 07:26 PM
---
Dispur on Thursday said the question of talks with Citizenship Amendment Act (CAA) protesters did not arise because they are now thinking of a party to oust the BJP instead of the new law.
"We offered to talk when it was an agitation. Now they are saying they will form a political party to oust the BJP. What is there to discuss about ousting the BJP? The protest has become political now," Assam cabinet minister Himanta Biswa Sarma said, adding that such issues would be decided by the EVMs.
Assembly elections will be held in Assam in 2021.
All Assam Students' Union (AASU) chief adviser Samujjal Bhattacharjya said they did not want to respond to Sarma's statement because the government has no answers to their questions.
Sarma's statement came days after the AASU ruled out any possibility of forming a political party and told reporters in New Delhi that it would retain its apolitical tenor. The AASU leaders had, however, last month hinted at forming a party at an anti-CAA meeting here as an alternative to the BJP, Congress and the AGP, saying that these parties had failed the state.
Sarma said no protester now wants to discuss the Citizenship Amendment Bill (now an Act) and the picture has changed in the past month. "Everyone wants to oust the BJP and form a political party. The speeches I have heard in the past month only talk about ousting the BJP, about BJP's arrogance. There is no discussion on CAB," he added.
Sarma said AASU general secretary (Lurinjoyti Gogoi) "talks about CAB for about two to three seconds in his speeches and the rest is all about how bad the BJP is".
Expressing dissatisfaction with the role of the media, Sarma said the main headline of a newspaper these days was about 5,000 people attending a rally (CAA protesters) while the third headline was about one lakh people (in BJP meeting). "Is it possible that the main headline of a paper is about a rally attended by 5,000 people while the third headline is about a rally attended by one lakh?" Earlier too, Sarma was seen advising the media about how they should present the news.
Saying that he does not want to respond to Sarma's statement, Bhattacharjya added, "Even during our meeting with home minister Amit Shah, we did not get answers to our queries. We pointed out to him that the BJP's vision document had promised to implement the Assam Accord but the CAA will only help illegal Bangladeshis. Moreover, if CAA is bad for ILP and Sixth Schedule areas, how can it be good for non-ILP areas in the Northeast? Besides, Clause 6 cannot be a bargaining chip for CAA. We did not get any answer. That is why we want a Prime Minister-level talk."
He clarified that floating a party was being discussed by the people.
"The people have observed all the parties and are now discussing. We will remain apolitical. Our protest is about getting CAA scrapped and implementation of Clause 6 of the Assam Accord to ensure security of the Assamese community. We want a permanent solution," he told The Telegraph.