Rickety school poses threat
Building in hojai has cracked walls, roof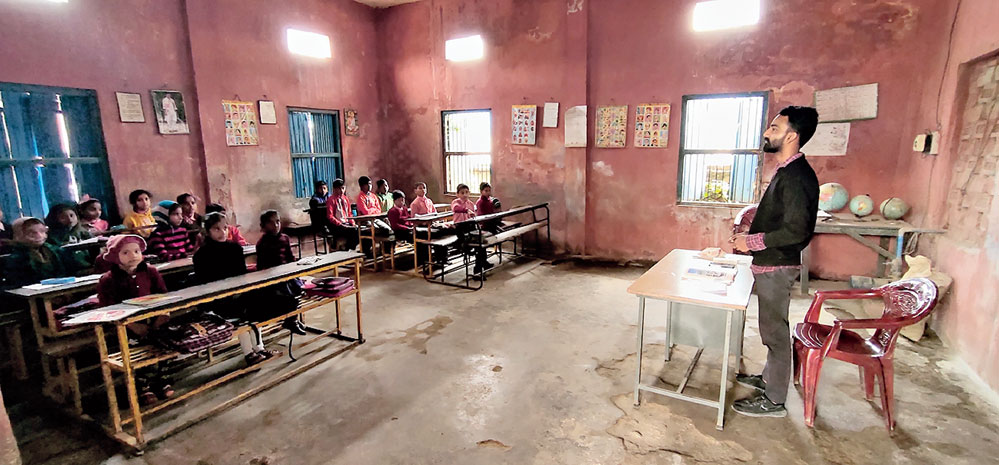 ---
|
Hojai
|
Published 04.02.20, 07:04 PM
---
The dilapidated condition of a government school in Hojai district of Assam poses a threat to the students.
With cracked walls, broken roof and holes on floor, Marwari Hindi Prathamik Vidyalaya is completely in a shambles.
The school was established in 1953 at ward 18 in Bishnupally. At present, it has eight teachers, including headmaster Ramesh Harizan, who are teaching 65 students from classes I to V.
Harizan told this correspondent that in November last year, a junior engineer of Axom Sarba Siksha Abhiyan Mission, Upananda Saika, observed that the school building is totally unsafe and may collapse any time, recorded the video of the dilapidated condition of the school and added it in Gunotsav.
Shiv Singh Dayal, a local guardian, said: "The walls and roof of the building have cracks and during rain, the walls leak. Small chunks of the roof fall on students."
Harizan said: "In 2013, another junior engineer of Axom Sarba Siksha Abhiyan Mission said the school was unsafe and anytime the terrace could collapse. He suggested either repair or shifting the school to a new location."
"Though several complaints were made to the subdivisional officer (SDO) and the state government's land and soil conservation department in 2013 and to mission director, Axom Sarba Siksha Abhiyan, Kahilipara in 2015, no proper action was taken to repair it," Harizan said.
To make matters worse, stink from adjacent toilet affects studies and students have to bring incense sticks and phenyl.
The president of the school's governing body, Shyam Lal Gupta, appealed to the state government to take remedial steps.
"We just want either demolition or renovation of the building," he said.