Review call for Loktak power project
Citizens' groups protest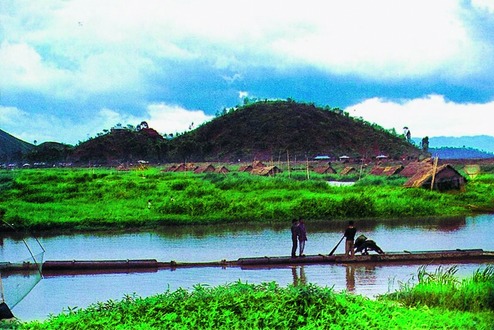 ---
|
Imphal
|
Published 07.08.17, 12:00 AM
---
Imphal, Aug. 6: Citizens' groups have demanded a review of the 105MW Loktak power project and decommissioning of the Ithai barrage constructed for the project, maintaining that the project does more harm than good for the state.
The Loktak Project Affected Area Action Committee, Committee on Human Rights, Manipur (COHR), Centre for Research and Advocacy Manipur (CRAM) and Irabot Foundation Manipur (IFM) joined hands to campaign against the project.
Jiten Yumnam, the secretary of research and advocacy, said the campaign against the project would continue.
Yumnam told The Telegraph that the absence of a memorandum of understanding (MoU) between the National Hydroelectric Power Corporation (NHPC) and state government on the operation of the Loktak project, which was commissioned in 1984, is "a matter of serious concern".
Loktak lake spreads across Imphal West, Bishnupur and Thoubal districts. The barrage is constructed on Manipur river.
Before the project was commissioned, the people of Manipur were promised that the state would get the required power supply. However, Manipur continued to suffer from lack of power supply. The situation improved a few years ago after the power department was converted to a corporation.
"The non-existence of the MoU on the project was confirmed by the NHPC on May 9, 2017, after filing an RTI application by a farmer named Joy Haobijam, whose land was submerged by the project," Yumnam said.
"It is very unfortunate that the NHPC has been given a complete free hand without any monitoring mechanism by the state government," he added.
He claimed that the project was responsible for the frequent floods in the state and submerging more than 50,000 hectares of agricultural land as the outflow of the lake was blocked by the Ithai barrage to maintain the water level to allow the project generate power.
It was alleged that NHPC refused to take responsibility for the such loss of properties during floods.
The enforcement of the Manipur Loktak Lake Protection Act, 2006, compounded the sufferings of the fishing community of the lake as fishing was banned.
The organisations asked the state government to urge the NHPC to take responsibility for the sufferings of landowners caused by the project and also for environment devastation caused in the Loktak lake by the project.
Jiten said because of the Ithai barrage, Manipur valley suffers floods every year as the excess water of the lake is blocked.
Urging the state government to repeal Manipur Loktak Lake Protection Act, 2006, to recognise the rights of the fishing community, the organisations demanded a review of the project. Jiten said the organisations would continue to campaign until the demands are met.
In the recent floods in the valley, 19 people lost their lives and paddy saplings were destroyed extensively.