Revenge link to rebel rise
Upsurge in fundamentalism in BTAD a challenge, say forces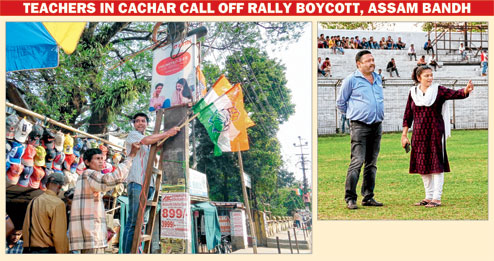 ---
---
Kajalgaon (Chirang), Sept. 20: An upsurge of Islamic fundamentalism in Assam to avenge violence against minorities in the BTAD has become a challenge for the security forces.
Sources told The Telegraph that the recent busting of a jihadi training centre and seizure of arms in Chirang district are the latest pointers to this emerging threat.
The training centre was being run under the guise of a martial arts school to escape the prying eyes of security agencies.
"Formation of a new militant outfit called the Muslim Tiger Force of Assam (MTFA) to take revenge for killing of minorities in the BTAD is another cause of concern for the security establishments," a police source said.
Two MTFA militants were apprehended by the army from Gossaigaon in Kokrajhar district on Friday and one 7.65mm rifle was recovered from them.
According to Assam director-general of police Khagen Sarma, threat from Islamic fundamentalist forces is higher than that from local outfits like the NDFB (S) because of the former's pan-Islamic links.
Sarma said during investigations into the activities of Jamaat-ul-Mujahideen Bangladesh (JMB) in connection with the Burdwan blast, it had come to light that some key leaders of Islamic fundamentalist organisations had visited minority-dominated areas in lower Assam.
He said the recent arrest of four Islamic fundamentalists from Chirang district has provided some fresh leads about their activities.
On September 16, Chirang police arrested Minarul Islam, Jahrul Haque and Badiur Zamal Sheikh and busted the jihadi training centre at Number 2 Daukhanagar under Dhaligaon police station in the district.
Based on revelations made by the trio, one of their accomplices, Md Sayed Mia, was arrested on September 18 and eight handmade AK-47 rifles and two handmade Insas rifles were recovered from Daukhanagar.
A police source told The Telegraph that these were all single-shot guns, which were imitations of an AK-47 and Insas rifles and used in arms training.
Their main organiser Ashiq alias Bura Bhai of Howly in Barpeta district and trainer Mohfiz of Baksa district are absconding.
"They were imparting arms training to youths to retaliate in case of any further attack on minorities in the BTAD," he said.
There had been two major incidents of violence against minorities in the BTAD in 2012 and 2014, in which over hundred people from the minority community were killed
and several lakhs were displaced, causing a great deal of resentment among the community.
The source said three videos — two on atrocities on Muslims, which are used for indoctrination, and one containing instructions on use of arms — were recovered from the Daukhanagar training centre.