Protests engulf Assam
No bandh call but state shuts down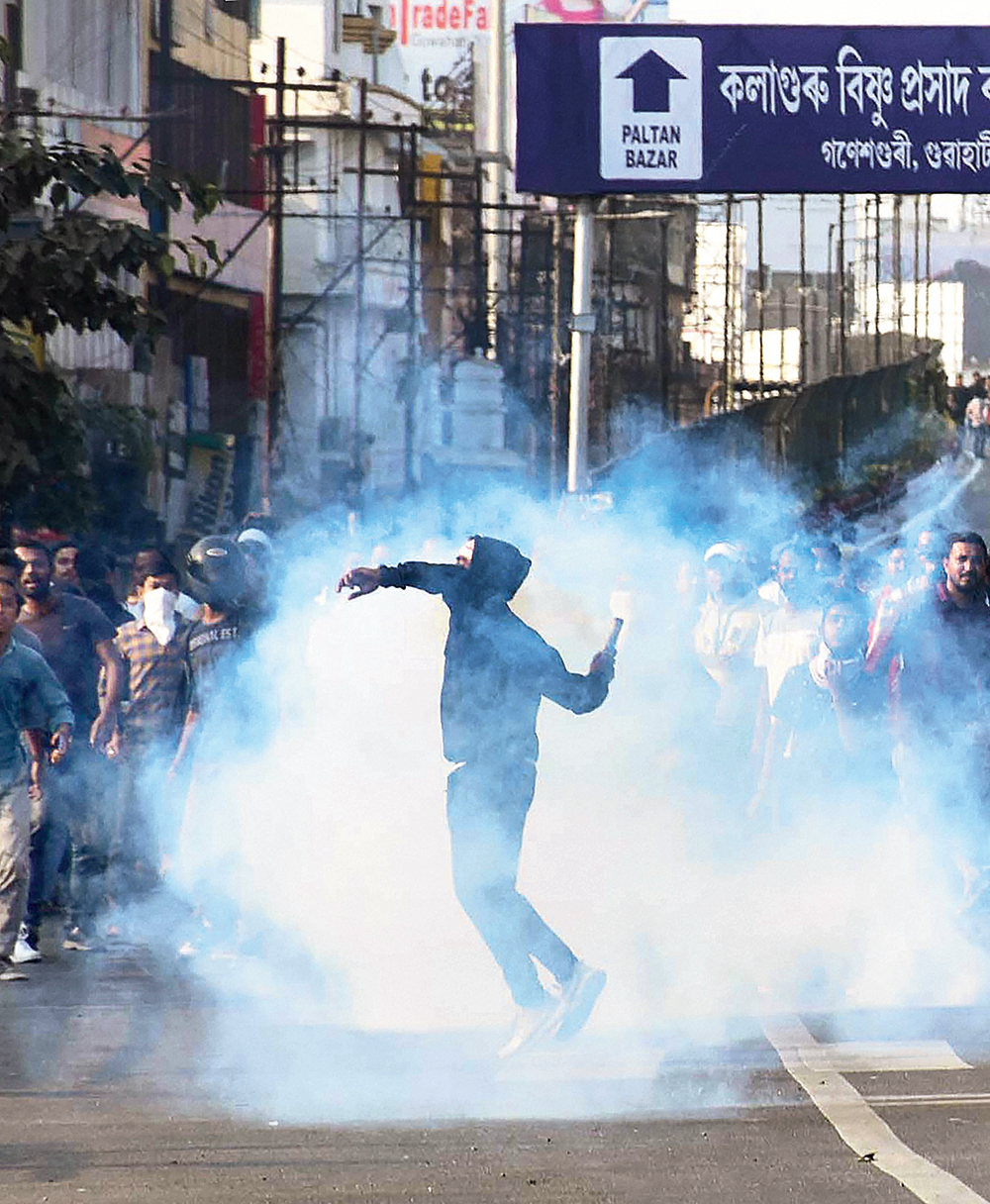 ---
Dibrugarh
|
Published 11.12.19, 09:01 PM
|
---
Assam appeared to be on fire as tempers flared up against the Citizenship (Amendment) Bill which was tabled in and passed by the Rajya Sabha on Wednesday.
Anti-bill protesters surged on the streets, burnt tyres and effigies, raised slogans against the government and fought pitched battle with the police which had to resort to lathicharge and fire tear gas shells and rubber bullets to maintain law and order. The state observed a spontaneous bandh without one being called by any organisation.
There were reports of stand-off between police and protesters in many parts of Dibrugarh district in Upper Assam. At Bokul Tiniali on National Highway 37, 10km from Dibrugarh town, about a thousand protesters assembled in the morning. As the day progressed, their numbers swelled to thousands. They burnt tyres on the roads, raised slogans against the BJP government and demanded scrapping of the bill.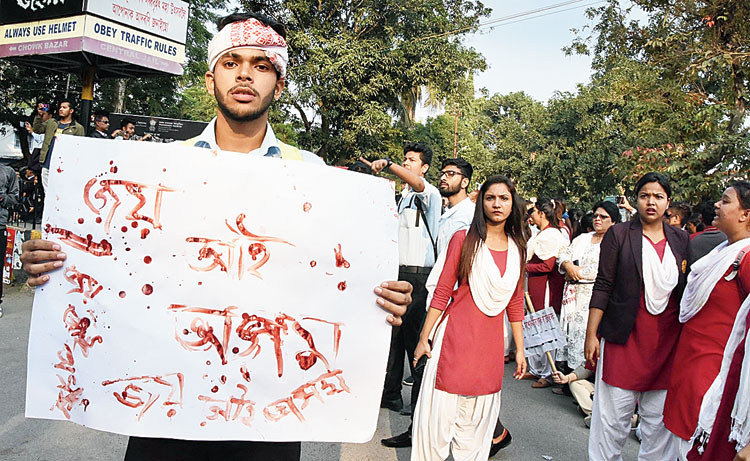 The police, finding it difficult to contain the surging crowd, resorted to lathicharge. The protesters fought back and pelted stones at the police, which then fired tear gas shells and rubber bullets to disperse the crowd.
Two journalists were injured in the stone-pelting while several protesters were injured during lathicharge.
Dibrugarh deputy commissioner Pallav Gopal Jha said, "The protesters turned violent, uprooted electric poles, overturned ambulances and pelted stones. The police had to take action before things went out of control. We noticed that some anti-social elements mingled with the protesters and tried to fan violence. Strict action will be taken against them. There has been an acute shortage of oxygen cylinders at Assam Medical College. Two oxygen carrying vehicles were detained by protesters at Lahowal and Demow. We appeal to the people to protest in a democratic manner and not to obstruct essential services."
He clarified that the army has not been called yet and no curfew has been imposed in any area of the district so far.
The district administration called the quick response team to control the situation in several areas. A warning flag that read, Please disperse peacefully or else you will be fired upon, was spotted on a vehicle of a QRT team.
At Duliajan in the district, residents and student groups hit the streets, saying they were ready to sacrifice their lives to protect Assamese identity. Thousands of people took out protest marches and assembled near the industrial gate of Oil India Limited. Business establishments, educational institutions and banks remained closed and vehicles kept off the roads. The protesters burnt tyres on the roads.
All Assam Students' Union (AASU)'s cultural secretary Anil Gogoi said the people of Assam will never accept the bill.
In Golaghat district in Upper Assam, protests by individuals and organisations crippled normal life. The arterial roads, NH37, NH39 and PHCG Road, wore a deserted look with vehicles keeping off them. Business establishments remained closed and attendance was thin in government offices. Residents poured out on the streets at Dergaon Chariali, Negheriting, Narikalguri, Lukumai and Kuralguri, among others, to protest against the bill. Activists of AASU, Asom Jatiyatabadi Yuba Chatra Parishad (AJYCP), Asam Aikya Sena, Brihattar Asomiya Yuba Manch and others blocked roads and burnt tyres at Dergaon and Greater Dergaon.
In Sivasagar district in Upper Assam, protesters blocked roads, burnt tyres and shouted slogans against the bill. KMSS leader Akhil Gogoi addressed a huge gathering near Shiva temple in the district headquarters. Later, he led a rally, in which thousands of people from all walks of life participated. Business establishments were shut. Banks opened in the morning but downed shutters by noon.
At Doomdooma town in Tinsukia district in Upper Assam, police fired rubber bullets to disperse anti-bill protesters demonstrating in front of the deputy commissioner's office. Though no organisation had called a bandh, people came out in large numbers across the district since morning. The protesters burnt tyres and logs placed on roads and rail tracks to stop movement of vehicles and trains, officials said.
Tinsukia AASU president Binay Dubey said around 5,000 protesters were demonstrating peacefully but some miscreants mingled with them and took the protest in the wrong direction. As a result, police fired rubber bullets and tear gas, injuring four.
The All Moran Students Union, however, said it would intensify its protest and launched an economic blockade on Wednesday.
In Hojai in central Assam, the administration imposed Section 144 CrPC in the district with immediate effect from Wednesday evening.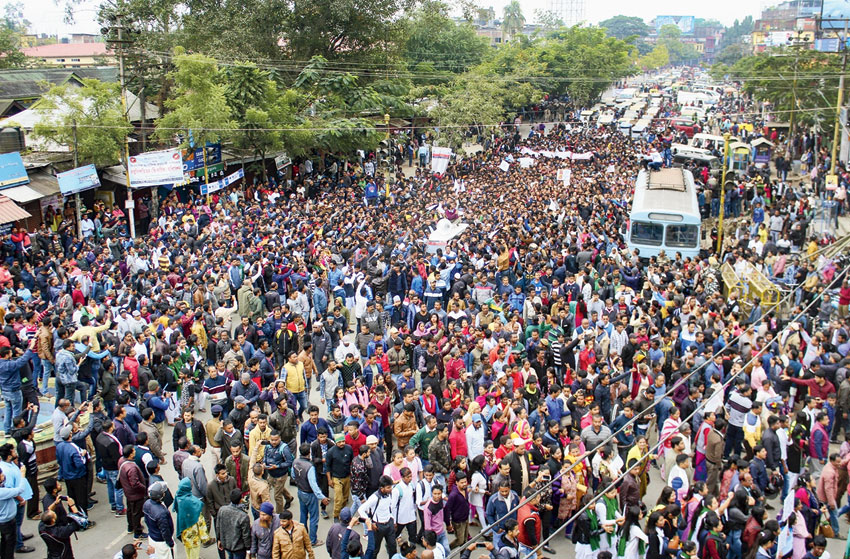 In Sonitpur district in central Assam, thousands of people from all walks of life hit the streets spontaneously to register their protest. They burnt tyres and raised slogans.
At Tezpur, the district headquarters, students from several academic institutions staged a protest in front of Darrang College. In different places of the district, protesters blocked NH15 and NH37(A), obstructing students going to appear for exams. KMSS activists allegedly damaged vehicles and assaulted passengers in several places. In the evening, protesters, led by AASU's Tezpur unit, took out a massive torch-lit rally in the town.
In Udalguri district in lower Assam, a conglomerate of 30 organisations, including AASU, students and citizens blocked Mangaldai-Bhutiachang Road in Tangla town for more than three hours in the evening. The protesters burnt tyres and raised slogans. As black smoke engulfed the town, fire tenders were pressed into service to douse the burning tyres on the streets. Business establishments remained shut throughout the district in the evening.
AASU assistant general secretary Jayanta Kumar Bhattacharjya said, "The Assamese will never bow down to the communal forces who are determined to grant citizenship to illegal Hindu immigrants from Bangladesh."
He slammed BJP and AGP leaders for betraying the people who voted them to power, believing that they would be saviours of the indigenous people.
"The people of Assam will give a befitting reply to the government in the 2021 Assembly polls and will also oust the Hagrama Mohilary-led Bodoland People's Front in the BTC council polls," he added.
Pankaj Asomiya, a leader of KMSS Udalguri chapter, said, "The politicians of Assam have sold their mother but we are ready to die for Assamese people."
The protesters criticised police and paramilitary forces for injuring protesters in Dibrugarh and other parts of the state. The protests took place despite the district administration promulgating Section 144 of the CrPC on Tuesday.
Additional reporting by Pradip Kr Neog in Duliajan, Sanjoy Hazarika in Bokakhat, Kongkon Bora in Sivasagar, Manoj Kumar Ojha in Doomdooma, Nikhil Kr Mundra in Hojai, Pranab Kumar Das in Tezpur and Shajid Khan in Udalguri