Arunachal protest against China
Students hold sit-in over territory claim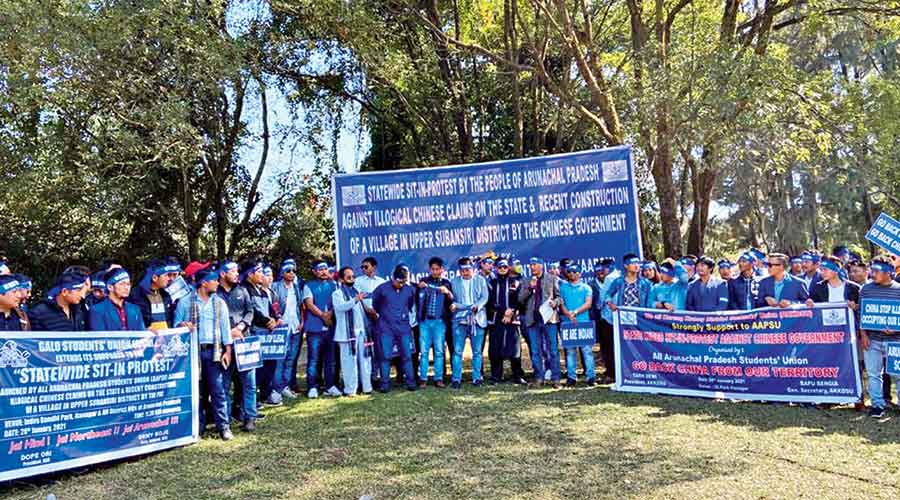 ---
|
Guwahati
|
Published 29.01.21, 01:48 AM
---
The All Arunachal Pradesh Students' Union (AAPSU) on Thursday staged statewide protests against China's "illegitimate" claim over the frontier state and the BJP-led central government's "lethargic and half-hearted" approach against Beijing's alleged "expansionist" policy.
The hour-long sit-in was the second protest held by the leading student organisation of the state since January 21 following reports of China establishing a village in Upper Subansiri district, a claim dismissed by both the Centre and the state government, saying the area has been in possession of the neighbouring country since 1959.
The sit-in was mainly aimed at "rejecting" Chinese claims over the frontier state and "conveying" the sentiments of the people towards the Centre's "half-hearted" handling of the situation.
Arunachal Pradesh shares a 1,080km-long porous and disputed border with China which considers the state a part of South Tibet. Altogether 12 Arunachal districts border China. Upper Subansiri was one of the affected districts in the 1962 Indo-China war which the neighbouring country won, exposing many chinks in India's military preparedness.
The protesters on Thursday sought a "strong and pragmatic" government response to China's claim so as to allay and assuage the feelings of the people of Arunachal who are "staunch nationalists and patriotic".
The protesters also displayed placards articulating their concerns and angst such as "Speak up Indian government", "Speak up Arunachal government", "Arunachal is not Tibet", "China your claim is illegitimate" and "China stop illegally occupying our land", among others.
AAPSU general secretary Tobom Dai told The Telegraph after the sit-in in Itanagar: "It's a tragedy we have to protest now and then to tell the government that we are an integral part of India. You don't need a war to defend the country; give major impetus to development of roadways, infrastructure, telecommunications connectivity... everything else will fall into place."
According to Dai, apart from strengthening the military apparatus in Arunachal Pradesh, the Centre should give a major thrust to development activities to bring it at par with developments taking place on the Chinese side.
"Blame game needs to be stopped on such sensitive national issues. We just need a strong stand from the current central government. You just can't keep harping on the wrong done by the past governments and pass on the responsibility," Dai said.
The BJP-led government blames the erstwhile Congress regimes for the border issues with China.
During the January 21 protest, the AAPSU had also exhorted the Centre to take appropriate counter-measures to address the Chinese claim over the state. They had even burnt the effigy of Chinese President Xi Jinping.
The North East Students' Organisation expressed solidarity with the AAPSU protest. Neso adviser Samujjal Bhattacharjya expressed his "strong resentment" against the Centre's "inaction" on the Chinese village development.