Power supply disrupted in Assam's Sadiya
The total population affected in the district, comprising 63 villages, is over 33,000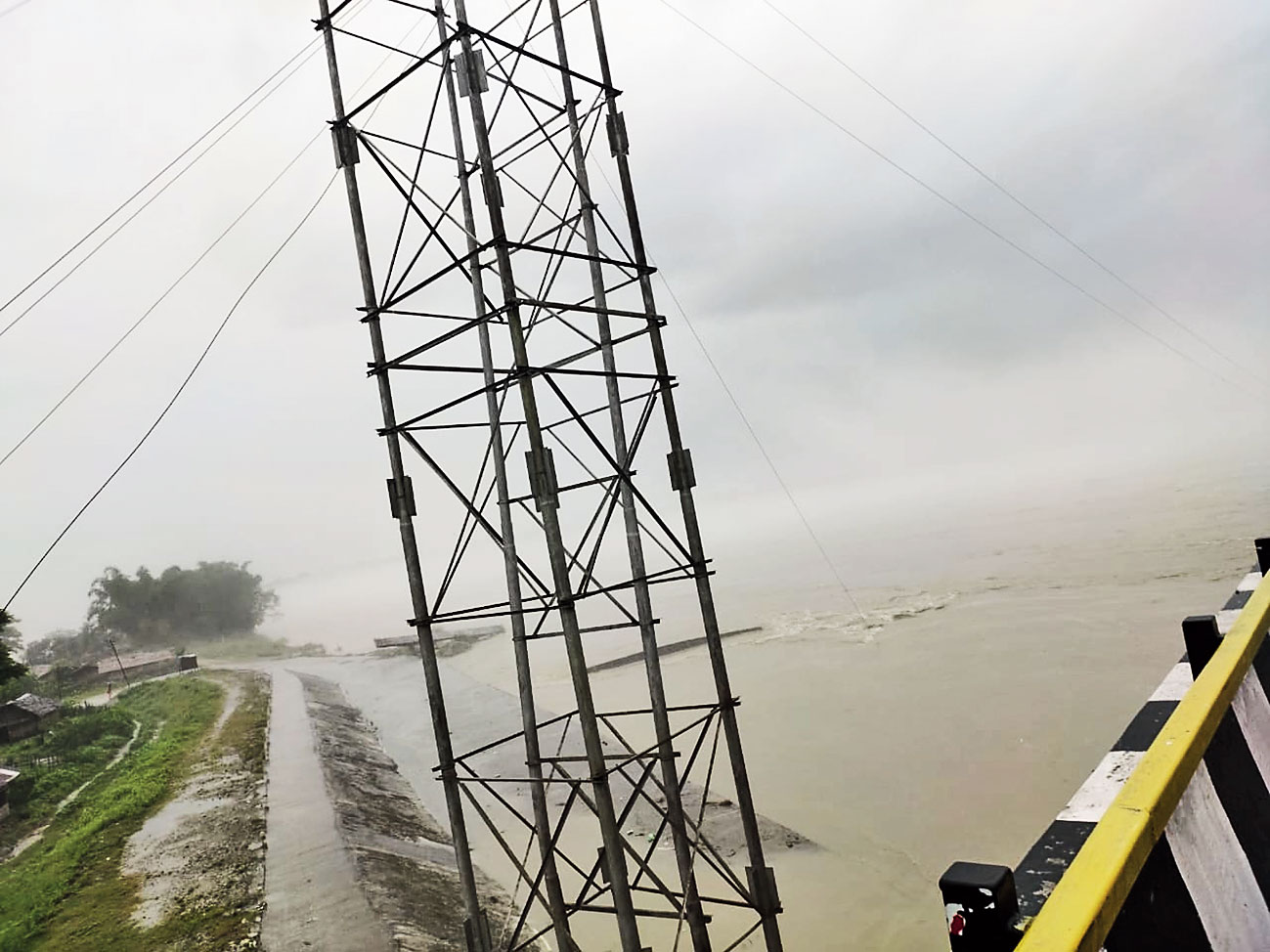 ---
|
Tinsukia
|
Published 13.07.19, 07:21 PM
---
More than 130,000 people remained in the dark for the third consecutive day on Saturday after a 33kV line supplying power to Sadiya subdivision of Assam snapped at Alubari in Arunachal Pradesh's Namsai district after floodwaters hit one of the towers.
Confirming this, the subdivisional officer of Sadiya, Bishwajit Phukan, said the Assam Power Distribution Company Ltd (APDCL) had informed that a 33kV power line snapped at Alubari following floods. "The entire subdivision is without power for three days. The APDCL has informed that power-restoration work is being done on a war footing and is likely to be restored by Saturday evening or Sunday morning."
In Tinsukia revenue circle, floodwaters have affected over 16,000 persons spread across 14 villages. The villages, including three tea gardens, are Dhelakhat gaon, Gotong gaon, Notun Rongagora, Balijan, Rongagora TE, Khamtiguwali, Guijan, Erasuti, Goramjan, Laika Rigbi, Laika Pomua, Laika Phasidiya, Nalini TE and Hatibat.
The total population affected in the district, comprising 63 villages, is over 33,000. The figures from Sadiya, however, are yet to come.
Talking to this correspondent, additional deputy commissioner and chief executive officer of the District Disaster Management Authority (DDMA), Gurneil Singh, said, the situation is under control as of now.
He said: "We have opened eight relief camps — five in Tinsukia and three in Doomdooma — housing around 8,315 inmates. All relief materials are being distributed. Teams from various departments including public health engineering (PHE), health, Inland Water Transport (IWT), State Disaster Response Force (SDRF) and the National Disaster Response Force (NDRF) are in the field. Over 4,000 big and small animals and 9,500 poultry have been affected in the district.
"Fishing has been banned. We appeal to the people not to venture into the river. Altogether 569 hectares of cropland have been washed away. We have marked the highland prior to flooding as part of our preparation. The PHE department have installed hand pumps for the flood-affected people at such highlands."
Doomdooma circle is the worst hit. Circle officer Pankaj Rajbongshi said altogether 32 villages had been inundated including Tengapani, Motapung, Laina, Sumoni and Tamuli. "Medical teams are visiting all the villages and providing check-ups and free medicines."
Tinsukia MLA Sanjoy Kishan and Chabua MLA Binod Hazarika visited the flood-hit areas on Friday and Saturday.
"Water level of Dutong and Kundil rivers are rising due to heavy rainfall in the Arunachal, affecting three villages in lower Amarpur, Phukan said, adding: "We have sent an NDRF team to Amarpur, but they could not cross the Dibang river due to heavy current.