Pledge to plant & preserve round the year
Plantation drives in Tinsukia district reserve forests & households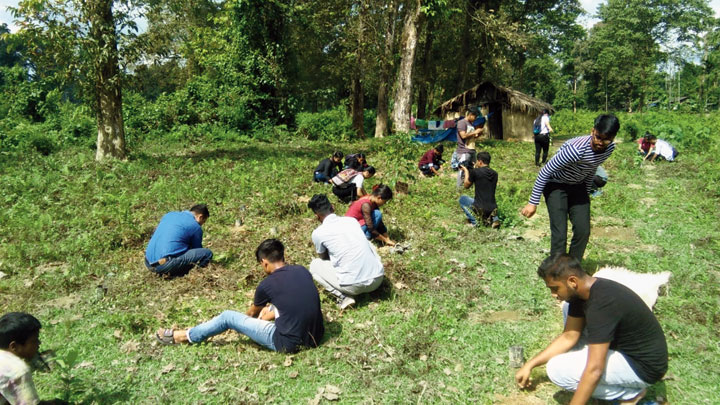 A plantation drive in Tinsukia.
Picture by Manoj Kumar Ojha
---
Doomdooma
|
Published 03.01.20, 08:51 PM
|
---
The Parivesh Suraksha Samiti (PSS) on Friday said it would plant saplings to preserve the reserve forests, Dibru-Saikhowa National Park and other places in Tinsukia district round the year.
"The plantation programme will be continued round the year in 2020. Distribution of saplings and preservation of plants will be done at Bherjan reserve forests, Dibru-Saikhowa National Park, Gelapukhuri and Gotong in Tinsukia district of Upper Assam," said Rituraj Barua, the president of the central committee of the organisation.
"We are welcoming the year by planting saplings at Guijan, adjoining Tinsukia town (around 12km west of the town) with the regional committee, Guijan, of the PSS. The plantation began at Natun Rongagora, and was inaugurated by intellectual and teacher Jyoti Prasad Chaliha," he added.
Green Bud Society, an NGO which works for wildlife and conservation, started the year by planting saplings at Digboi in the district. "Our aim is to increase the forest cover as soon as we can. We have been already conducting green drives for the last seven years," Devajit Moran, the secretary of Green Bud Society, told The Telegraph.
"We will plant saplings in reserve forests, hills, wastelands, school campuses, roadside and government buildings. Organisations, government employees and students will also take a pledge to plant saplings in each household," Moran added.
Moran said human-animal conflict has risen considerably in the district and other Upper Assam districts and in Arunachal Pradesh due to deforestation. "There have been several reports of pythons entering houses, leopards sneaking into backyards at night and carrying off livestock or pets. Pangolins, slow loris and elephants often enter areas of human inhabitation. Monkeys running into kitchens is routine in hillside areas of Margherita and Arunachal Pradesh. It is all due to decreasing forest cover so we are giving much stress on planting more and more trees."
According to a government report, since 2010 ,761 people and 249 elephants have lost their lives in human-animal conflict.
An official of Duamara tea estate here, Karam Tanti, said, "Snakes are entering villages houses due to felling of trees in reserve forests and biting humans and livestock resulting in loss of lives."
"We regularly hear the roars of leopards at night and many time they take away our goats. Elephants also come out in large numbers," he added.
"Deforestation, earth cutting and extension of residential settlements and croplands have reduced the natural habitat of animals forcing them to wander in search of shelter and food," Tulya Chetia, a teacher, said.
"We have been taking all necessary steps for afforestation. We are also conducting night patrolling to save forest and wildlife," a forest official said.