Pig, stray cattle menace in Dhubri
There has been an increase in the population of pigs, causing concern among the residents over the spread of diseases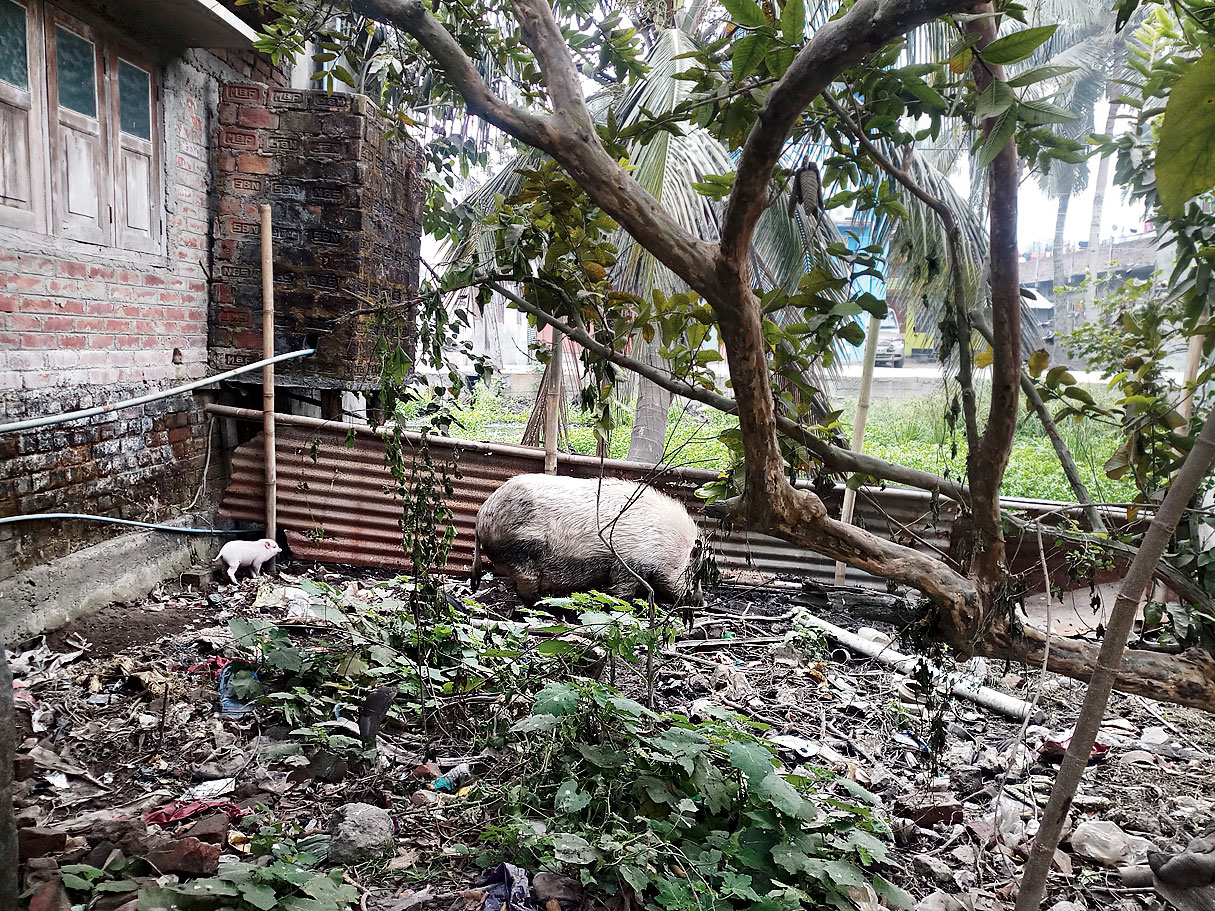 Pigs in Dhubri
Picture by Mukesh Kumar Singh
---
Dhubri
|
Published 13.02.20, 07:02 PM
|
---
After stray dogs and cattle, one of the major problems haunting the residents of Dhubri town is the menace of pigs.
There has been an increase in the population of pigs in the locality, causing concern among the residents over the spread of diseases.
The residents alleged that the pigs are roaming freely in large numbers across the town and several areas reek as pigs scatter garbage in the streets while scouring for food.
Purnam Kumar Yadav, a resident of Kalighat Lane of ward 11 said, "We are facing this menace since long but the situation has gone from bad to worse in the past couple of months due to the sudden increase in pigs in our locality."
"We have complained many times to the civic authorities about the uncontrolled and movements of pigs and the damage to our property but the authorities concerned have turned a blind eye," he alleged.
Another resident of ward 16, Abhijit Sarkar, alleged that the pig-rearers deliberately let the animals loose to graze on streets. Repeated representations to the authorities have gone in vain, he said.
The demand for finding a solution to the problem is increasing as the people complain that pigs roam freely across the town, posing health hazards and damaging property in the residential areas.
"With so many diseases spreading already, the pig menace is very scary. We are worried that these pigs could be the carriers of many diseases and infections," said Manoj Choudhary, another resident.
Dhubri Municipal Board claimed that door-to-door-garbage collection has begun in 10 out of 16 wards of Dhubri town but the picture of residents and shopkeepers still throwing their trash out in the open and the increase in stray pigs and other stray animals in search of food is telling a totally different picture.