Parties gear up for poll results in Assam
Altogether 81.52 per cent voters had turned out in the three-phase polls in Assam held on April 11, 18 and 23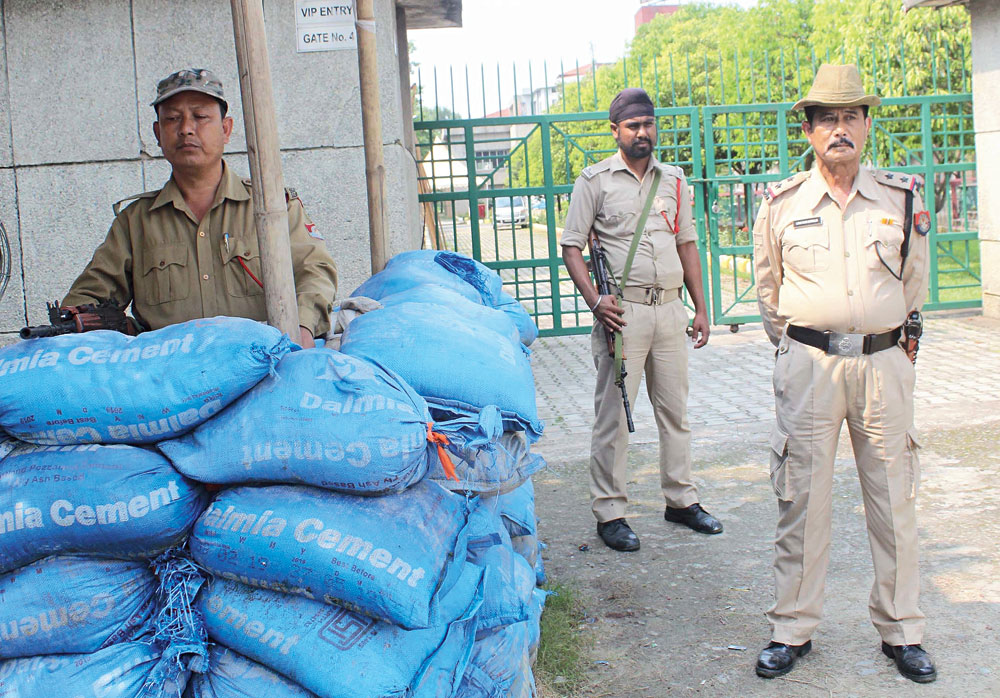 Security personnel guard an EVM strongroom in Guwahati on Wednesday on the eve of counting.
Picture by UB Photos
---
Guwahati
|
Published 22.05.19, 06:49 PM
|
---
As the day of judgement dawns in Assam on Thursday, it will bring to an end the 42-day wait of most candidates who are camping in their respective constituencies with bated breath.
Counting of votes for Assam's 14 parliamentary constituencies, contested by 145 candidates, will begin from 8am in 51 centres amid three-tier security arrangements.
Altogether 81.52 per cent voters had turned out in the three-phase polls in Assam held on April 11, 18 and 23.
With the Union home ministry sounding an alert on the possibility of violence in the country on counting day, Assam director-general of police Kuladhar Saikia appealed to the people to maintain peace and cooperate with the police.
The Assam BJP was in a confident mode on Wednesday. Party workers and office-bearers were busy in the party's head-office at Hengerabari here, preparing for counting day. "We will watch the counting in the party office. Celebrating victory together will be more fun," one of them said. The party, which fought the election with two regional parties, the AGP and the Bodoland People's Front, is hoping that its tally will go up. "We will win 10 seats," party spokesperson Rupam Goswami said. In the 2014 Lok Sabha elections, it had won seven seats. "There will be unseasonal Diwali, Holi and Bihu tomorrow. We will celebrate victory across the state on Friday also," BJP media coordinator Dewan Dhrubajyoti Moral said. The party's state president, Ranjeet Kumar Dass, will be in the party office from morning, he added.
Congress workers cleaned the party office here on Wednesday, anticipating a large number of people on Thursday. Most Congress leaders are in the constituencies, following party president Ripun Bora's instructions to keep a close eye on counting to prevent any malpractice. The party, which had won three seats in 2014, is hoping to fare better.
Two persons manned the AGP's head-office at Ambari here at noon on Wednesday.
To prevent any post-result violence in trouble-torn Hailakandi district, the administration has banned processions, rallies, large gatherings, bursting of crackers, carrying of weapons, inflammatory speeches and use of loud speakers in the district under Section 144 of the CrPC until further orders. Night curfew continues in the Sadar police station area from 10pm till 6am. Indefinite curfew was imposed in the district on May 10, following clashes between two groups over Friday prayers in front of a mosque.
Hailakandi election observer Radha Kishore Jha said he was in touch with the election machinery and would oversee the counting exercise.
"We are working in sync to ensure smooth counting of votes. I have given suggestions wherever required and will sent report directly to the Election Commission," he said.
Additional reporting by Satananda Bhattacharjee in Hailakandi