Parlour owners, workers hit hard in Assam
Assam salons have been hit extra hard by coronavirus fears since last month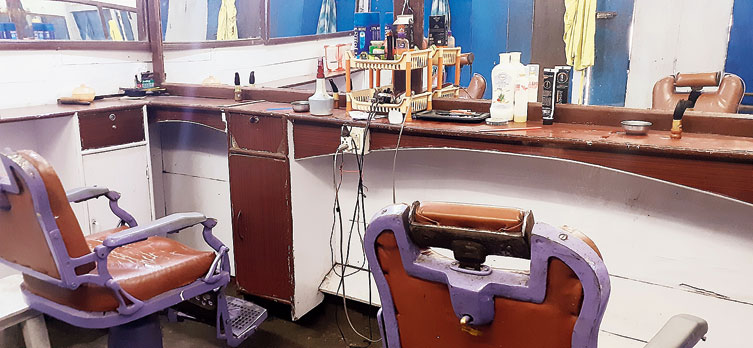 ---
Doomdooma
|
Published 20.03.20, 07:45 PM
|
---
Two days after the Assam government directed all district deputy commissioners to take necessary actions for the closure of all bars, beauty parlours and salons in the state, Lal Thakur, 28, came to his saloon but not to open it.
He came on Friday with heavy heart to take back his tools and equipment.
"There are only two options with most of barbers like us either to work door-to-door or starve to death. So, I came to collect scissors and other items," Lal, whose shop is located on Station Road in Tinsukia town told The Telegraph. "The fear psychosis is so deep that I am not sure the people will agree to our services till the pandemic is controlled. I may have to seek daily wage work," he added.
Lal has a seven-member family, comprising his parents, wife and three children. His parents suffer from diabetes and need regular medication. His wife recently underwent gall bladder surgery and needs medicines and nutritious food. The children go to school.
Abdul and Aashif, two friends who are barbers at Namsai town in neighbouring Arunachal Pradesh, on Friday returned home to Tinsukia after closing their shop as the coronavirus infection fear loomed large.
Assam salons have been hit extra hard by virus fears since last month. There were hardly one or two customers since last fortnight. They said since the opening of the shop decades ago, business has never been so bad.
"I have to think about feeding my children and fulfil other responsibilities," Lal added.
"Salon workers are concerned about their personal safety as well. They are uncomfortable being in such proximity to customers. Many owners had already cut the number of staff and slashed their working hours. But the question is how will they survive now. Coronavirus may kill people in two ways either by attacking them or causing people to lose their source of income," Ganpati Kumar, 58, said .
There are more than one lakh people related directly or indirectly to salon and beauty parlour jobs.
Thousands of indigenous Assamese youths, both girls and boys, have rapidly taken to this business as it provides smooth and honest job opportunities in their own state.