Outrage over Agatha support to Citizenship (Amendment) Bill
Agatha and her party NPP have faced the brunt of people's outrage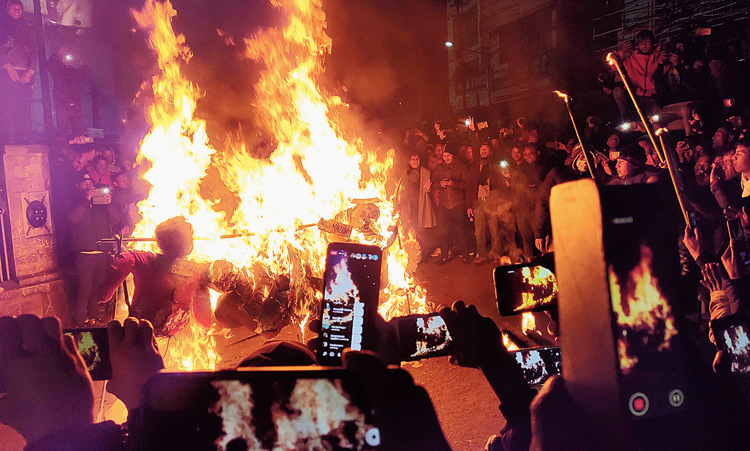 People in Shillong burn the effigies of Prime Minister Narendra Modi, Union home minister Amit Shah, Meghalaya governor Tathagata Roy and Tura MP Agatha K. Sangma on Tuesday
(UB Photos)
---
Shillong
|
Published 10.12.19, 06:55 PM
|
---
Hundreds of people turned up at Motphran here on Tuesday evening where an effigy of Tura MP Agatha K. Sangma was burnt while slogans were raised against the National People's Party (NPP).
Agatha and her party NPP have faced the brunt of people's outrage whether in the Meghalaya capital or in Garo hills after she supported the Citizenship (Amendment) Bill, which was passed in the Lok Sabha early on Tuesday.
In the Garo hills, which she represents, effigies of Agatha were burnt while there were also demands that she step down as MP.
While the Confederation of Meghalaya Social Organisations (CoMSO) organised the protest at Motphran, the popular landmark witnessed the gathering of hundreds of people who undertook a procession from Madan Iewrynghep.
Speakers at the gathering lambasted Agatha for supporting the bill while castigating chief minister Conrad K. Sangma and the NPP accusing them of "doublespeak" and "backstabbing" on the legislation.
Apart from Agatha's effigy, the effigies of Prime Minister Narendra Modi, Union home minister Amit Shah and governor Tathagata Roy were also consigned to flames.
This marked the first massive public protest against Conrad and the ruling NPP since it came to power in March 2018.
However, the Legal Rights Observatory, a pro-Hindu group, took to Facebook to praise Agatha.
It said her support "exposed" all "hypocrites" from the Northeast.
"As expected and indicated Garo hills lone MP, daughter of Garo stalwart late Purno Sangma and sister of present Meghalaya CM, Mrs Agatha Sangma voted in support of CAB. Her support to CAB exposed all hypocrites from North East which support tribal settlers from Bangladesh but oppose CAB. Well done Agatha," it said.