'Orphaned', protesters shave heads
Through music, poetry and slogans, the protesters warned the government against CAA in Assam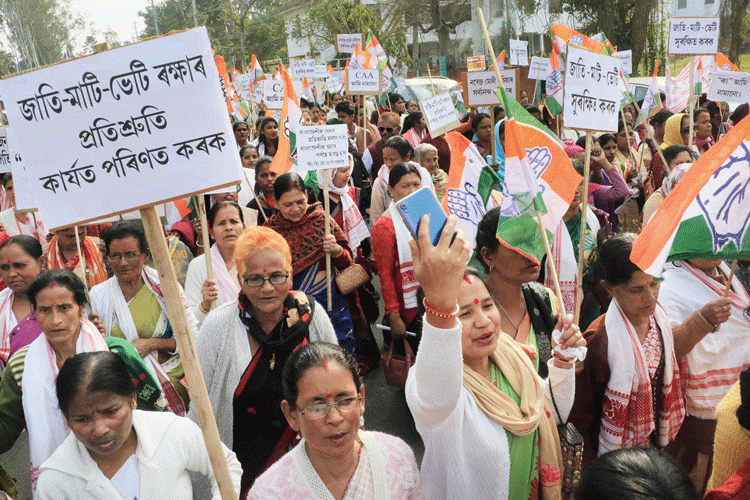 ---
|
Guwahati
|
Published 21.01.20, 07:28 PM
---
From tonsuring their heads to rallying, protesters against the Citizenship Amendment Act continued to have their say in Assam on Tuesday.
While hundreds assembled at Bihpuria in Lakhimpur district to register their protest against the CAA, members of Sanmilita Lachit Sena Asom tonsured themselves in front of the deputy commissioner's office in Jorhat.
"We have shaved our heads to tell the government that we have become orphans. The government, which should have been our guardian and protected our identity and future, has instead abandoned the people of the state. It is a shame and that is why we protest," one of the agitators said in Jorhat.
In Lakhimpur, locals and the district unit of the All Assam Students' Union (AASU) held a rally where hundreds of residents and artistes participated.
Through music, poetry and slogans, the protesters warned the government not to impose CAA on the state.
They also demanded the immediate release of Krishak Mukti Sangram Samiti (KMSS) leader Akhil Gogoi who has been booked by the National Investigation Agency (NIA) amid the anti-CAA protests in the state. Akhil is one of the frontrunners of the anti-CAA movements in the state.
Earlier, Vir Lachit Sena leader Sringkhal Chaliha, too, was arrested on sedition charges for allegedly provoking the people against the State. However, later he was granted bail by Gauhati High Court. Chaliha said: "The government has tried to shut us up by putting us behind bars but we are the youths of the land of Lachit. We will not bow down in front of anyone."
He added that Vir Lachit Sena does not have members but "soldiers who are ready to do anything for their motherland".
Chaliha said: "Our only aim now is scrapping of the CAA. The people of Assam should now take steps to pull down those who want to destroy our motherland. Assam is our mother and we will not tolerate anyone who tries to destroy Assam."
The youth leader reiterated that the people of Assam would form the new political party and everything in the state from now onwards would be decided by the youths of Assam.
President of the Assam PCC and Rajya Sabha MP, Ripun Bora, said: "History has shown that whenever there was anarchy, the ruler was dethroned. The British tried to dominate us, but they also had to give up one day. The BJP will also have to go for such anarchy."
The Congress, too, had organised a public sensitisation programme in Jorhat to generate public awareness about the new citizenship law.
Additional reporting by our Guwahati bureau